Jan Blachowicz and Amanda Nunes defended titles at UFC 259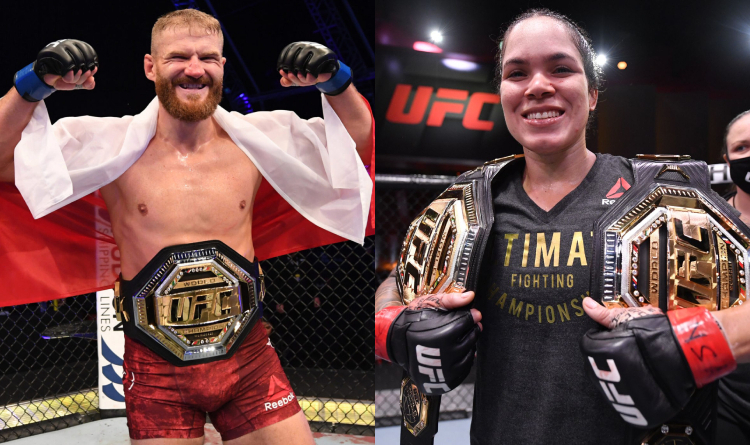 Blachowicz and Nunes with the UFC belts
Light heavyweight title-holder Jan Blachowicz and featherweight queen Amanda Nunes defended their belts at UFC 259 on March 6.
Israel Adesanya and Megan Anderson failed to dethrone champions
Blachowicz faced middleweight king Israel Adesanya in the main event. First 3 rounds of the contest were relatively close. In the first heat, Blachowicz landed 60% more significant strikes, but Israel controlled the octagon and delivered several heavy low-kicks. In the second round, Adesanya ramped up the pace; however, he landed 19% fewer shots. The athletes delivered 24 power blows in the third heat, but Jan scored a takedown.
The fourth and fifth rounds were clearly Blachowicz's. He brought the fight to the canvas, controlled his opponent on the mat and outstruck Adesanya. As a result, all 3 judges scored the contest in favor of Jan (49-46, 49-45, 49-45). Prince of Cieszyn ruined Adesanya's dream of making history by becoming the first-ever UFC undefeated double champion.
Nunes took on Megan Anderson in the UFC 259 co-main event. Unexpectedly, Amanda opened up quickly. She wobbled Megan with a straight right and took her down. The Lioness caught her rival in a triangle armbar on the ground. Anderson had no other choice but to tap at 2:03, and Nunes scored victory by submission.
Amanda defended the featherweight title for the second time. Moreover, she retained the bantamweight belt in 5 bouts. Nunes has already cleaned out both UFC divisions and proven herself the best active female MMA fighter. Given her total domination, Amanda might move down to flyweight to take on reigning champion Valentina Shevchenko.