Holloway vs Kattar: will Max get back on the winning track?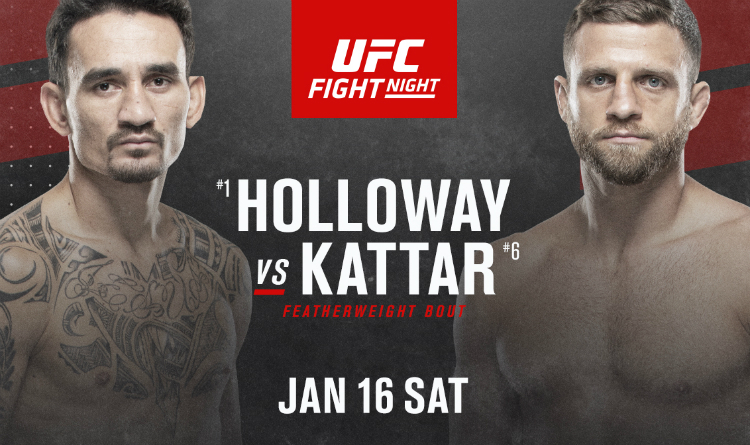 Holloway to fight Kattar
A featherweight bout between Max Holloway and Calvin Kattar is booked for UFC Fight Island 7 scheduled on January 16. Will Blessed get back on the winning track?
Max Holloway stats
Holloway began his MMA career in 2010 and compiled a record of 21-6. Blessed transitioned to the UFC in 2012 and got the first title shot 4 years later. He knocked out Anthony Pettis in a contest for the interim featherweight belt. Next year, Max beat Jose Aldo and unified the title. Holloway defended the gold thrice, but lost the belt to Alexander Volkanovski in 2019. Max failed to take a revenge in a rematch at UFC 251; however, he retained first place in featherweight rankings. In 2019, Holloway moved up to lightweight to take on Dustin Poirier for the interim championship. The showdown resulted in Poirier's victory via decision.
Calvin Kattar stats
Kattar made his professional debut in 2007. His record currently stands at 22-4. At the beginning of his MMA career, The Boston Finisher won 16 of 18 bouts and signed with the UFC in 2017. He has never been a title contender but earned 2 bonuses for the best fight. In the UFC, Calvin dropped unanimous decisions to Renato Moicano and Zabit Magomedsharipov; however, he defeated such strong opponents as Shane Burgos, Jeremy Stephens and Dan Ige. Kattar is riding on a 2-fight winning streak. He is ranked sixth at featherweight.
Holloway vs Kattar stats
Max outperforms Calvin on the feet. He lands 26% more shots per minute and takes 31% fewer strikes.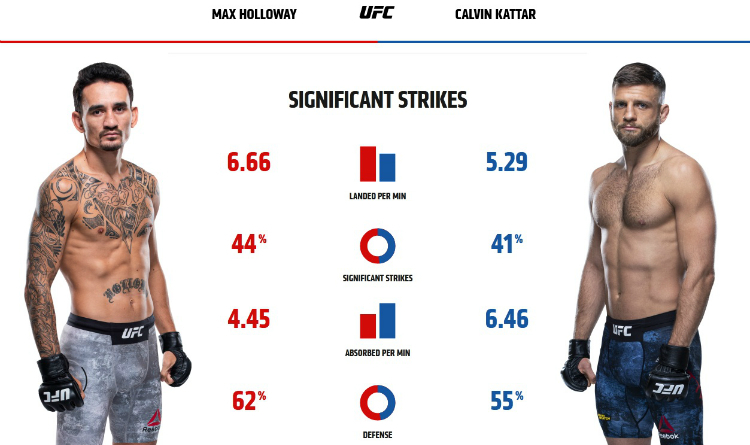 Kattar outnumbers Holloway's takedowns almost 2 to 1. But Max, in contrast to his rival, makes submission attempts.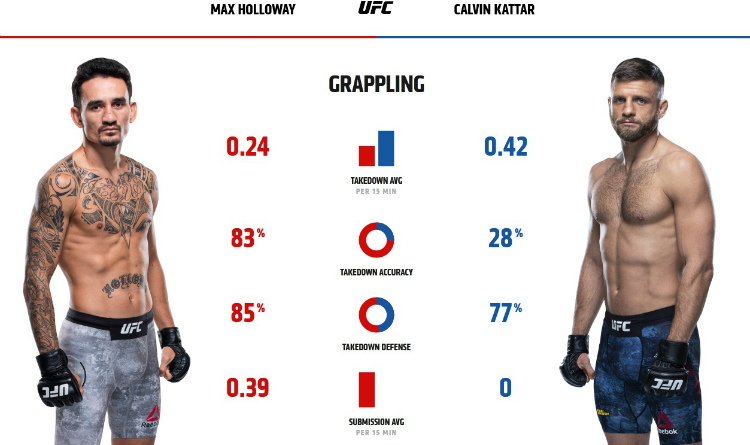 Holloway vs Kattar preview
Max started training in kickboxing in high school, while Calvin did not coach in striking martial arts. Therefore, Blessed has a clear edge on the feet. He is a more accurate and creative fighter with a better footwork and head movement. Kattar employs a narrower range of shots and attacks straightforwardly. Thus, he hits the target less frequently and absorbs too many blows.
Holloway earned a purple belt in BJJ. Kattar got a blue belt in Brazilian Jiu-Jitsu. Thus, Max is a more experienced and virtuoso grappler. Nevertheless, both athletes rarely initiate wrestling exchanges. Besides, Kattar has a very low takedown accuracy, while Holloway denies 85% of attempts to bring the bout to the canvas. Consequently, their clash will likely be a kickboxing match.
Considering Holloway's lead in striking, he will likely win the showdown. Max's finish rate is relatively low – 57%, because he lacks knockout power and seldom uses grappling skills offensively. Furthermore, Calvin suffered 75% of losses by decision. Kattar is as tough as they come; thus, Holloway has a little chance to stop him before the time limit.
The most probable fight results
Max Holloway to win via decision (13/10);
Total rounds over 4.5 (27/50).
Disclaimer: Fight analysis is not a betting tip or a gambling advice of any sort. Our experts determine the most likely outcome of a sporting event based on statistics and personal views. Therefore, the actual result of a competition may differ from the predicted.