Ferreira vs Dariush: who wins the battle of Brazilian Jujutsu-Kas?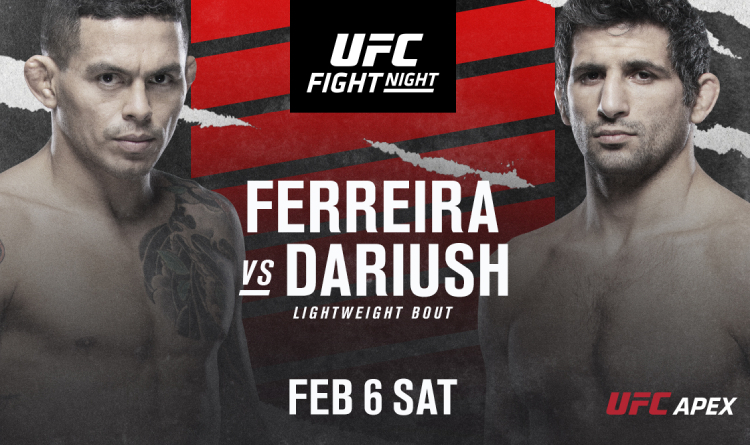 Ferreira to take on Dariush
Lightweights Diego Ferreira and Beneil Dariush are to fight at UFC Vegas 18 on February 6. Who will likely win the battle of Brazilian Jujutsu-Kas?
Diego Ferreira stats
Ferreira began competing in MMA in 2011 and compiled a record of 17-2. The Brazilian earned the STFC and Legacy FC titles before transitioning to the UFC in 2014. In the promotion, Diego won 8 of 10 bouts and got 2 bonuses for the best performance and a "Fight of the Night" award. Ferreira is currently riding on an impressive 6-fight winning streak. In 2019-2020, he beat Rustam Khabilov, Mairbek Taisumov and former UFC champion Anthony Pettis. Due to these victories, Ferreira was ranked 10th at lightweight.
Beneil Dariush stats
Dariush started his MMA career in 2009. His record stands at 19-4-1. Beneil became a RITC champion in 2013, defended the belt and signed with the UFC. In 2014-2018, he alternated victories with defeats, failing to get a title shot. However, things finally turned around for him in 2018. Dariush beat 5 opponents in a row, Thiago Moises, Drew Dober and Drakkar Klose among them, and got 3 prizes for the best performance. As a result of the winning streak, Beneil took 13th place at lightweight.
Ferreira vs Dariush stats
Diego lands 21% more shots per minute, but Beneil takes 13% fewer strikes.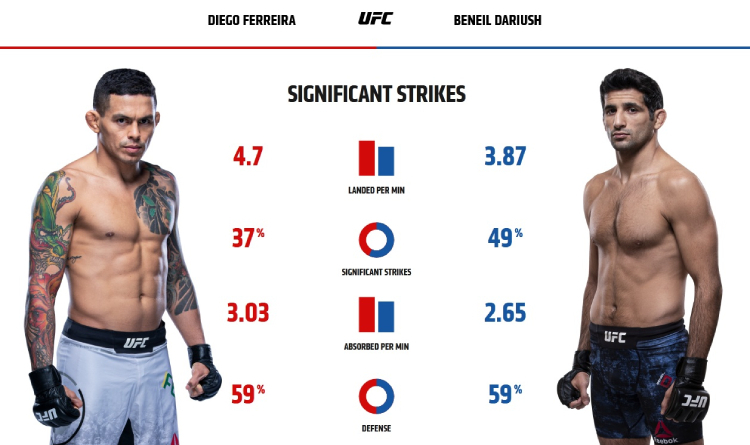 Dariush outnumbers Ferreira's takedowns almost 1.5 to 1; however, the Brazilian makes submission attempts 5% more frequently.
Ferreira vs Dariush preview
Diego trained in capoeira, while Beneil earned a black belt in Muay Thai. Despite this fact, Ferreira is a more technical fighter, employing a wider range of shots. Dariush often throws long swinging punches, exposing himself to counterattacks. Nevertheless, Beneil is more accurate, and his overall defence is as solid as Ferreira's.
Both athletes are accomplished Brazilian Jujutsu-Kas. Ferreira got a third-degree black belt in BJJ. Dariush earned a black belt in BJJ. But Beneil participated in wrestling tournaments in high school as well and made greater progress in grappling tournaments. Dariush is a 3-time World No-Gi Jiu-Jitsu champion, while Diego won only bronze and silver medals.
The sportsmen met inside the octagon for the first time in 2014. Dariush dominated in all aspects of the fight: he landed nearly twice as many total strikes and performed 6 takedowns, winning the contest by unanimous decision. Ferreira has certainly refined striking skills since that time, but his takedown defence is very weak. This factor will play a crucial role in their standoff. Considering the athletes' performance in previous bouts, Diego is supposed to have an edge on the feet. But Beneil has a great ability to take blows and an advantage in grappling.
Given these facts, Dariush has a better chance to win the showdown. Beneil's submission rate is 42%; however, Diego has never tapped before. Dariush gained only 26% of victories by KO/TKO; thus, his odds to knock Ferreira out are relatively low. Consequently, Beneil will most probably beat Ferreira via decision.
The most probable fight results
Beneil Dariush to win by decision (7/2);
Total rounds over 2.5 (73/100).
Disclaimer: Fight analysis is not a betting tip or a gambling advice of any sort. Our experts determine the most likely outcome of a sporting event based on statistics and personal views. Therefore, the actual result of a competition may differ from the predicted.