Dustin Poirier knocked Conor McGregor out at UFC 257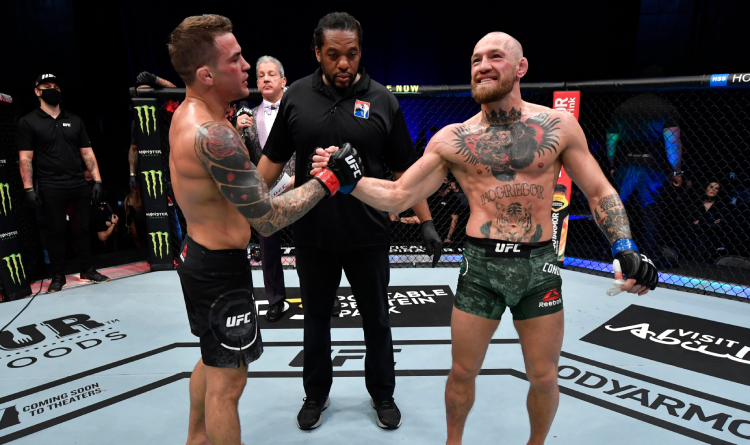 Poirier and McGregor after the showdown
Dustin Poirier took revenge in a rematch against Conor McGregor. The Diamond knocked Notorious out and made a huge upset at UFC 257 on January 23.
McGregor dropped out of a championship race at lightweight
The first round of the fight was close. Poirier performed an early takedown, but McGregor managed to get back to his feet and landed 73% more strikes. In the second heat, Dustin delivered several hard low-kicks beating up Conor's calf and dropped him down to the canvas with a combination of punches. The referee stopped the action at 2:32, and Poirier won by TKO.
In a post-fight interview, Conor praised Poirier for heavy calf kicks and said that his leg was done in the second round. McGregor claimed that he would come back inside the octagon in 2021. However, Notorious will unlikely get a title shot in the 155-pound division right away, because he has not won a clash at lightweight since 2016.
Dustin believes he is one of the best boxers in the UFC 155-pound division, and there is certainly some truth in his words. In 2018-2021, The Diamond defeated athletes who have outstanding boxing skills: McGregor, Dan Hooker, Max Holloway and Justin Gaethje.
The UFC handed out bonuses for the best performance to 4 athletes: Poirier, Michael Chandler, Makhmud Muradov and Marina Rodriguez. Chandler, former Bellator champion, beat Dan Hooker by TKO in the first round. Muradov knocked Andrew Sanchez out and scored the third victory in the promotion. Rodriguez won a contest against Amanda Ribas by TKO.