Derrick Lewis knocked Curtis Blaydes out and made a huge upset at UFC Vegas 19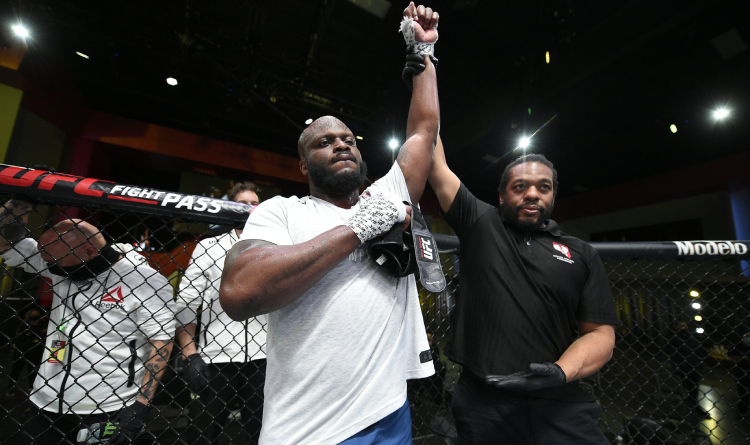 Lewis celebrating a victory at UFC Vegas 19
Former Legacy FC champion Derrick Lewis defeated Curtis Blaydes in the UFC Vegas 19 main event on February 20 and made a huge upset.
Lewis broke record for the most knockouts in the UFC
Despite his solid wrestling background, Blaydes did not try to bring the fight to the canvas in the opening round. Instead, he pressed Lewis on the feet and controlled the octagon. Curtis clearly took the first heat, as he outnumbered Derrick's significant strikes almost 5 to 1 (26 versus 5). At the beginning of the second round, Razor went for a takedown, but The Black Beast defended the attempt and landed a devastating uppercut. Blaydes dropped to the canvas with a thud, Derrick hit his rival on the ground to finish him off, but Blaydes had already been unconscious. Referee Herb Dean stopped the action at 1:26, and Lewis won by KO.
Derrick set a new record for the most knockouts in the UFC heavyweight division – 12. The promotion has yet to disclose the names of athletes to earn bonuses at UFC Vegas 19. However, Lewis is expected to get a $50,000 prize for the best performance.
Blaydes was ranked second at heavyweight before the contest. Consequently, The Black Beast will likely take his place after the rankings are updated. In this case, he might get a title shot. In a post-fight interview, Derrick claimed that he felt well and was looking forward to getting back inside the octagon soon. Lewis doubts that he has a chance to face the winner of Stipe Miocic vs Francis Ngannou 2 contest scheduled on March 27. The Black Beast believes that Jon Jones will get ahead of him in a championship race.