Chiesa vs Magny: who scores victory at UFC Fight Island 8?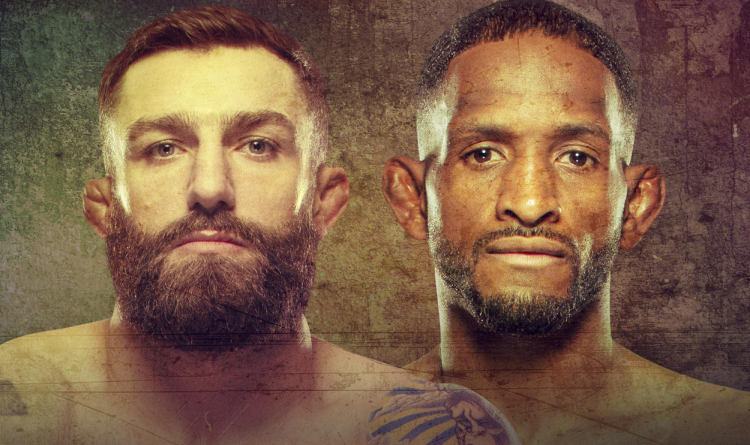 Chiesa to fight Magny
Welterweights Michael Chiesa and Neil Magny are set to headline UFC Fight Island 8 on January 20. Who has better odds to score victory at the event?
Michael Chiesa stats
Chiesa started competing in MMA as a pro in 2008 and compiled a record of 17-4. In 2012, Maverick submitted Al Iaquinta at The Ultimate Fighter: Live Finale and signed with the UFC. In the promotion, Michael won 9 of 13 bouts and earned several bonuses for the best performance and submissions. In 2018-2020, he beat 3 opponents in a row and took eighth place at welterweight.
Neil Magny stats
Magny began his professional MMA career in 2010 and transitioned to the UFC in 2013. His current record stands at 24-7. In 2014, The Haitian Sensation defeated 5 rivals, setting a record for the most wins in a year. However, Demian Maia stopped his coming out on top with a rear-naked choke in 2015, and Neil failed to get a title shot. Magny pocketed 3 bonuses for the best performance in the UFC. He is currently riding on a 3-fight winning streak. The promotion ranks him ninth at welterweight.
Chiesa vs Magny stats
Neil lands 91% more shots per minute, but Michael absorbs 10% fewer strikes.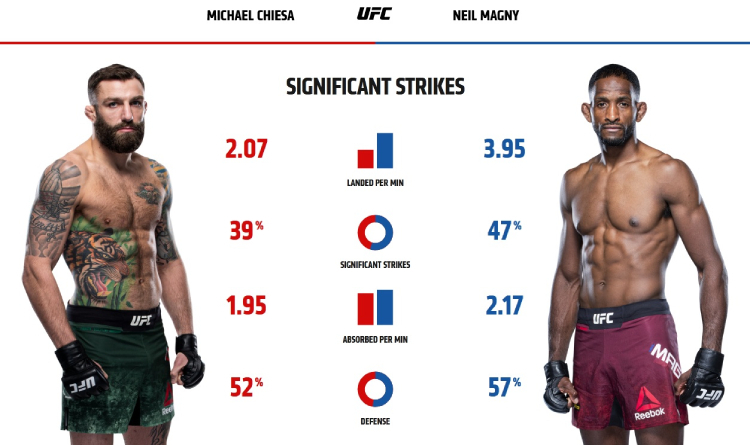 Chiesa performs 51% more takedowns and outnumbers Magny's submission attempts almost 4 to 1.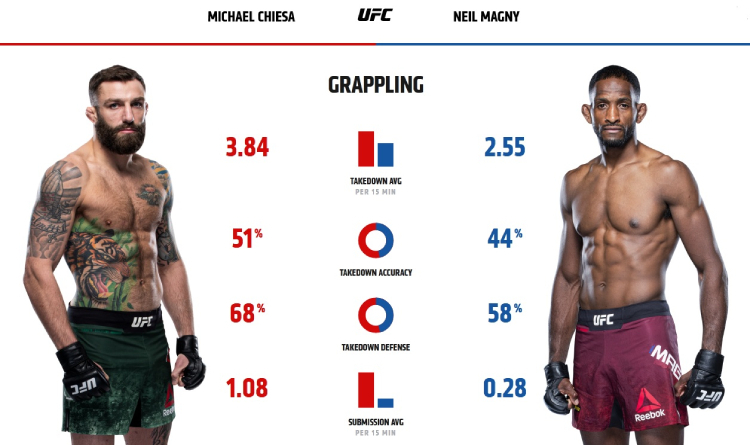 Chiesa vs Magny preview
Both athletes did not coach in striking martial arts. Nevertheless, Neil outperforms Michael on the feet. Magny is more accurate, employs a wider range of strikes and his overall defence is better. Maverick has a good straight left, but he rarely throws combinations and lacks speed.
Chiesa trained in wrestling in high school and got a purple belt in BJJ, while Magny earned a brown belt in BJJ. Therefore, Michael is a more experienced and proficient grappler. Maverick has a high takedown accuracy and impressive submission techniques. He gained 65% of victories by chokes and locks. Neil uses his wrestling skills less frequently, and he won only 13% of contests by submission.
Magny has a clear edge in striking; thus, the bout's outcome will depend on Michael's ability to bring the fight to the canvas. Neil has a good footwork, 4.5-inch reach advantage and masterfully keeps opponents at the end of his punches. Besides, The Haitian Sensation has noticeably improved his ground game since the loss to Santiago Ponzinibbio in 2018. Based on these factors, it will be difficult for Chiesa to close the range, make a takedown and control his rival on the mat. In this case, Magny will dominate and beat Maverick up on the feet.
Neil's finish rate is relatively low – 42%. Chiesa suffered all defeats before the time limit, 75% of them by submission. But Magny's grappling skills might not be enough to make Maverick tap. Moreover, Chiesa is expected to take Neil into deep water to neutralize his lead in striking. Considering these points, Chiesa will likely lose via decision.
The most probable fight results
Neil Magny to win by decision (29/20);
Total rounds over 4.5 (16/25).
Disclaimer: Fight analysis is not a betting tip or a gambling advice of any sort. Our experts determine the most likely outcome of a sporting event based on statistics and personal views. Therefore, the actual result of a competition may differ from the predicted.