Brunson vs Holland: will Derek defeat UFC rising star?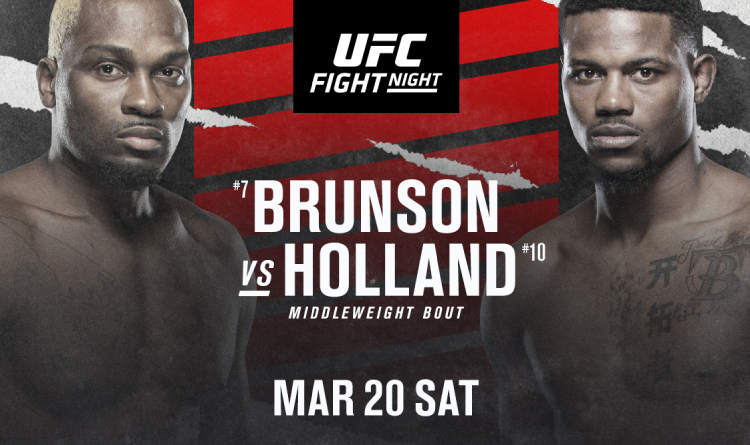 Brunson to take on Holland
Middleweights Derek Brunson and Kevin Holland are set to headline UFC Vegas 22 on March 20. Will Derek defeat the rising star?
Derek Brunson stats
Brunson began his MMA career in 2010 and compiled a record of 21-7. He challenged Kendall Grove for the ShoFight belt in 2012 but lost by split decision. Nevertheless, Derek struck a deal with the UFC. He has never been a title contender in the promotion but earned a bonus for the best performance and 2 "Fight of the Night" prizes. In 2018, Brunson dropped TKOs to Ronaldo Souza and Israel Adesanya. However, he cut off losing streak by beating Elias Theodorou in 2019. Last year, Derek knocked Edmen Shahbazyan out and took seventh place at middleweight.
Kevin Holland stats
Holland has been competing in MMA as a pro since 2015. His record stands at 21-5. In 2016-2017, Trail Blazer captured the XKO crowns at middle- and welterweight. Kevin triumphed at Dana White's Contender Series 9 and signed with the UFC in 2018. His career saw a major advance last year. Kevin won 5 consecutive clashes, setting a record for the most victories in a calendar year in the UFC middleweight division. Several sports websites (Sherdog, for instance) gave him an award "2020 Breakthrough Fighter of the Year". Due to an impressive winning streak, Holland was ranked 10th at middleweight.
Brunson vs Holland stats
Kevin lands 28% more shots per minute, but Brunson absorbs 6% fewer blows.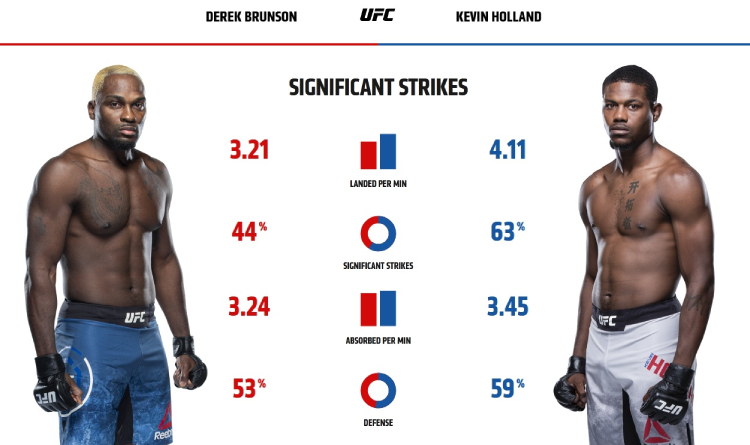 Derek performs takedowns 27% more frequently and has a better defence. However, Kevin outnumbers Brunson's submission attempts almost 4 to 1.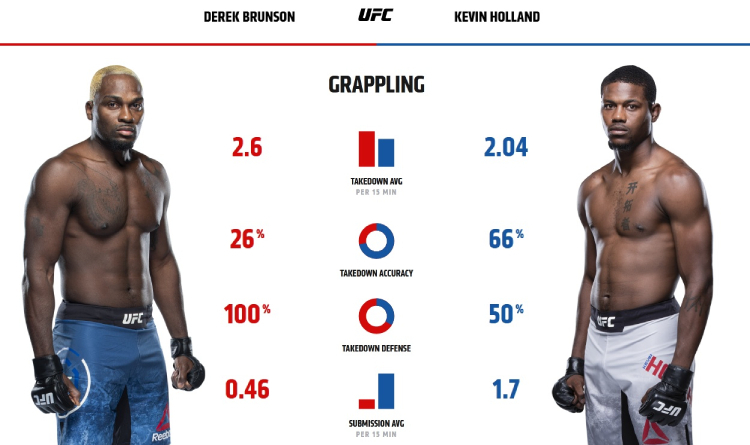 Brunson vs Holland preview
Kevin got a black belt in Kung Fu, while Derek coached in striking martial arts only as a part of MMA training. Consequently, Trail Blazer will likely outperform his rival on the feet. Holland is a more accurate and versatile striker, because he employs a wider range of shots. Brunson focuses on punches; therefore, a 4-inch reach disadvantage might heavily affect his offensive abilities.
Derek participated in NCAA Division II Wrestling tournaments and earned a brown belt in BJJ. Kevin has a black belt in BJJ, but he has never competed in grappling contests. Courtesy of his wrestling background, Brunson has an outstanding takedown defence. He covers single and double legs with punches to improve a succession rate of attempts to bring the fight to the canvas. Derek uses ground-and-pound on the mat and rarely tries to submit his opponents. Trail Blazer, on the other hand, prioritizes locks and chokes, but he initiates grappling exchanges less often.
Given Holland's edge in striking, he has a better chance to secure victory. Kevin has a high finish rate – 80%, and he won 4 of 5 last fights by KO/TKO. Furthermore, Trail Blazer's average fight time is 14:42. Considering these factors, Holland is expected to defeat Brunson within 3 heats.
The most probable fight results
Kevin Holland winning inside distance – yes (23/20);
Total rounds over 2.5 (9/10).
Disclaimer: Fight analysis is not a betting tip or a gambling advice of any sort. Our experts determine the most likely outcome of a sporting event based on statistics and personal views. Therefore, the actual result of a competition may differ from the predicted.