Blaydes vs Lewis: will The Black Beast shatter Razor?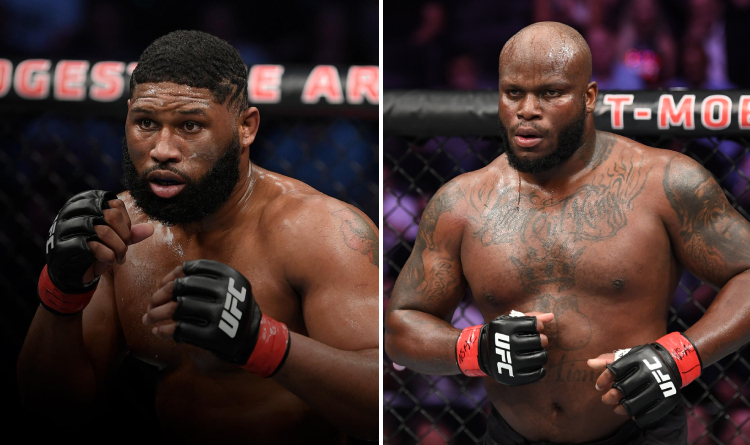 Blaydes to take on Lewis
Heavyweights Curtis Blaydes and Derrick Lewis are set to headline UFC Vegas 19 on February 20. Will The Black Beast shatter Razor?
Curtis Blaydes stats
Blaydes turned pro in 2014 and amassed a record of 14-2, 1 no contest. At the beginning of his MMA career, Razor gained 5 consecutive victories and transitioned to the UFC in 2016. Curtis lost a debut bout in the promotion against Francis Ngannou. Afterwards he won 6 clashes in a row, one of which was overturned, because he tested positive for cannabis. In 2018, Blaydes faced Ngannou in a rematch and suffered a second loss by TKO. Curtis beat 4 opponents in 2019-2020 and took second place at heavyweight.
Derrick Lewis stats
Lewis started his professional MMA career in 2010. His record stands at 24-7, 1 no contest. The Black Beast won the Legacy FC title, defended it and signed with the UFC in 2014. Derrick got the first and only title shot in 2018. He took on champion Daniel Cormier and dropped a submission. Lewis earned multiple bonuses in the promotion and set a record for the most knockouts in the UFC heavyweight division – 11. In 2019, Lewis cut off a 2-fight losing streak by beating Blagoy Ivanov. Derrick defeated Ilir Latifi, Aleksei Oleinik last year and was ranked fourth at heavyweight.
Blaydes vs Lewis stats
Curtis lands 48% more shots per minute and takes 13% fewer strikes.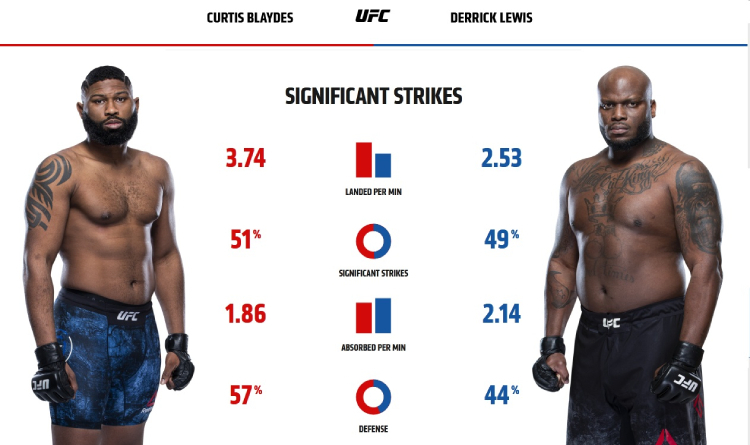 Blaydes outnumbers Derrick's takedowns almost 14 to 1; however, Lewis' defence is much better.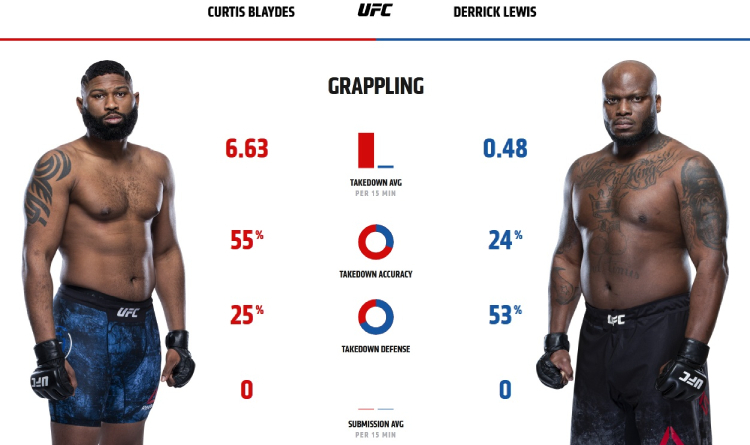 Blaydes vs Lewis preview
Derrick went in for boxing, but Curtis coached in striking martial arts only as a part of MMA training. Thus, Lewis has a better technique and lands 37% more blows while standing. Razor's advantage on stats is attributed to his game plan focused on ground-and-pound. Razor takes fewer shots, because he spends a lot of time in top position on the mat. Considering these factors, Lewis will likely look better on the feet.
Blaydes participated in NJCAA Wrestling and compiled a record of 95-18. Lewis got a blue belt in BJJ; however, he never competed in grappling tournaments. Furthermore, Curtis scored most takedowns at heavyweight – 14. Derrick's defence is relatively poor; therefore, Blaydes will have a chance to bring the fight to the canvas and neutralize Lewis' offensive skills.
Curtis is expected to concentrate on controlling his opponent in clinch and on the ground. He successfully implemented this strategy in his previous bout against Alexander Volkov. Lewis denies 20% fewer takedowns than Volkov does; thus, he will definitely end up on the mat and lose the clash. Razor gained 77% of victories by KO/TKO, while Derrick suffered 57% of losses by KO/TKO. Consequently, Blaydes is poised to beat his rival by knockout. Curtis' winning round is second; thus, the contest is to be over within 2 heats.
The most probable fight results
Curtis Blaydes to win by KO/TKO/DQ (6/5);
Total rounds under 2.5 (67/100).
Disclaimer: Fight analysis is not a betting tip or a gambling advice of any sort. Our experts determine the most likely outcome of a sporting event based on statistics and personal views. Therefore, the actual result of a competition may differ from the predicted.