Tokyo Olympics 2020; My son had no idea that I was a badminton star, but now he may understand – Chen Long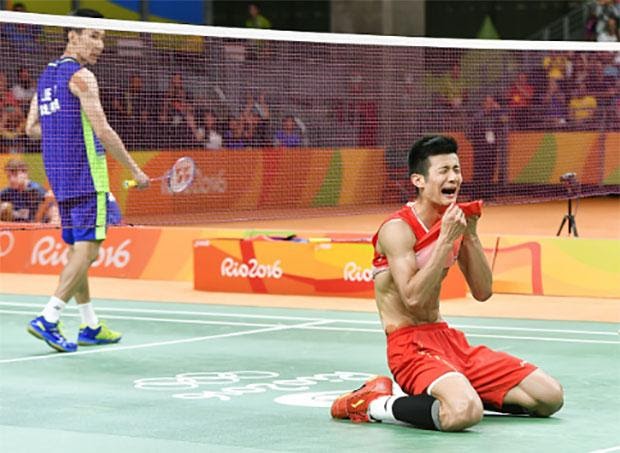 Courtesy Badminton Planet.com
The Rio 2016 badminton gold medalist, Chen Long, who is playing the first International tournament in 15 months, said that he is taking one match at one time as he follows the feat of Lin Dan's consecutive Olympics titles.
The Olympic badminton star, Chen Long may be on everyone's tongue in China in every household but the two times World Champion confesses that he never got the praise and recognition that he deserves at home.
His two-year-old son is too young to understand that how big a start his father is.
"He doesn't know [how important I am]. He only knows that his dad is a badminton player"

– Chen Long to Olympics.com
"He was too young to recognize what's happening, maybe starting from now, during these Olympic Games, as long as I'm competing, he will be cheering me on,"

the two-time gold medallist added.
Chen Long defended his world champion title at Musashino Forest Sports Plaza with an easy win over Estonia's Raul Must on Sunday, July 25.
It did not take much time for Chen Long to earn what he deserves as the tournament took 41 minutes to wrap up a straight victory with the fixtures of 21-10, 21-9.
The Chinese-born, Chen Long played his first International game in 15 months and he admitted that he does not feel any pressure coming his way as a ruling champion.
"I think every athlete feels a certain amount of pressure. Also, the field of men's singles right now is very competitive, everyone is a competitor, so I wouldn't say the players are simply looking to beat me. I believe every athlete hopes to present their best self on the field.
"So I think, as of now, even though there's definitely pressure, as the competition progresses I might start to feel it more and more."
The 32-year-old is looking forward to defending his men's singles title at Tokyo 2020 and mark back to back Olympics titles which have only been achieved by his fellow countryman, Lin Dan.
But the three-time Olympics winner is also focusing on one match at one time and does not want to distract himself with the feels.
"I haven't given it much thought. I'm just hoping to play well each time and perform well at the group stage."
"Once we make it to the knockout stage, I'll fight through each elimination round one by one. Competing for every day to the fullest."
The former champion will play his next game with Spain's, Pablo Albian on Wednesday, July 28.