TAKATO Naohisa wins the first gold medal for Japan in Tokyo 2020 in Judo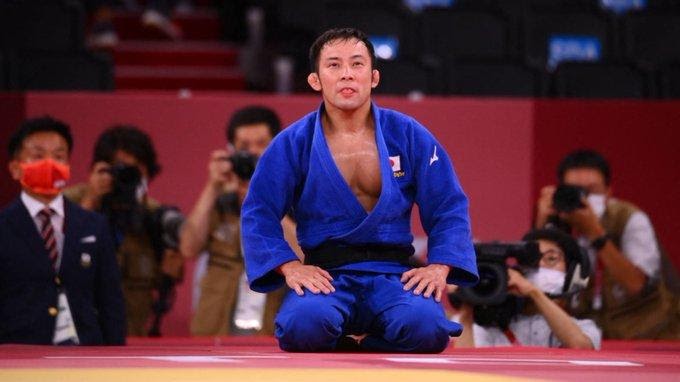 The Japan Times/ Twitter
The Rio 2016 bronze medallist, Takato Naohisa won the first gold medal for Japan in the Olympic Judo Men's -60kg at Nippon Budokan. The host nation has become the first gold medallist at Tokyo 2020.
Takato Naohisa has given the hosting nation an honor to win the first gold medal at the Olympic Games Tokyo 2020 after defeating Yang Yung Wei of Chinese Taipei in the judo men's -60kg contest by ippon over.
TAKATO also won a bronze medal in the same category in Rio 2016.
"For the past five years, I've been living as a bronze medallist,"

he told reporters ahead of competing at Tokyo 2020.
"I felt that there was a gap between myself and the gold medallist.
"In Tokyo, I want to win a gold medal no matter what."
Takato disappointed himself five years ago when he was a favorite for the gold medal which became the driving force for the three-time world champion to get this victory.
His ippon victory was followed by multiple Shido infractions by Yang Yung Wei.
This victory means a lot for Japan as they are getting their hands on the gold medal in the weight category first time since their win at NOMURA Tadahiro in Athens 2004.
After getting the victory, the 28-year-old spoke to the media immediately with tears in his eyes.
"I think this result was achieved with the support of everyone. I'm really glad that I was able to achieve this result because I've been causing so much trouble for my coaches."
"I am glad to have achieved this result. I wasn't able to win boldly, but this is my judo. Thank you very much for your support."
As for Yang, he appeared as the first Chinese Taipei medallist of these Olympic Games and the first-ever medallist in Olympic Judo for his nation.
"It means a great deal to me,"

he told reporters in a press conference.
"I actually was aiming for the gold medal so I'm not fully satisfied with the result. I'm still young so I will definitely aim higher,"

said the 23-year-old.
Kazakhstan's Yeldos Smetov won the bronze medal after defeating Tornike Tsjakadoea of the Netherlands.
Meanwhile, Luka Mkheidze won the first medal of Tokyo 2020 for France in another bronze medal contest with an emotional golden score victory over KIM Won Jin from the Republic of Korea.