Katie Ledecky becomes the first woman to win Olympic gold in 1500m freestyle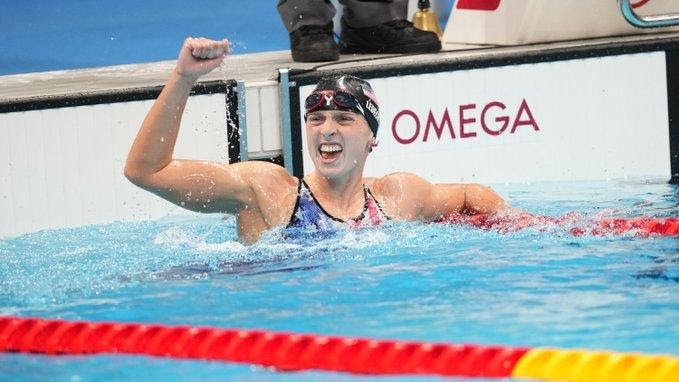 The New York Times/ Twitter
Katie Ledecky from team USA bounces back from disappointment in 200m freestyle swimming to get first-ever Olympic gold in 1500m freestyle.
Katie Ledecky raced away from the rest of the team to become the first woman to clinch Olympic gold in 1500m freestyle.
After competing in women's 200m final an hour earlier, Ledecky felt disappointed in her performance but she bounced back to win 1500m freestyle by about 10 metres.
The 24-year athlete, who was favourite for the title, has covered the metric mile in 15:37.34 at Tokyo aquatic centre which is just short of the Olympic record 15:37.34 in existing.
Ledecky's team-mate Erica Sullivan has won the silver medal just before to give the USA another one-two finish in the pool.
"I'm so happy to go one-two with Erica (Sullivan),"

said Ledecky, who cried tears of joy.
"It is the first women's 1500m (freestyle in Olympic history) so I couldn't have a better outcome than that. I'm so, so happy."
This victory marked the Olympic debut for women in 1500m freestyle, which has been part of the World Championship competition since 2001.
Meanwhile, the six-times Olympic title winner had taken out the suspense from the race after getting into a commanding position in 50m while she does not have any ideal games.
The 1500m gold is Ledecky's second medal of the Olympic Games in Tokyo before she had won 400m freestyle. She finished fifth in 200m freestyle earlier.
Ledecky's defeat in 200m gave Americans their first disappointment at the Olympic games.
"People maybe feel bad that I'm not winning everything, but I want people to be more concerned about other things in the world. People are truly suffering. 
"I'm just proud to bring home a gold medal to Team USA."
"After the 200 (metres freestyle final, where she finished fifth), I knew I had to turn the page very quickly, and in the warm-down pool, I was just thinking of my family.
Each stroke I was thinking of my grandparents. They're the toughest four people I know and that's what helped me get through that." 
However, Sullivan who was fifth at halfway of the race got herself up and raced forward from her rival to win sliver in 15:41.41.
According to Sullivan, it was her part of the plan to swim harder at the second half of the race.
"Luckily I did plan to swim it that way and thank God it paid off because there was a point there where I was worried I was too far back. I'm really glad I was able to bring it home."
"She's such a cool human … She's a legend and she'll forever be a legend. The fact that I get to swim in the same generation as her, it's just so cool,"

she added while coming back after Ledecky.
Germany's Sarah Kohler finished behind 1.60 seconds to claim the bronze medal.