Elina Svitolina from Ukraine gets the bronze medal in women's tennis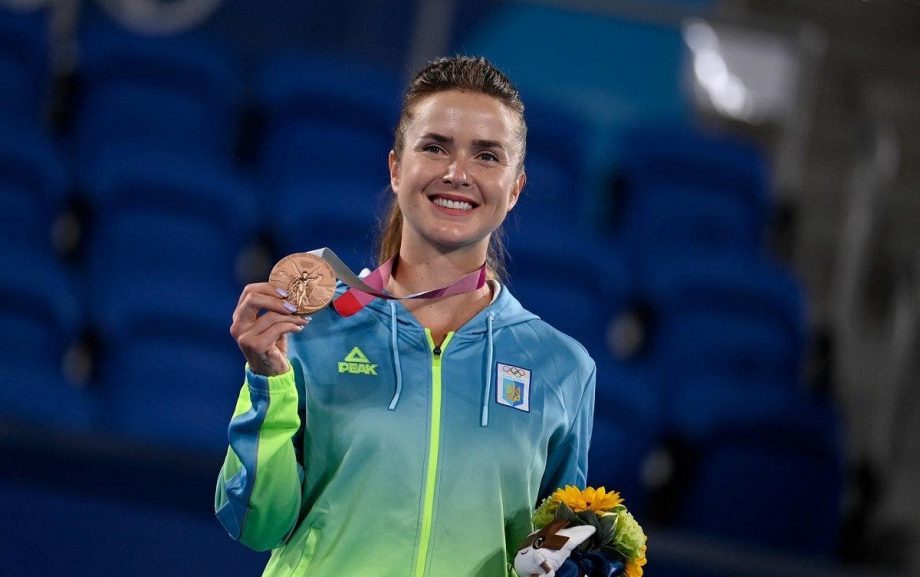 Twitter
Elina Svitolina of Team Ukraine fights hard during her Women's Singles Bronze Medal match against Elena Rybakina of Team Kazakhstan on day eight of the Tokyo 2020 Olympic Games at Ariake Tennis Park on July 31, 2021, in Tokyo, Japan. She wins the women's bronze medal and gets the first-ever Olympic medal for Ukraine.
At the Tokyo 2020 Olympics, Ukraine's Elina Svitolina has won the Olympic bronze medal in the women's singles.
She fought hard to defeat Kazakhstan's Elena Rybakina and win the bronze medal after two and half hours on the court which was the longest match she played this week.
Ukraine's Elina Svitolina married the French player Gael Monfils just before the Tokyo games and now she has won the final set 6-4 to finished the victory.
Svitolina won the tie 1-6, 7-6(5), 6-4 with the first set going for 28 minutes, the second one going for 61 minutes, and the last one going for 55 minutes.
"It's an unbelievable feeling to be fair. Coming here my goal was to win a gold medal,"

said Svitolina.
"It was extremely tough to lose in the semi-final and then to try to regroup and come again against a top player who is playing really good.
"To win such a big battle for the bronze means the world for me. Everyone in Ukraine is watching, we don't win so many medals, it's very special for me and Ukraine."
Before this match, both players had won one match each in their head-to-head status.
Rybakina started the match very well and winning the first set in just half an hour and also the second set began in the same way as the first.
This Olympic bronze medal is one of the top importances of her career and also this victory will surely be proof of her talent and capability.
This bronze medal will surely be helpful for her on the Hard-court season that will begin in the USA in the upcoming weeks.
Switzerland's Belinda Bencic and Czech player Markéta Vondroušová will play for the Gold medal in the women's singles final later today.
"It was a tough match,"

said Rybakina.
"I again missed many opportunities. I gave everything I could. 
"I still think it's a good week for me, good matches, and I will keep on going."
"I was up many moments, and it's not easy,"

she added.
"She [Svitolina] was fighting too. She wanted to win so bad. Every point was tough."
"My secret is to overcome those bad thoughts with something more positive, so I can focus on the future and leave the bad things behind,"

Svitolina said.
"I was upset in the beginning, but I got back, pulled myself together. This was a hell of a match for me, but fighting for a bronze medal meant a lot to me and I was focused on that."
"I hoped to win an Olympic medal for my country – and that's not easy,"

Svitolina said.
"All of the competitors were fighting, all of the matches were tough battles – this is what you expect at the Olympics, right? I'm really proud of myself this week, and winning bronze crowns is for sure."