U.P. Yoddha and Haryana Steelers play out an exciting 36-36 tie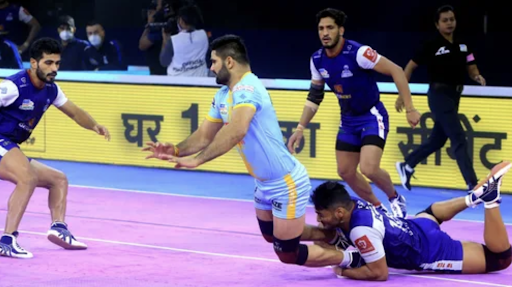 Pardeep Narwal picked up 6 raid points in the first half
Haryana Steelers played out a 36-36 tie against U.P. Yoddha in the 49th match of the Pro Kabaddi League Season 8 at the Sheraton Grand Convention Centre in Bengaluru on Saturday. 
Surender Nada got the Haryana Steelers off to a flying start with a successful tackle on Surender Gill. The two teams were evenly poised till the first 9 minutes with the scores tied at 4-4.
From the 8th to 12th minute, the Steelers scored just a solitary point as they were all-out. The lead was 4 points as Pardeep Narwal looked in his groove with 6 points to his name in the early stages of the match.
Vikash Khandola had 5 points in the first half which kept the Steelers in the reckoning. In spite of the all-out, the Steelers were trailing by just a solitary point at the half-time whistle.
Meetu Mahender picked up a couple of points in the first few minutes of the second half. Pardeep Narwal had been substituted by the Jasveer Singh-coached franchise in the 24th minute of the match trying to replicate the strategy they implemented in the final match.
The match was evenly poised until the 30th minute but Surender Gill's super raid tilted the match in U.P. Yoddha's favor. The Steelers were staring at an all-out as they were reduced to just one man on the mat in the following raid.
Meetu Mahender was tackled as Yoddhas gained a sizable lead of 6 points. After the all-out, Pardeep was introduced back onto the mat to defend the lead. The blue outfit, however, was led by Surender Gill and Shrikant Jadhav as they stretched their lead to 8 points. 
With 5 minutes to play, U.P. had a lead of 8 points. However, after the time-out, the Steelers were back into the contest as they reduced the Yoddha to just two men on the field. Vikash Kandola completed a super raid in the 38th minute to get within a point of the Yoddha. The Steelers were leading the Yoddha as the match kept twisting and turning at every point.
Surender Gill picked up a couple of points in the following raid and was back in the lead. Vikas equalized with another point but Surender Gill scored a 2-pointer again. Kandola scored another two points as the match ended at 36-36 as the two teams settled for the 10th tie of this edition.
In their next match, Haryana Steelers will face Dabang Delhi while U.P. Yoddha will lock horns with the Telugu Titans in the triple-header Saturday.