U Mumba share the spoils with UP Yoddha in a topsy-turvy 28-28 tie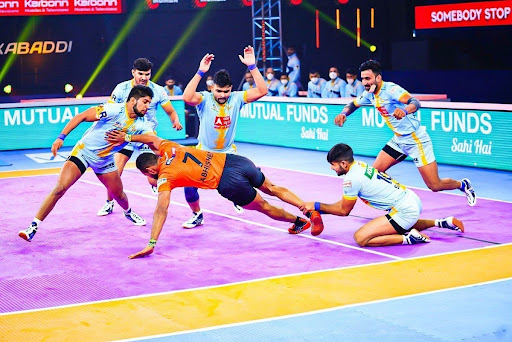 Sumit Sangwan's ankle holds resulted in him bagging his first High 5 of PKL Season 8
U Mumba and UP Yoddha played a topsy-turvy 28-28 tie in Match No. 25 of PKL Season 8 as both sides found themselves taking narrow leads at multiple junctures of the game.
U Mumba broke the deadlock as defender Rinku gripped Pardeep Narwal with a back hold by catching the latter blindsided. However, UP Yoddha revived the Dubki King after Sumit Sangwan initiated an ankle hold on Abhishek Singh during his Do-or-Die raid.
Both teams continued to exchange points as the scoreline was leveled at 3-3 in the first five minutes of the game. However, Rohit Tomar's running hand touch on 'Sultan' Fazel Atrachali's thigh and Sumit's ankle and back holds on Abhishek and V Ajith Kumar respectively restricted U Mumba down to three men.
However, two Super Tackles, including one on Pardeep, leveled the scoreline at 7-7 after the first nine minutes of the game. U Mumba finally regained the lead after Abhishek won a bonus point in his Do-or-Die raid before Fazel and Rinku combined to dash out Surender Gill.
The match officials awarded a 'Super Raid' to Abhishek as they deemed him to have collected three touchpoints before crawling his way back. However, UP Yoddha successfully reviewed the challenge as replays showed that his hand crossed the midline from outside the mat.
The Yoddhas regained the lead after Pardeep escaped by touching two defenders in his Do-or-Die raid and scored another point in his next raid. U Mumba was down to one man and stared at an All Out, but Ajith turned the tables by completing a Super Raid after amassing two touchpoints while crossing the bonus line with his trailing foot in the air.
A 'Super Tackle' on Pardeep extended U Mumba's lead to four points as the contest headed into the final minute of the first half. But, UP Yoddha's four-man defensive quartet tackled Abhishek and found themselves trailing 13-16 before the change of ends.
Rahul Setpal took care of Surender's lower body while Harendra Kumar gripped his upper body to score U Mumba's fourth 'Super Tackle'. However, they couldn't delay the inevitable further as the Yoddhas defense allowed substitute Shivam Anil to gather the bonus but collectively tackled him to inflict the first All Out, with the scoreline reading 19-19.
Harendra's back hold from the right side sent Pardeep back on the bench while Abhishek replied with a hand touch to give U Mumba a two-point lead.
However, Sumit nullified the gap after gripping Abhishek with a vicious ankle hold. The Yoddhas found themselves in a three-point lead after Surender survived Fazel's tackle attempt and escaped touches from two defenders before extending his hand past the midline to complete his Super Raid.
Ajith narrowed down the lead to one point courtesy of his bonus and touch points and Mahsen Maghsodolou's double thigh hold on Ankit leveled the proceedings at 24-24.
Ajith escaped a thigh hold and got an additional touch in his Do-or-Die raid as U Mumba took a two-point lead but Surender's kick on Mohsen equalized the scoreline again. The Yoddhas defenders circled Ajith in his Do-or-Die raid as they took the lead.
With just one minute remaining, Fazel initiated an ankle hold on Surender while Abhishek's quick touch while raiding handed the PKL Season 7 runner-up a one-point lead. However, the U Mumba skipper mistakenly stepped into the lobby during Ankit's raid and saw the scoreline being leveled at 28-28.
Abhishek failed to get a touch in the Mumbai-based side's final raid while Ankit decided against attempting for a point as the clock wore down.
UP Yoddha will lock horns with Tamil Thalaivas on Tuesday and will be raring for a win after two back-to-back draws. U Mumba, on the other hand, will square off against Haryana Steelers on Tuesday and would be eager to extend their unbeaten run to four matches.