U Mumba rally from behind to level proceedings with Bengal Warriors in a 32-32 tie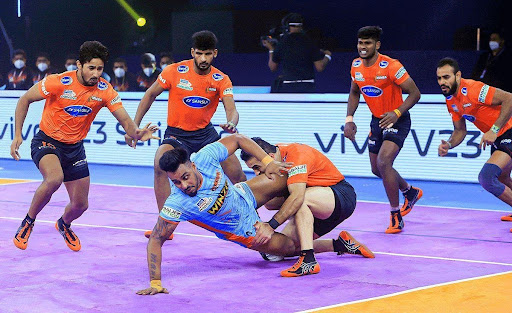 Maninder Singh escapes from Fazel Atrachali's attempted thigh-hold
U Mumba made a brilliant comeback to share the spoils with Bengal Warriors in a 32-32 contest in Match No 57 of Pro Kabaddi League Season 8 at the Sheraton Grand Hotel and Convention Center in Bengaluru on Saturday.
Abhishek Singh opened the account for U Mumba by picking up a bonus while all seven of their defenders circled Maninder Singh in his Do-or-Die raid to assert their dominance early in the game.
V Ajith Kumar's running hand touch further increased the deficit but Amit Narwal tackled him with an ankle-hold in his next raid. The two sides exchanged blows all the way till the 7th minute when the scoreline read 6-5 in favor of U Mumba.
But, Bengal's Maninder replied with four touchpoints in a 'Super Raid' after escaping from Fazel Atrachali's thigh-hold and dashing past assists from three other defenders. However, U Mumba refused to give up as Rahul Sethpal initiated a double thigh-hold on Abozar Mohajermighani and received an assist on the upper body from Fazel to earn a 'Super Tackle' for his side.
Maninder completed his 'Super 10' in the first fifteen minutes after tapping a crouching Mohsen Maghsoudlou. Ran Singh's back-hold on Rahul completed the formalities as the Bengal Warriors inflicted an All Out with the scoreline favoring them 18-15.
The first half ended with Abozar initiating a frontal thigh-hold on Abhishek and the rest of his Bengal Warriors teammates tackling him as U Mumba found themselves 17-19 behind.
The Mumbai-based team finally equalized after Ajith escaped from Amit's advanced tackle but Maninder bulldozed past Rinku Narwal to ensure the Bengal Warriors held on to their momentum after the break.
The Bengal Warriors had the lead but U Mumba remained within touching distance to keep their hopes alive. However, Maninder made the most of his upper body strength to brush past two defenders and extend the gap to three points.
The Bengal Warriors found themselves five points ahead with five minutes left after their defenders tackled Abhishek and Mohsen one-by-one while Maninder escaped Rinku's attempted thigh-hold. However, refusing to throw in the towel, U Mumba reduced the gap to three points, courtesy of Abhishek's running hand touches.
Rinku finally got the last laugh over Maninder after his solid dash put the latter on the bench while Ajith's quick touchpoint reduced the gap to just one point. Abhishek escaped a feeble ankle-hold attempt from Nabibaksh to complete U Mumba's comeback as the final scoreline read 32-32.
U Mumba looked more lively in the raiding department as Ajith made a return after suffering a setback due to injury. Abhishek completed his third 'Super 10' of the season by picking up 13 raid points in the contest. Bengal continued to rely completely on Maninder upfront as he picked up all the 17 raid points of his side.
After suffering two back-to-back defeats, U Mumba should feel content with the draw as they occupy sixth position in the points table with 28 points from 10 matches. The Bengal Warriors sit two places beneath them with 25 points in their bag from 10 encounters.
U Mumba will be aiming to return to winning ways when they cross swords with Gujarat Giants on Tuesday while the defending champions Bengal Warriors will lock horns with the Telugu Titans on Monday.