Tamil Thalaivas vs Haryana Steelers: Preview and Prediction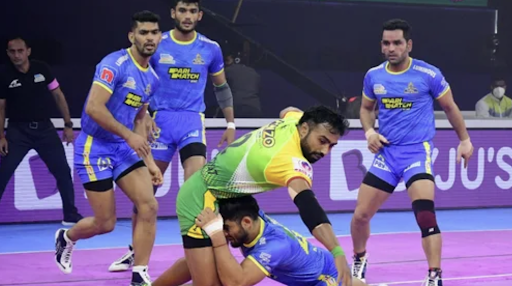 Tamil Thalaivas were trailing by 6 points at half-time but staged a comeback
It's a battle between two powerful defensive units as the Tamil Thalaivas lock horns with Haryana Steelers in the 45th match of the Pro Kabaddi League Season 8 at the Sheraton Grand Convention Centre in Bengaluru on Monday.
Tamil Thalivas have had a good defensive performance so far but other than Ajinkya Pawar their raiders are yet to hit the top-notch form. They can form a Patna-like strategy with Ajinkya, Manjeet, and Athul MS as their raiding trio.
Bengal Warriors are dependent on Maninder Singh for much of the work in the offensive department. He has lacked support and will hope that the other raiders step up.
How have they done so far?
Bengal Warriors are inconsistent in this tournament with 3 wins and 4 losses in the seven matches so far. Their problem has been the big losses that have hampered their score difference this season.
Tamil Thalaivas have two wins but tied four matches in the seven matches so far. Their comeback in the previous match against the Patna Pirates will inspire some confidence.
Head to Head Record
In the 5 meetings so far, the Thalaivas and Steelers have won a match apiece so far. Surprisingly, three matches between the two franchises have ended in a tie. The matches which produced a result were played in PKL 7 as the two teams shared honors. In the first match, the Thalaivas won 35-27 while the Steelers owned the reverse fixture 43-35. Vikash Khandola scored a super 10 and was the star player in the victory.
Key Players
Meetu Mahender: The young raider was picked by the Haryana Steelers in the New Young Players (NYP) category has been one of the most impressive raiders for his franchise so far. He completed a super 10 against the Bengal Warriors and led the team's comeback after an early all-out. He has been quick on the mat and the opposition's defenders have found it tough to catch up to his pace.
Ajinkya Pawar: The defensive unit of the Tamil Thalaivas has been consistent but the same can't be said about their raiders. However, super-sub Ajinkya Pawar has been one of the better players in the offense for the Surjeet Singh-led franchise. Pawar has also scored 18 points on do-or-die raids and has handled pressure exquisitely well in this season so far.
Predicted Starting 7s
Tamil Thalaivas: Manjeet, Athul MS, Ajinkya Pawar, K Prapanjan, Surjeet Singh, Sagar, Bhavani Rajput
Haryana Steelers: Vikash Kandola, Ravi Kumar, Jaideep, Meetu Mahender, Rohit Gulia, Mohit, Surender Nada
Prediction
The battle between the two franchises will be decided by how the defensive units fare in the match. However, the Thalaivas raiding is reliant on Pawar and if the Steelers get the better of the young raider, they will hold the advantage over their opponents. Steelers have a better raiding unit with Meetu Mahender and Vikash Khandola firing and will be the favorites for this clash.