Sachin Tanwar's Super 10 gives Patna Pirates a thumping 38-26 win over Puneri Paltan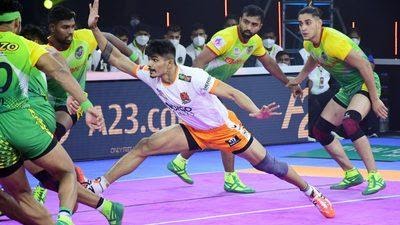 Patna Pirates defenders escape a running hand touch from a Puneri Paltan raider
Patna Pirates climbed to the second position in the points table with a thumping 38-26 win over Puneri Paltan in their PKL Season 8 encounter on Tuesday. Sachin Tanwar was the star player of the match as he picked up 10 touchpoints to complete his Super 10.
Patna Pirates won the first point of the contest after Sombir mistakenly stepped into the lobby before Monu Goyat got a touch on any of the Puneri Paltan defenders. With tackles flying in from both sides and the raiders amassing wily touchpoints, the scoreline was leveled at 5-5 after six minutes of the game.
Prasanth Kumar Rai won a point for Patna while raiding but Paltan's Aslam Imamdar bagged a bonus alongside a touchpoint before dashing just in time in his Do-or-Die raid. The Maharashtra-based side extended their lead further to five points with the scoreline reading 12-7 as Patna found themselves down to three players.
However, Sajin C deployed an ankle hold on Mohit Goyat and brought Patna back into the game. Following that, Sachin Tanwar crawled his way back to the mid-line in the subsequent raid and Pankaj Mohite initiated an unsuccessful Do-or-Die raid thereafter as Paltan's lead was cut to only one point.
Monu Goyat deployed a cunning ploy to purposefully put one foot into the lobby without a 'touch' and three defenders followed him on his way. As a result, the three-time PKL champions assembled three points and reversed the lead while Paltans got only one point for shoving the raider out. A bonus point from Mohit Goyat saw the scoreline reading 14-14 at the stroke of half-time.
Mohammadreza Chiyaneh dragged Mohit Goyat out of bounds by his ankles and Sachin completed the formality by taking out the lone man Vishal Bharadwaj as Patna enforced the first All Out with the scoreline favoring them 18-14.
The lead was extended to six points after Sachin Tanwar crawled his way back after getting two touchpoints while a chain tackle on Aslam Inamdar saw the scoreline reading 22-15.
Just when Paltan thought the game was going out of their hands, Sombir initiated a double-thigh hold on Monu Goyat's Do-or-Die Raid to score a Super Tackle. The lead was further cut short after Mohit Goyat fetched a running hand touch while their defenders circled Prasanth Kumar Rai to make it 22-19.
Puneri Paltan tried to make it count on the Do-or-Die Raids but their plans backfired when Sachin escaped from an ankle hold and got another touch before crossing over to squash all the hopes of a comeback.
Abinesh Nadarajan went into the opposition half in Paltan's Do-or-Die Raid but entered the lobby without any touches. Sachin took out Sanket by escaping an ankle hold while Iranian Chiyaneh waited patiently before pouncing on Sombir to enforce the second All Out. The scoreline read 31-21 in favor of Patna at that time and there was no looking back.
With just six minutes of play left, Patna didn't concede any loose points and extended their healthy lead to 12 points as they won the encounter 38-26. Patna's main raider Monu Goyat was out of form as he picked up only one raid point but Sachin Tanwar and Prasanth Kumar Rai stepped up to the occasion.
The Ram Mehar Singh-coached side would be happy with their efforts and would like to build on the momentum as they face the defending champions Bengal Warriors on Friday.
Anup Kumar should be worried about Puneri Paltan's endeavors as they were outclassed in every department. He also substituted 'Showman' Rahul Chaudhari in the 11th minute and surprisingly never brought him back on. The Paltans need to put this loss and confusion behind them as they lock horns against Tamil Thalaivas on Friday.