Puneri Paltan defenders steal the limelight in Maharashtra Derby as they topple U Mumba 42-23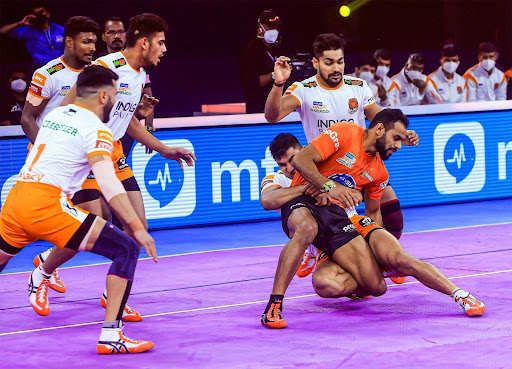 Nitin Tomar comes up with a gripping back hold on Abhishek Singh in Puneri Paltan's match against U Mumba
Puneri Paltan got the better of their arch-rivals U Mumba in the Maharashtrian Derby as they comfortably won the contest 42-23 in Match 52 of the Pro Kabaddi League Season 8 at the Sheraton Grand Hotel and Convention Centre in Bengaluru on Thursday.
U Mumba's Abhishek Singh made the most of his reach to raid Abinesh Nadarajan in the first raid of the contest, while Puneri Paltan's Aslam Inamdar returned the favor by bagging a touchpoint on Fazel Atrachali to level the proceedings.
Vishal Bhardwaj's double thigh-hold on Jashandeep Singh raised the Paltans' hopes and Mohit Goyat's escape from Rinku Narwal's ankle hold in his Do-or-Die raid restricted U Mumba to only four men. However, U Mumba turned the tables after Rahul Sethpal's toe-touch on Vishal narrowed the lead and his ankle holds on Aslam Inamdar and Mohit Goyat gave them the advantage.
But, Nitin Tomar ensured Puneri Paltans regained the momentum by making the most of his build to brush his dangling hand over the mid-line and completing a 'Super Raid' by bagging three touchpoints. Vishal's dash on a blindsided Jashandeep saw U Mumba down to only two men and Mohit Goyat further inflicted damage by escaping from Rinku's ankle hold.
Nadarajan dashed out Rahul Sethpal as Puneri Paltan inflicted the first All Out with the scoreline reading 14-8. Sanket Sawant's advanced block on Jashandeep, Nitin's back hold on Abhishek, and Baldev Singh's ankle hold on Jashandeep saw the Paltans slowly and steadily elongating the deficit.
At the stroke of half-time, Puneri Paltan had an 18-10 lead and were firmly in the driver's seat over their higher-ranked opponents.
Aslam began the second half with a 'Super Raid' for Puneri Paltan by escaping an ankle hold and getting two touches before extending his dangling hand over the mid-line. It seemed as if U Mumba earned themselves a 'Super Tackle' but Harendra Kumar inflicted a self-out before by stepping out of bounds.
Puneri Paltan enforced another All Out after their cohesive defensive unit took down Rahul Sethpal as U Mumba trailed 25-11 with fifteen minutes of play left.
U Mumba's Shivam scored two touchpoints to give his side a ray of hope, but Sethpal stepped into the lobby during Paltan's Do-or-Die raid and Vishal's back hold on Shivam soon closed the window of opportunity. Abhishek mistakenly put his foot into the lobby without getting a touch while Paltan's defenders circled Jashandeep to handicap U Mumba to only three men.
Goyat raided the 'right corner' Ashish Sangwan in his Do-or-Die raid while the Puneri Paltan defenders hurled Ajinkya Kapre out with a quality dash. Atrachali surrendered himself thereafter as Puneri Paltans' third All Out saw them take a 20-point lead with just ten minutes of play left.
The U Mumba raiders were no match against opposing defenders' unity as a substitute Mohsen Maghsoudlou, Abhishek, and Sumit soon found themselves on the bench.
Fazel and co. earned a 'Super Tackle' by collectively taking down Goyat. Ashish Sangwan crossed the mid-line just in time to win a touchpoint while U Mumba's defenders piled their bodies on Aslam in his Do-or-Die raid.
Abhishek earned two touchpoints in his raid but Nitin initiated a 'Super Tackle' against him in his next raid with the rest of the Paltans' defenders ably supporting him. Goyat raided Harendra in the buzzer raid as U Mumba's agony came to an end after suffering a 42-23 defeat.
Puneri Paltan will be eager to build on this momentum as they now find themselves on a mini two-match winning streak. They occupy the tenth position in the points table with 21 points from 9 matches and will square off against UP Yoddha on Monday.
U Mumba will have to pick themselves up after failing to gather a single point from the contest. They have just 25 points from 9 matches and stay firm in the fifth position in the points table and will lock horns with Bengal Warriors on Saturday.