Pawan Sehrawat's raiding prowess eclipses Maninder Singh's effort as Bengaluru Bulls pip Bengal Warriors 36-35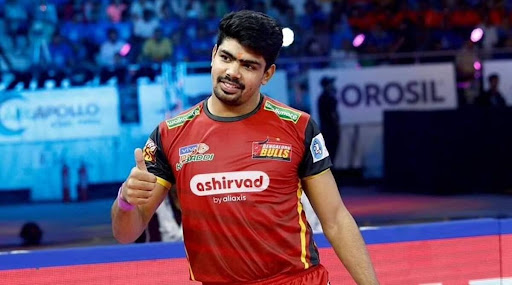 Pawan Sehrawat's raiding skills took Bengaluru Bulls over the finish line
Bengaluru Bulls beat Bengal Warriors 36-35 to move into third position in the PKL Season 8 points table in Sunday's second encounter.
Both teams came into the game relying heavily on the raiding prowess of their respective captains. While Bengaluru's Pawan Sehrawat bagged 15 points for his team, Bengal's Maninder Singh took home 17 points in a losing effort.
The Bulls found themselves on the backfoot early into the game after Darshan J gripped Sehrawat with a double thigh hold and took him out. And, their misery compounded further after Maninder Singh's Herculean effort saw the Bengal skipper escape from the clutches of four defenders to enforce the first All Out of the game as the scoreline read 11-3 in their favor.
At 14-7, Maninder tried to do something similar in a Do-or-Die raid but this time the Bulls' defenders tackled him in unison. High-flier Sehrawat lived up to his nickname by leaping past three Bengal defenders in one raid and pressurizing the other two men out of bounds to compel the first All Out for his side. Maninder and Sehrawat exchanged points for their respective sides as Bengaluru went into the break with a slender one-point lead of 18-17.
The Bulls suffered a slight jolt at the start of the second half as Iranian Mohammad Nabibakhsh tackled Sehrawat with an ankle hold. However, he was revived soon following a failed attempt by Bengal's Akash in a Do-or-Die raid and Sehrawat continued to weave his magic to force the second All Out for his side. With 9 minutes left in the game, the scoreline read 28-21 in favor of Bengaluru and it seemed as if they were gearing towards an easy win.
However, Maninder had other plans as he got two touches in his first raid following the revival of all players. All-rounder Nabibakhsh complimented him with a quick touch while raiding and a deadly ankle-hold on Sehrawat while defending. Bulls coach Randhir Singh took a time-out but it barely helped as the Warriors inflicted their second All-Out after bodies heaped on Chandran Ranjit.
The scoreline still favored the Bulls 31-30 as the match went into the final four minutes of the game but Maninder started things off with a two-point raid to give Bengal a solitary point lead.
The scoreline was leveled after Akash Pikalmunde failed to pick up a point in the Do-or-Die raid but Dong Geon Lee's introduction proved to be a masterstroke for the Bulls. The South Korean scored a two-pointer in his only raid of the match to give his side the lead as the match went into the final minute of the game.
Mahender Singh wrapped Maninder's body to prevent him from getting to other players as Bengal were 34-35 behind with only two raids remaining. Sehrawat got a touch to increase his team's lead to two points before Mahender gifted a touchpoint again this time to Nabibakhsh to seal a 36-35 win for Bengaluru Bulls.
The third-placed side from Bengaluru should be oozing with confidence after winning this tight encounter as they gear up to face Haryana Steelers on Thursday at 8:30 pm. Bengal Warriors' two-match winning streak came to a screeching halt with this loss but they would like to forget that as they take on table-toppers Dabang Delhi on Wednesday at 7:30 pm.