Patna Pirates defeat Gujarat Giants 27-26 to climb to the second spot on the points table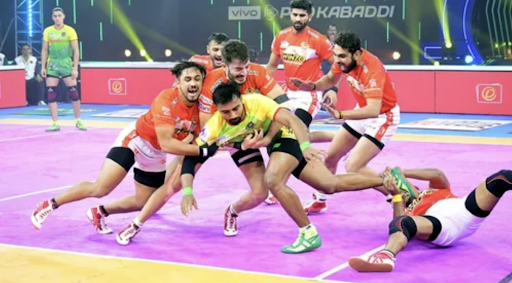 Patna Pirates had a raid success rate under 30% today
Patna Pirates defeated Gujarat Giants in the 42nd match of the Pro Kabaddi League Season 8 at the Sheraton Grand Convention Centre in Bengaluru on Saturday. 
The Gujarat Giants' defense started off strongly with a successful tackle on Monu Goyat. The match was evenly poised in the first five minutes with both the teams taking time in their raids.
The Patna Pirates' consistent raiding trio helped them take a lead of 3 points by the 7th minute of the contest. Prasanth Kumar Rai and Sachin Tanwar were consistent but the Gujarat Giants played with 2 or 3 men for a long time as they avoided the all-out.
The Giants were reduced to just one man on the mat but Hadi Oshtorak's successful raid revived a player for them. A super tackle by Girish Maruti Ernak and Hadi Oshtorak resulted in a solitary point at 10-9 for the red outfit.
The Ram Meher Singh-coached franchise finally inflicted the all-out in the penultimate of the first half as the Pirates gained a 3-point lead. The substitutes Hadi Oshtorak and Mahendra Rajput were impressive with 4 points each in the first half of the encounter.
Patna Pirates held a slender lead of a couple of points at the half-time whistle. The Giants restricted the Prasanth Kumar Rai-led franchise to run away with the match in the second half just like they did before the half-time whistle.
Mahendra got Shaoudlou out in the 3rd minute of the second half which eased the Giants raider. With a successful tackle on Monu Goyat in the next raid, the Giants led by a solitary point.
However, the Pirates staged a comeback of sorts with 5 consecutive points and led by 22-18 in the 30th minute of the match. Sajin C was the unsung hero of the Pirates with a high 5 as he completed a couple of super tackles as well. The raiders were instrumental in the dying moments as Patna held onto the lead and defeated the Giants.
Gujarat Giants will face Telugu Titans on Tuesday while U Mumba will clash with the Patna Pirates on the same day.