Pardeep's Yoddhas share honors against Gujarat Giants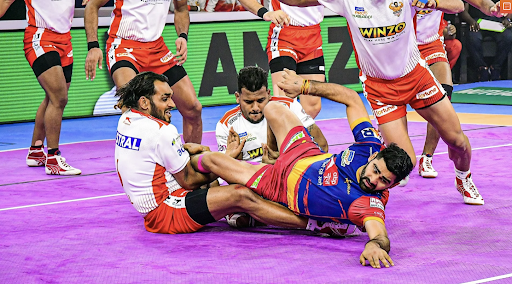 Pardeep Narwal returned back to form with a super 10
U.P. Yoddhas played out a thrilling 32-32 draw against Gujarat Giants in the 20th match of the Pro Kabaddi League at the Sheraton Grand on Wednesday. Rakesh Narwal was the best raider on the night with 13 points while the most successful raider in this history of the league, Pardeep Narwal bagged 11 points.
Pardeep-inspired Yoddhas staged a comeback after they were trailing 20-14 at half-time. The match started off with a 2-point raid from Pardeep and soon, the Yoddhas were leading by 3-1. However, a super raid from Rakesh Narwal turned the fortunes and the Giants capitalized on the opportunity. This was the only super raid of the match.
The match was evenly poised till 7-7 as both the teams didn't give the other team any room for increasing their lead. But once, Shrikant Jadhav and Pardeep Narwal were off the mat the Giants inflicted the first all-out of the match.
Girish Maruti Ernak was superb in the first half as he got the better of Pardeep twice and kept the defense tight.
In the second half, Pardeep had the advantage as he reduced the deficit before getting on level terms with the opponents.
The two franchises were content with the draw as no team took the risk of getting better in the final raids of the match and settled for a well-deserved draw. U.P Yoddhas had another decent performer with Surender Gill picking up 4 raid points and 2 tackle points and complemented Pardeep with his performance on the mat.
In the raiding department, the Giants scored 22 points compared to the 20 points that the Yoddhas fetched. Both the teams had a raid success rate of 37.5%. The tackle success rate was 30.43 for the Yoddhas while the Giants managed a rate of 28.57%. Pardeep's brilliance and agility in the second half resulted in just a couple of tackle points for the Manpreet Singh-coached franchise. Overall, they scored 8 tackle points while Yoddhas ended up with 10 tackle points.
Both the teams will play their next matches in the following calendar year. U.P. Yoddhas will face U Mumba on 1st January while Gujarat Giants will lock horns with Haryana Steelers in what promises to be a thrilling contest.