Matchday 37: Preview and Prediction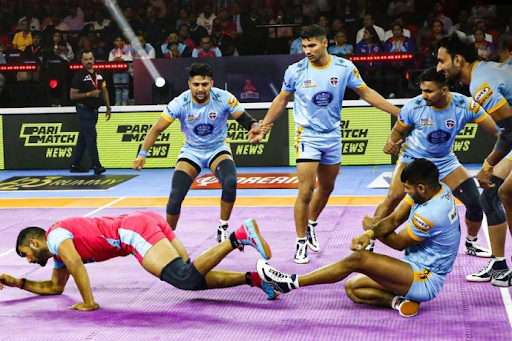 Jaipur Pink Panthers and UP Yoddhas competed against each other in their previous clash
Day 37 of the Pro Kabaddi League will witness three remarkable games at Gachibowli Indoor Stadium, Hyderabad. UP Yoddhas will take on Jaipur Pink Panthers in the first game followed by Telugu Titans competing against U Mumba. The final match of the day will have Dabang Delhi and Patna Pirates facing off against each other.
The Yoddhas have made a tremendous comeback in their past few games. Pardeep Narwal & Co. are currently at the fourth spot with seven victories and are in total contention of making it to the playoffs. On the other hand, Jaipur Pink Panthers have won nine battles so far in the season and are keeping themselves in the third position in the points table.
Telugu Titans' horrible run continues with 13 losses in 14 games so far. They are at the bottom of the table and would be most likely to be out of the playoffs contention. The franchise will now play for pride and would look forward to winning some games. On the contrary, U Mumba is in the fifth position with eight victories. The Mumbai-based franchise would look to keep itself safe by winning some more battles.
The third battle of the day will be Patna Pirates vs Dabang Delhi where both of them are eager for a win. The Pirates have shown their champion side in the Pune leg and must be happy with their current position. Delhi, on the other hand, would not want to end its campaign with another poor run in the Hyderabad leg. They started off brilliantly and would want to bring back the fearless display now. Naveen Kumar & Co. are currently placed in the tenth spot with six victories.
Let us take a look at the previews and predictions of Day 37 matches:
Match 87: UP Yoddhas vs Jaipur Pink Panthers
Pardeep Narwal & Co. made a superb comeback in the league with some stupendous displays in the Pune leg towards the end. The battle against the Panthers would be a tough challenge for them as the Men in Pink too have been magnificent. The Yoddhas thrashed Dabang Delhi in their previous encounter with Pardeep doing unbelievable things there. With 22 raid points, he helped his side win convincingly over Naveen Kumar's Dabang Delhi.
On the other hand, Jaipur Pink Panthers were victorious against U Mumba in their last encounter. Some brilliant raiding from Arjun Deshwal and great support from the defenders helped the Panthers win the game. Sunil Kumar, Sahul Kumar and Ankush were top-notch in their defence.
Talking about their head-to-head battles, UP Yoddhas are ahead with five victories out of eight whereas the Men in Pink have won thrice. It's a wonderful opportunity for Sunil Kumar's men to improve their record against the Yoddhas.
There are some key players in this game who will be in everyone's eyes. UP Yoddhas captain Pardeep Narwal is the man to look at in this battle whereas Arjun Deshwal and Sahul Kumar are the key players for the Panthers.
This is going to be a cracker of a game with both sides capable of defeating one another. In this tough call, we are going to opt for Jaipur Pink Panthers because of their exceptional show throughout this season. If they could win this crucial battle, they would most likely be at the top of the table.
Predicted Starting Seven
UP Yoddhas: Pardeep Narwal ©, Gurdeep, Ashu Singh, Durgesh Kumar, Rohit Tomar, Nitesh Kumar, Sumit
Jaipur Pink Panthers: Arjun Deshwal, Sunil Kumar ©, Abhishek KS, Rahul Chaudhari, Reza Mirbagheri, Sahul Kumar, Ankush
Match 88: Telugu Titans vs U Mumba
It won't be wrong if we call this a one-sided affair looking at the performance of Telugu Titans. Having lost 13 matches out of 14, they are at the bottom of the table. The clash against U Mumba won't be easy for them. On the other hand, it's a good opportunity for U Mumba to become table toppers.
Siddharth Desai is the only hope for the Titans when it comes to raiding. Though the defence has been decent in the last few games, the result is not coming as usual. On the contrary, Guman Singh from U Mumba has been tremendous. He scored a match-winning Super 10 against Patna Pirates recently to give his side a memorable victory.
Looking at the head-to-head battles between the Titans and U Mumba, the latter has won on nine occasions whereas the Telugu have only won four times. Two games culminated in a tie.
In the upcoming clash, Siddharth Desai will be the key player to watch out for. Apart from him, it will be Guman Singh who would want to continue his good performance. If we look at the prediction, U Mumba is undoubtedly the favorite to win the battle.
Predicted Starting Seven
Telugu Titans: Abhishek Singh, Surjeet Singh ©, Parvesh Bhainswal, Monu Goyat, Siddharth Desai, Ankit, Vishal Bharadwaj
U Mumba: Guman Singh, Shivansh Thakur, Harendra Kumar, Ashish, Kiran Magar, Rinku ©, Mohit
Match 89: Dabang Delhi vs Patna Pirates
It is surely the match of the day with the two top teams competing against each other. While Dabang Delhi would like to come back to their original form, Patna Pirates will be keen to continue their good run in the tournament. Both the teams have won six battles so far and would like to move upwards in the points table.
Naveen Kumar & Co. were thrashed by UP Yoddha in their previous game still some good efforts from Vijay Malik and Naveen himself were the positives. On the other hand, Patna Pirates played a fine draw against the Tamil Thalaivas where Sachin was the hero with yet another Super 10. Mohammadreza Chiyaneh showed his class as well with four tackle points.
The super clash will witness some remarkable players including Sachin, Rohit Gulia, and Naveen Kumar. All these will be the players to watch out for on Super Saturday. Out of 16 games, Dabang Delhi has won seven times while Patna Pirates have been victorious eight times.
There had been only one encounter that ended in a tie. It could be a surprising call, but Patna Pirates will start as favorites in this game.
Predicted Starting Seven
Dabang Delhi: Naveen Kumar ©, Ravi Kumar, Vishal, Ashu Malik, Vijay Malik, Krishan, Sandeep Dhull
Patna Pirates: Sachin, Neeraj Kumar ©, Manish, Rohit Gulia, Monu, Sunil, Mohammadreza Chiyaneh