Maninder Singh stars once again as Bengal Warriors defeat Tamil Thalaivas 37-28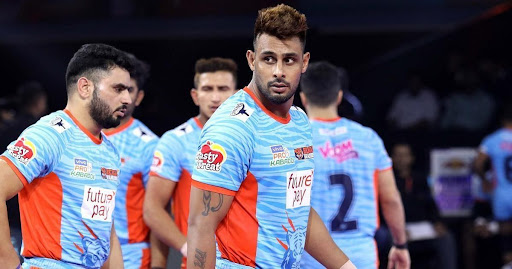 Maninder Singh completed 100 raid points in PKL 8 in Bengal Warriors' match against Tamil Thalaivas
The Bengal Warriors returned to winning ways courtesy of Maninder Singh's heroics as they beat Tamil Thalaivas 37-28 in Match No 51 of the Pro Kabaddi League Season 8 at the Sheraton Grand Hotel and Convention Centre in Bengaluru.
Tamil Thalaivas drew first blood after Manjeet shoved a defender in his attempted dash while his team tackled Bengal Warriors' star raider Maninder Singh in the next raid.
Mohammad Nabibaksh opened the account for the Bengal Warriors after bagging a bonus point while Amit Narwal's ankle-hold on Manjeet earned the Warriors their first 'Super Tackle.' Abozar Mohajermighani's gripping ankle hold revived Maninder as the Warriors found themselves in the lead.
Maninder's timely dive in his Do-or-Die raid earned the Bengal Warriors two touchpoints as his team never looked back. The Bengal Warriors collectively dashed Ajinkya Pawar out of bounds in his Do-or-Die raid and restricted the Thalaivas to only two men.
But, they refused to give up as Sagar and Surjeet Singh combined well to thwart Maninder's escape and earn a 'Super Tackle' for their side.
Tamil Thalaivas earned another 'Super Tackle' as Surjeet completed his 'High 5' within the first half itself. However, the Bengal Warriors inflicted the first All-Out after Maninder picked up two touchpoints to give his side a 14-9 lead.
Maninder continued with his multi-point raid to extend the Bengal Warriors' lead to seven points. However, Manjeet made the most of his height to escape the dashes and advanced holds from defenders to narrow down the lead.
Sagar tackled Maninder with a frontal thigh hold in the dying embers of half-time as the scoreline favored the Bengal Warriors 20-16 before the change of ends.
Akash Pikalmunde tapped Mohit with a running hand touch to kickstart the proceedings for the Bengal Warriors and Nabibaksh revived Maninder after gripping Manjeet with an ankle hold to build on their momentum.
Surjeet finally conceded a point to Maninder after unsuccessfully attempting an advanced dash in the latter's Do-or-Die raid. Maninder didn't stop there as he sent his partner-in-crime Sagar to the bench after escaping from an ankle hold.
Ran Singh's double thigh-hold from behind on Manjeet trimmed the Thalaivas to only three men. Darshan J dashed Athul MS out of bounds and Maninder completed the formalities by pressurizing one defender outside the mat and bagging a touchpoint on the other to enforce the second All Out.
The Bengal Warriors found themselves in a 32-21 lead at the time with little over six minutes of play left. Tamil Thalaivas returned with renewed vigor as Bhavani Rajput caught a defender with a running hand touch while picking up a bonus in his next raid.
Sagar's advance block near the mid-line on Maninder paid dividends, reducing the deficit further. However, Amit Nirwal's single thigh-hold on Bhavani dented the Thalaivas' hopes.
Ran Singh's back hold on Manjeet revived Maninder and gave the Bengal Warriors a 10-point lead with just two minutes left. Sagar Krishna went ahead for an advanced tackle but Maninder turned just in time to cross mid-line.
The Bengal Warriors' raiders played smartly by wearing down the clock while allowing the Thalaivas' defenders to collect bonus points. Ran Singh showed no mercy by tackling Bhavani Rajput with a German suplex to further humiliate the opposing side.
Tamil Thalaivas defenders collectively tackled Akash Pikalmunde in the latter's Do-or-Die raid but it proved to be a mere consolation as the referee blew the final whistle, indicating the Bengal Warriors' 37-28 victory.
After suffering two back-to-back defeats, Bengal Warriors will be hoping to make the most of their winning momentum when they take on a beleaguered U Mumba unit on Saturday. They have 22 points from 9 matches and occupy the ninth position in the points table.
The loss ended Tamil Thalaivas' six-game unbeaten streak and will surely shake things up on their end. With 27 points from nine matches and sitting firmly in the fourth position, they will be eager to return to winning ways when they square off against Jaipur Pink Panthers on Sunday.