Jaipur Pink Panthers prowl their way into finals with a 49-29 win over Bengaluru Bulls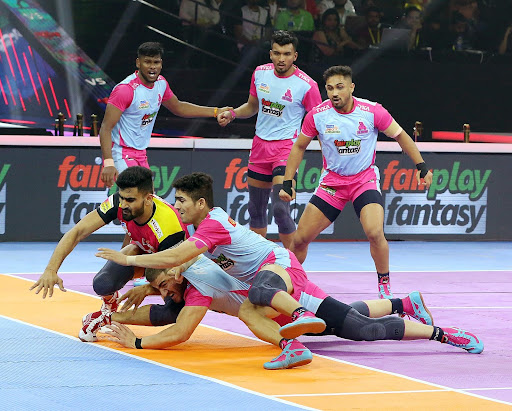 Bengaluru Bulls had no answer to Jaipur Pink Panthers' robust defense
Jaipur Pink Panthers prowled their way into the finals of PKL 2022 as they beat Bengaluru Bulls 49-29 on the back of their stupendous defensive performance at the Sardar Vallabhbhai Patel Indoor Stadium in Mumbai.
Shaul Kumar notched ten tackle points to his name while Reza Mirbagheri and Ankush bagged a High Five each to their name.
The Panthers took an early lead in the game and capitalized on their mojo in the 6th minute when V Ajith Kumar sneaked the touches of three rival defenders to pick a Super Raid.
Down to three men, Neeraj Narwal, Saurabh Nandal, and Mahender combined to Super Tackle Bengaluru Bulls to trim the lead to three points and keep them in the contest. However, the inevitable All-Out came out in the 14th minute when Shaul Kumar grabbed Sachin Narwal from the right corner position to make the scoreline 18-10.
The two sides continued to trade blows before going into the break as Jaipur Pink Panthers had a 24-15 lead to their name.
Ran Singh and Vikash combined to Super Tackle Arjun but the Bulls failed to turn the tables around as the right corner defenders pounced on Neeraj Narwal to take an 11-point lead at 30-19 in the 23rd minute. Jaipur Pink Panthers didn't break a sweat as they inflicted another All-Out in the next five minutes as Bengaluru lost control of the game. 
It was V Ajith Kumar upfront coming back to his mid-line with solo touch-points while Aman stepped himself out from the mat. Saurabh Nandal didn't waste much time to surrender himself as the scoreline read 39-19 with twelve minutes to go.
The two sides continued with their business as Jaipur maintained their ten-point lead to win the match 49-29. Bengaluru's chances looked slim at half-time but they lost the plot from the 23rd to 28th minute as they failed to win a single point while Jaipur inflicted another All-Out on them. The Panthers had to maintain their calm for the rest of the game and not make silly errors to give the Bulls a chance of a comeback.
Bengaluru had 13 tackle points to their name against Jaipur's 21. Aman and Saurabh Nandal combined to win seven tackle points but he lacked support from the rest of the defenders. Bharat was able to bag only seven raid points and was miles behind his best in the crucial semi-finals.
Nothing much left for Bengaluru as they will be eager to come back stronger in the next season with a stronger defense and attack. Jaipur Pink Panthers, on the other hand, have a chance to win their second-ever PKL title but for that, they have to go past the challenge of Puneri Paltans in the finals on Sunday.