Boast Your #DilSeDesi Origins with Parimatch News (video)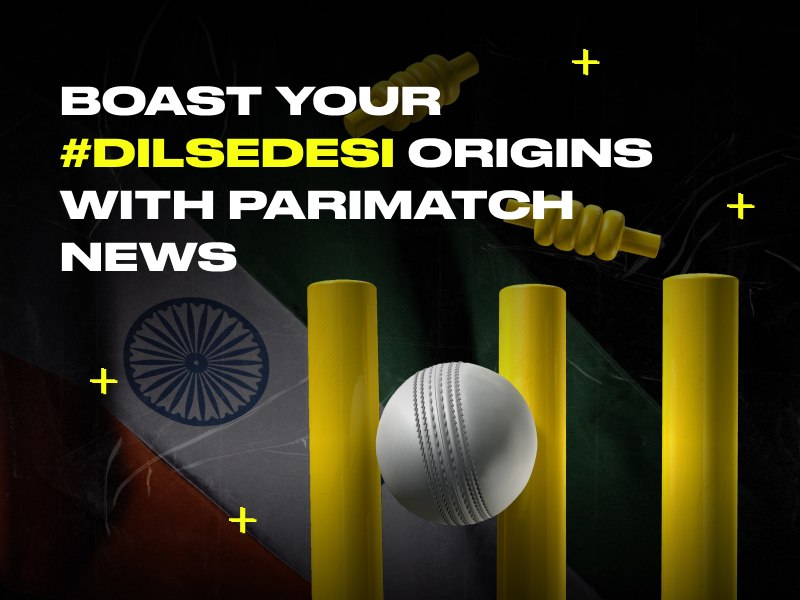 Explore the world of desi sports with Parimatch News! Follow your inner urge and share the #DilSeDesi pride – stay Indian from the heart
Boast Your #DilSeDesi Origins with Parimatch News
It goes without saying that absolutely each nation supports its sportsmen at all international competitions, and India is not an exception to this rule. National sports are something like the heartbeat of the whole Indian nation! No matter what tournament is going on, we gather friends and family members, watch matches, and support native teams.
At Parimatch News, we support the spirit of Indian sports, being an inseparable part of Indian culture. Let's dive deeper into the origin of Indian sports and define the meaning of "Dil Se Desi" for Indians.
#DilSeDesi – What Does It Mean?
When browsing the web, you'll undoubtedly find posts with the hashtag #DilSeDesi. What does this mean? The term "Desi" is used to describe the cultures, people, or products of the Indian culture. This word is derived from Sanskrit and means country or land. Mind that this word can be applied only to people from such countries as India, Pakistan, and Bangladesh.
In other words, this term is used to describe things that come specifically from this country. It may be people, various cultural features, or specific products such as food, calendars, clothes, drinks, etc.
However, as social media platforms become a part of our life, the same happens to traditions, they also move online. So far, more and more Indians use the DilSeDesi hashtag to show something unique, that belongs specifically to Indian culture. More often than not, you can find posts on social media where users support their favorite teams or players at various tournaments and use this hashtag. We, at Parimatch News, share Indian values and support the desi sportsculture.
Spirit of ​​#DilSeDesi in Indian Sports
So far, sport is a significant component of the socio-economic development of India. Surely, participation in various sporting events enhances community productivity and health, reduces medical expenses, and improves social cohesion. Therefore, sports are extremely popular in India. It's not only a good entertainment option, but it is also a significant part of Indian history and culture.
Let's get down to the most popular Indian sports.
This sport has its roots in India. The legendary protagonist Arjuna used this term as an effective method to fight enemies. So far, the popularity of this sport is soaring in India. The Pro Kabaddi League is doing way more for the country. It not only proves the commercial viability of this sport; it also boosts the overall popularity of this game. For the past six years, the interest in this game has grown by 33%, making it the second most popular sport in India. The same with the Pro Kabaddi League – it's the second most popular championship through all sports in this country.
Kabaddi evokes patriotic sentiments. It's said that even Buddha played this old game! Therefore, we can surely conclude that Kabaddi is definitely a part of the DilSeDesi concept as this sport is something that truly belongs to Indian culture.
Football has always been among the most popular sports in India, in terms of viewership and participation of players. The popularity of football is immense, and watching the Indian Super League matches is more than just a tradition. ISL is widely supported and undoubtedly belongs to DilSeDesi idea.
Interesting fact: West Bengal is a well-known football hub in India. In this state, football can even rival cricket in terms of popularity.
The Indian Super League is one of the most long-awaited Indian championships, with millions of followers from all over the globe. Fans are eagerly anticipating the upcoming matches to support their favorite teams. And this is where the hashtag #dilsedesi can also be applied as football has already become a part of Indian culture.
Parimatch News Supports #DilSeDesi
We value Indian culture and traditions. Therefore, we are proud members of Indian culture and support Indian sports in their native origin. We are an established international brand with a solid reputation that provides the hottest news of many sporting events, ranging from Kabaddi to football or even e-sport. Our overriding objective is to make the sporting events closer to its fans.
Today, many Indian sports have already become a part of everyday life. Parimatch News covers all these sporting events. With us, you can be doubly sure that you won't miss anything, especially when it comes to your favorite sports, players, or teams!
India and sports are inseparable parts. Football, cricket, kabaddi, and many other sports are extremely popular in this country and can undoubtedly be referred to DilSeDesi as something that was initially created and grown under the Indian cultural traditions.
At Parimatch News, we admire Indian sports, cover a vast array of sporting events, and review the hottest sporting news! So if you do want to be in the thick of sporting events, don't hesitate to join Parimatch News right away! With us, you won't miss anything!