Bengaluru Bulls clinch a dominating 42-28 win over Haryana Steelers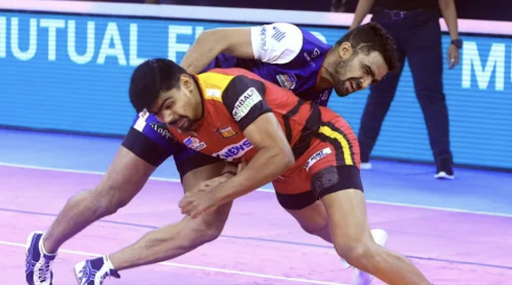 Pawan Kumar was the star performer of the match
Bengaluru Bulls completed a clinical victory of 28-42 over Haryana Steelers in the 22nd match of the Pro Kabaddi League Season 8 at the Sheraton Grand Whitefield Hotel and Convention Centre in Bengaluru on Thursday.
In the first raid of the match, Pawan Kumar opened up the scoring for Bengaluru Bulls. Both the franchises got off to a cautious start as the Bulls got an early lead of 4-1 but the Haryana-based franchise quickly turned the fortunes and tied the scoreline. The Bulls capitalized on the lead later on and completed the first all-out of the match as the score was 10-5 in favor of the season 6 champions.
The Bulls consolidated the lead towards the end of the first half as the Steelers were no match to the quality of Kabaddi that the Bengaluru-based team produced. At half-time, the red outfit had a lead of 6 points over the Vikas Khandola-led team.
In the second half, Bengaluru Bulls inflicted their second all-out on the Haryana Steelers. However, Ashish got the better of G.B. More when he was the lone raider on the mat and also clinched the bonus point. The Bulls survived the scare and Pawan Kumar's successful raid resulted in the Bulls completing the all-out.
A cause of concern for the Randhir Singh-coached franchise was Chandran Ranjit who was woefully out of form with just a solitary point to his name.
Rohit Gulia's 2-point raid raised the hopes of a comeback in the Steelers camp. However, Pawan Kumar was consistent as he continued fetching points. In the 37th minute of the match, Gulia was super tackled by the Bulls as the stamped authority on the Steelers.
In the final few minutes of the contest, the Bulls were patient in their approach and ran the clock down on most of their raids. Pawan Kumar Sehrawat completed a super tackle in the final minute of the match as the captain bagged 3 tackle points in addition to 19 raid points.
Bengaluru Bulls will face the Telugu Titans in match 26 of PKL 8 in their next match while the Steelers will square off against the Gujarat Giants on 2nd January.