Arjun Deshwal and Deepak Niwas Hooda raid in tango to award Jaipur Pink Panthers a 32-29 win over UP Yoddha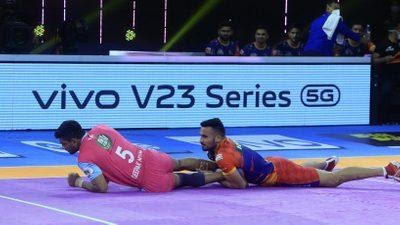 Deepak Niwas Hooda crawls his way back to the midline in the match between Jaipur Pink Panthers and UP Yoddha
Jaipur Pink Panthers won their second PKL Season 8 encounter on Monday as they defeated UP Yoddha by a 32-29 margin courtesy of their raiding duo of Arjun Deshwal and Deepak Niwas Hooda who posed questions to the opposition defense throughout the match. Surender Gill was the lone shining prospect for the losing side as his Super 10 went in vain.
Arjun Deshwal drew first blood with a diving hand touch on Nitesh Kumar while Deepak Niwas Hooda opened his account with a bonus. UP Yoddha got their first point through Shrikant Jadhav after he picked up a bonus in his Do-or-Die raid.
Jaipur's Vishal and Shaul Kumar combined well to take down Pardeep Narwal and the rest of the defenders piled their bodies on him to take out the Dubki King. He had to spend eight minutes on the bench as Yoddha's defenders took time to revive him.
Upon revival, Pardeep tried his best to come out of the clutches of the Jaipur defenders but their second line of defense nullified his Dubki again. Jaipur soon enforced the first All Out of the game after Nitin Rawal powered a strong back hold on Shrikant Jadhav, with the scoreline reading 15-8 in favor of them.
UP Yoddha saw a glimmer of hope after Surender Gill completed a Super Raid that saw him escape from an ankle hold, getting a touch from another defender while crossing the bonus line with his trailing foot in the air. However, Jaipur dashed their hopes after Deepak scored three touchpoints to complete a Super Raid of his own as the scoreline read 19-12 at half-time.
Pardeep came out with a back kick and followed it with a running hand touch to win points in succession for Yoddha after the resumption of the game. However, Shaul's tackle on him saw him spend four more minutes on the bench as the Yoddha defenders once again took their own time to revive him.
Arjun took out two defenders in his Do-or-Die raid to ensure Jaipur continued riding in the driver's seat and completed his Super 10 by escaping from an ankle hold. The scoreline read 30-25 as the match entered its last two minutes.
Yoddha picked up a point after Arjun stepped into the lobby without touch and as Jaipur had lost their review previously, he couldn't challenge the referee's decision at that time. Rohit Tomar scored three touchpoints in his next three raids as Yoddha narrowed down the lead to one point with Deepak Hooda coming into the buzzer Do-or-Die raid for Jaipur. Yoddha played a high line attempting to preserve the bonus but the Jaipur skipper raided two points to seal the tie at 32-29 for his side.
Yoddha had 23 raid points as opposed to 20 by the side from Jaipur. However, a resolute defense commanded by Nitin Rawal, who missed his Super 5 by just a point proved to be the difference at the end of the day.
Jaipur Pink Panthers occupy the third position in the points table with two wins and one loss. They will be eager to continue their winning momentum on Thursday when they take on U Mumba in a high-voltage clash.
UP Yoddha, on the other hand, needs to put this loss behind them as soon as possible as they face Gujarat Giants on Wednesday. With 7 points from 3 matches, they occupy the seventh spot in the points table and will be eyeing to climb a few places up the ladder against their sixth-placed opponents.