A 24-point effort from Naveen Express derails the Bengal Warriors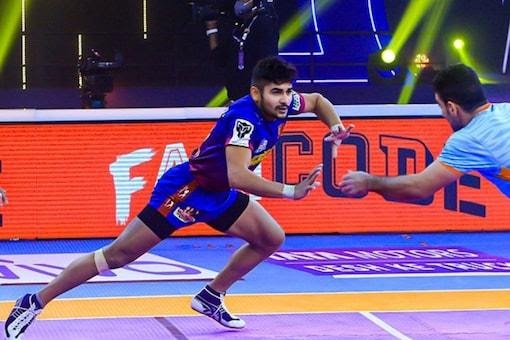 Naveen Kumar registered his 25th consecutive super 10 in the Pro Kabaddi League
Dabang Delhi defeated the Bengal Warriors 52-35 in the 19th match of the Pro Kabaddi League at the Sheraton Grand Whitefield Hotel and Convention Centre in Bengaluru on Wednesday, 29th December.
Dabang Delhi's Naveen Kumar scored a whopping 24 points from 25 raids and registered his 25th consecutive super 10 in the tournament. The raider's form has been one of the prime reasons why Delhi is at the top of the table and is yet to lose a match in PKL 8.
The match started off with a successful raid from Naveen Kumar which opened up the scoring for the Delhi franchise. Delhi raced away to a 5-1 lead and in the 11th raid of the match, Bengal Warriors were all-out. Naveen had completed his super 10 in the 11th minute of the match.
Following the all-out, Delhi's dominance over the defending champions continued and they inflicted another all-out with the scoreline reading 21-7. Naveen Kumar was on fire and Bengal's defense couldn't contain him as Maninder Singh and Sukesh Hegde underperformed in the first half.
At the half-time whistle, Delhi led by 18 points and a Bengal Warriors were unlikely to make a comeback. Both teams were evenly poised in the second half, as Bengal Warriors scored 20 points compared to the 19 points scored by their opponents. But the deficit couldn't be overturned.
Both the teams were poor in defense with a tackle success rate of 33.33% and 12.9% for Dabang Delhi and Bengal Warriors. The Bengal raiders took advantage of this weakness in the second half. Maninder Singh and Sukesh Hegde were impressive as Manjeet Chillar was nowhere close to his best but it was a little too late.
Naveen's superb performance was reflected in the statistics as it was his best showing in this history of the tournament. Delhi had an impressive raid strike rate of 90% which is a rare stat to show.
But Naveen wasn't the only raider who was the star for Dabang Delhi on Wednesday. Vijay also scored a super 10 and was phenomenal in the absence of Ajay Thakur. He complimented Naveen and the duo was a lethal threat to the struggling defense of the Warriors.
Bengal Warriors will face Patna Pirates in the 24th match of the league while Dabang Delhi will lock horns with the Tamil Thalaivas on 1st January.