Will the youngster newcomer become a new creative No.10 that Arsenal has been sorely lacking?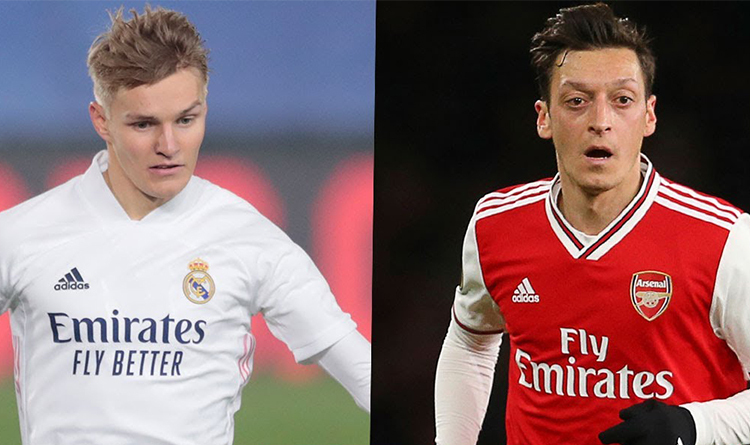 Odegaard, the newcomer from Real Madrid and Mesut Ozil, who joined Fenerbache as a free agent
Arsenal has announced the transfer of midfielder Martin Edegor on loan from Real Madrid. The player will spend the rest of the season in the London club. He will play for Arsenal under number 11.
Arsenal has agreed to pay a £1.8 million loan fee for the creative midfielder plus his wage of £38,000 a week, which would make the total outlay about £2.5m until the end of May.
In the three seasons from 2017/18, Martin spent loan spells with Heerenveen and Vitesse Arnhem in the Netherlands and then last season back in Spain with Real Sociedad, where he helped the club reach the final of the Copa Del Rey and also qualify for the Europa League. This season Odegaard played 7 games for Real Madrid in La Liga.
Mikel Arteta said:
"It's great that we've secured Martin to come to us until the end of the season. Martin is of course a player that we all know very well and although still young, he has been playing at the top level for a while. Martin will provide us with quality offensive options and we're all excited to be integrating him into our plans between now and May."
There has been a lot of speculation in the media in recent days over the importance of a phone call Mikel Arteta made to Martin Odegaard to convince him to join Arsenal.
Mikel Arteta confirms that he is interested in a permanent deal, but it will rely on two things: How well he adapts to Arsenal + Real Madrid's position next summer.
Martin shared his thoughts about the influence of the Spaniard:
"I spoke to him before coming here, of course. That was very important for me and he seems like a top manager and I liked his ideas, the way he sees football and also the way he is. He gave me a great feeling and that was important for me to come here. He was crucial."
The Norwegian replaces the German, who was let go by Arsenal for free after his contract was terminated.
The 2014 world champion will receive an annual salary of three million euros from the renowned Turkish club. However, only from the upcoming 2021/22 season. According to a statement by Fenerbahce to the stock exchange, the 32-year-old midfielder receives a bonus of EUR 550,000 for signing the contract.
The player was officially introduced by the Fenerbache yesterday:
The 22-year-old has also made 25 appearances for Norway, making his debut in August 2014 when he became the youngest debutant for his country's senior national team at the age of just 15 years and 253 days.