Top 5 Defenders of the ISL 2021-22 season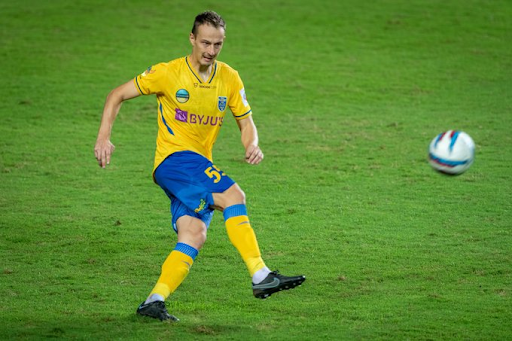 Marko Leskovic wasted no time in acclimatizing to Indian conditions
The 2021-22 edition of the Indian Super League had goals aplenty, but the goal tally would have been exorbitantly higher than what it is, had it not been for top drawer defensive display from plenty of players. Some shining stars in the likes of Marko Leskovic and Ruivah Hormipam put their bodies on the lines to guard their teams' goalmouth and keep deadly attackers at bay, while the likes of Roshan Naorem emerged as a bridge between the backline and attack.
Let's check out the top five defenders of the season:
#5 Tiri
Longevity in Indian football is a difficult ask for any foreign player, but Tiri seems to be the master of it. The Spanish central defender had yet another impressive season with ATK Mohun Bagan and played a big role in the team's semi-final qualification.
Despite playing only 17 matches, the Spaniard made the most interceptions for the Mariners – 51, while he also made 42 tackles. Juan Ferrando's team kept five clean sheets with Tiri starting – against Odisha, Goa, Bengaluru, Chennaiyin and Hyderabad.
#4 Ricky Lallawmawma
Ricky Lallawmawma has been in and around the circuit for quite a while now, but this season was the first instance where he made the headlines with his consistent performances. Playing as a left-back, he made the most interceptions for the ISL League Winners' Shield-winning team, Jamshedpur – 31 interceptions in 22 appearances.
Besides that, Lallawmawma was also never afraid to put in a tackle, having made 64 tackles. The Red Miners kept seven clean sheets when the 30-year-old started – against Odisha, Bengaluru, East Bengal, Goa, Kerala Blasters, Hyderabad, ATK Mohun Bagan. Besides that, he also got an assist in a game against Hyderabad.
#3 Roshan Naorem
While the previous two mentions are experienced players, Roshan Naorem was certainly among the finds of the season when it comes to defenders. He made the second-most tackles for Bengaluru – 77 in 17 matches, whilst he is third on the Blues' list of interceptions per game with 27 interceptions.
Besides his defensive abilities, Naorem also frequently combined with attack and his eight 'goal contributions' is a testament to this statement. He scored one goal – against Kerala Blasters, and gave seven assists – twice against Odisha and Mumbai City and once each against ATK Mohun Bagan, Jamshedpur, and Kerala Blasters.
#2 Akash Mishra
Akash Mishra was an absolute livewire for Hyderabad down the left flank and had a major role to play in the Nizams' historic title-winning campaign. He made the most passes (846) and also got the most touches (1446) for Manolo Marquez's team.
Besides that, he is also at the top of Hyderabad's list of most tackles and most interceptions, with 97 tackles and 56 interceptions. The youngsters scored two goals in this campaign – against Odisha and NorthEast United, while he also gave three assists – against Bengaluru, ATK Mohun Bagan and Kerala Blasters.
#1 Marko Leskovic
While sustaining in Indian football is difficult, the more challenging thing is hitting the ground running after arriving from a European league. However, it seemed like a cakewalk for Kerala Blasters' central defender Marko Leskovic, who wasted absolutely no time in getting acclimatized to the Indian conditions after coming from the Croatian top flight.
With 36 interceptions in 21 matches, he is second on the list of Tuskers' players with the most interceptions, while he also made 38 tackles. Leskovic does not have any goal contribution to boast of but Ivan Vukomanovic's team kept seven clean sheets with his name on the starting XI – twice against Chennaiyin and Jamshedpur, once each against NorthEast United, Mumbai City, and Hyderabad.