The title is slipping away from Liverpool since Klopp's team has never scored in 2021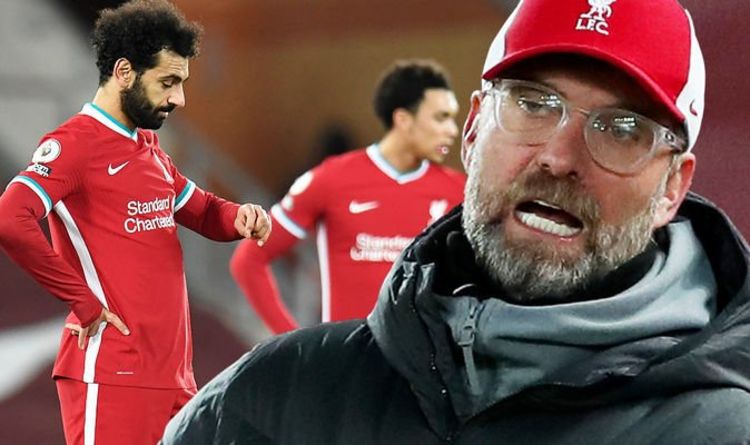 A frustrated coach and his players
Jurgen Klopp's team entered a prolonged recession: 5 matches without a win in the English Premier League, 2 defeats and only 2 goals scored. Another milestone of the losing streak was the home defeat to Burnley (0 – 1).
It was a typical Liverpool match of the last month – the Merseyside team possessed the ball a lot (more than 70% of the time), shot a lot – 26 attempts, but we can rarely say that it is dangerous (only 6 of 26 shots on target).
In the match against Manchester United, Alisson kept a clean sheet thanks to three miraculous saves.
However, in the match against Burnley, an 11-meter penalty was given due to Alisson's critical mistake on the 83rd minute (he knocked down a striker).
Alisson guessed the angle, but Barnes' powerful shot brought Burnley a sensational victory.
Liverpool are fourth in the Premier Leagie table, six points behind leading Manchester United.
The German coach says he should be blamed for Liverpool's desperate Premier League form – and admits it would be "silly" to talk about winning the title:
"We lost the game which is pretty impossible but we did it. That is my fault. It is my job to make sure the boys have the right feelings and confidence. That didn't work out. We had the ball a lot and created some situations that are OK but our final decision is not right. I said the same thing last week. When something doesn't work you must try harder, longer and more often and make better decisions. It didn't work tonight. We're not talking like it's easy. It's not."
"It's not the luckiest period of our lives but it would be a bit cheap to put it all on that we don't have enough luck. Our problem is our decision-making, I've had enough time to think about this game and wonder how is it possible we could lose. But we lost it. That's our fault and that means my fault."

he continued.
This was Liverpool's first defeat in 69 Premier League games at Anfield (W55 D13) since losing 1-2 to Crystal Palace in April 2017. It was the second-longest unbeaten home run in English top-flight history, after Chelsea's 86 games ending in October 2008.

James Milner called for unity and encouraged to face the difficulties with the head held high:
The former Liverpool defender Jamie Carragher said after the match:
"The title is slipping away. It's going to be really difficult at this moment in time. There's six points between the top, it can still be recovered but the form they are in and the fixtures they have in the next couple of months."
"They will start worrying about the top four rather than the title. There are so many teams this season challenging for the top four. They need to get back to winning games and scoring goals before pondering about the defence of their title. They've been so poor, Klopp can't believe what's happening to Liverpool in the last few weeks, from the 7-0 win at Palace."
"So many players are out of form at the same time. The front three and the full-backs – all five of them – don't feel anywhere near their best. It's not just that they're not scoring, it's the general play as well. You saw with [Mohamed] Salah, three or four times he just ran into defenders."

he reflected.
Liverpool haven't scored with any of their last 87 shots in the Premier League; a run that's currently 60 shots more than any other side in the competition.
This is the first time a Jürgen Klopp side has gone four league games without scoring since his Mainz side did so in the Bundesliga, between November and December 2006.
After 19 rounds, the Merseyside side have 34 points – their worst result since the 2015/16 season. Liverpool finished eighth in the league that season.