Ronaldo: 'True champions never break.' Juventus beat Cagliari as Cristiano scored a hat-trick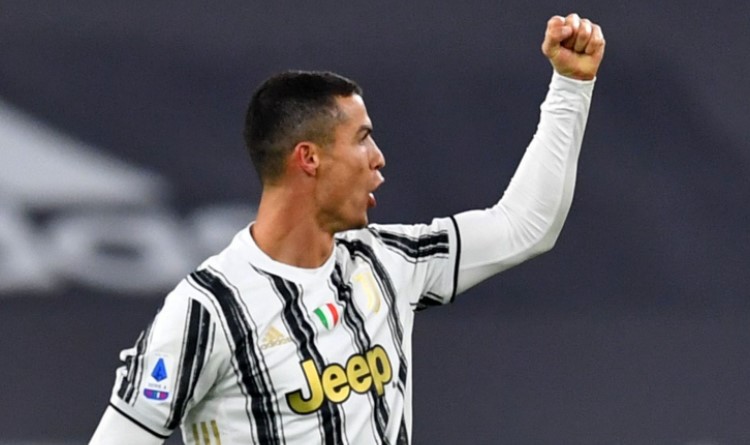 36-year-old Ronaldo celebrating his goal against Cagliari
Juventus striker Cristiano Ronaldo scored a hat-trick in the Serie A fixture against Cagliari, the final score is 1-3.
The Juve star needed only 32 minutes to get the hat-trick in the 27th tour.
In the 10th minute, he scored a great header after a corner. 15 minutes after that he converted a penalty and in the 32nd minute of the first half he scored with a blistering shot from the edge of the penalty box.
It is his second-fastest career hat-trick: only against Espanyol in September 2015 he did better, in 20 minutes.
It was also the Portuguese's 600th game in Europe's top divisions.
You can watch all the highlight here:
Moreover, it was Ronaldo's 21st, 22nd and 23rd goals this Italian season, and he is the league's leading scorer now. Inter forward Romelu Lukaku, second, is four goals behind.
Before the match, Cristiano wrote a fiery speech saying that we should focus on the present moment:
"More important than the number of falls you take in life, is how fast and how strong you get back on your feet… True champions never break! Our focus is already in Cagliari, in the Serie A struggle, in the Italian Cup final and in everything that we can still achieve this season. It's true that the past belongs in museums, but fortunately, football has memory… and so do I! History can't be deleted, it's written every single day with resilience, team spirit, persistence and lots of hard work. And those who don't understand this, will never achieve glory and success."

"I cannot wait for the next games and challenges, records and trophies. Believe me, this story is still far from over. The future is tomorrow and there's still a lot to win for Juventus and Portugal"

– he said after the game.
There have also been rumours circulating on the internet about Ronaldo possibly joining the Real Madrid side this summer. Juventus director Fabio Paratici responded:
"Cristiano will be the future of Juventus, absolutely. I'm sure about it. It's a privilege to have Cristiano. We enjoy him, and we're very happy to have this kind of champions with us".
"He's ok. It's normal for Cristiano to be disappointed, like everyone else. The rumours are normal, he is the most important player in the world with Messi. He's always done a great job here and proved his worth"

– head coach Andrea Pirlo said in addition.
With his goals to the Sardegna Arena, Cristiano Ronaldo has now scored in each of 18 stadiums he played in Serie A.
CR7 has scored 87 goals in March among clubs and Portugal, a record for him in career in a single month.