Record-setting Liverpool made a show by demolishing Crystal Palace this Saturday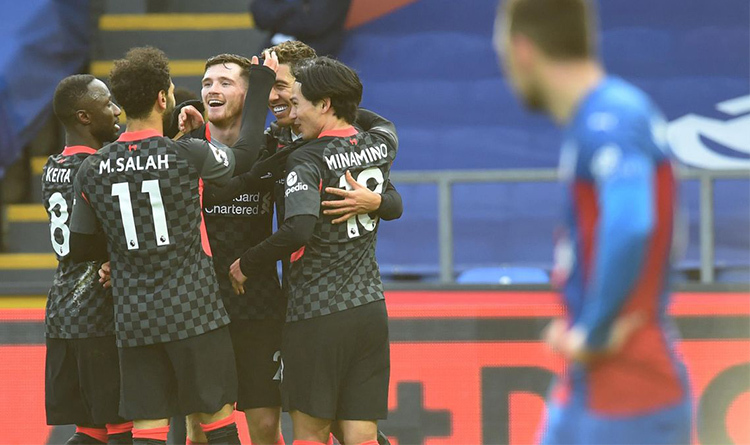 Liverpool`s lads celebrating goal
Saturday is remembered by many football fans with a brilliant Liverpool's match as they had a great time visiting London. Game ended with a score of 0-7. 
Liverpool remains at the top of the English Premier League table with 31 points while Crystal Palace have just 18 and occupies 13th place.
The "Scousers" scored 3 goals in the first half and only increased their lead in the second half as the demotivated London club did not even try to attack and shoot on goal.
The match against Crystal Palace delighted not only Liverpool fans, but every football lover as well. Seven goals and total dominance made viewers a lot of fun.
According to one statistics portal, Klopp's team managed to set a unique record in this match.
Each of the seven goals was assisted by a different player. Mane, Firmino, Robertson, Alexander-Arnold, Salah, Matip and Oxlade-Chamberlain all provided assists. It was the first time in the history of the English Premier League.
Be sure to watch the best moments of the game:

"We've got the longest break of the season until another game so we will get a couple of days off, which is so important. We'll spend time with the family, spend time with the kids, before Christmas and I'm really looking forward to it."
Robertson told the team`s official site.
Also Jurgern Klopp shared his thinking behind not starting Salah:
"It's just the first time for a while that we have the opportunity to do something like this. We played Sunday-Wednesday, so we needed fresh legs today. So Joel could come in, Naby could come in and then we had to think about how we can deal with that in the first line and Mo played the last four games, so a massively intense period. So it was clear it will be him. Then usually you would expect in a game like this against Crystal Palace – the result recents between us and them were always pretty tight – so bringing him in the last half an hour, I thought it's a good idea. We did that, by the way, but it was not exactly the scenario we would have expected, of course. That's it."
Another fact is that Liverpool's 7-0 demolition of Crystal Palace on Saturday means Jurgen Klopp has now won more top-flight games than any other Reds boss in the Premier League era. It was Klopp's 127th victory in the Premier League, surpassing Rafael Benitez's total of 126. And, while Benitez was in charge for 228 league games, Klopp has surpassed his record in only 196.
The next tour "Scousers" host struggling West Brom which has a new coach, while Palace travel to Aston Villa.
Liverpool remain the only team in the Premier League to score in every tour. The streak stretches to 14 matches.
Since the start of the 18/19 season, Andy Robertson has picked up 28 assists
This is only the second time Crystal Palace have conceded five goals in a home EPL game. The first time was also against Liverpool: in August 1994, they were beaten 1-6.