Real Madrid scripts an improbable comeback after Liverpool avoids a scare to find the win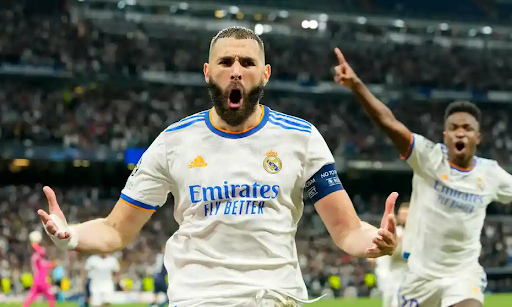 Real Madrid made an astonishing comeback against Manchester City to win 301
The first leg of 2021/22 UEFA Champions League semi-final fixtures had every ingredient a football fan could ask for, and it seemed we had seen everything. However, as it turned out, we had seen merely a glimpse of the magic that unfolded in the second leg, as the recently-concluded couple of fixtures will be cherished by every football fan for a very long time. Liverpool dug deep to beat Villarreal 3-2, while Real Madrid took the entire football community by storm for the third time this season, beating Manchester City 3-1.
Check out what happened over the weekend in the Premier League:
Villarreal 2-3 Liverpool (2-5 Agg.)
With all eyes being on Wednesday's fixture between Real Madrid and Manchester City, not many expected Tuesday's Villarreal vs Liverpool clash to be entertaining, and there was good reasoning behind the common perception.
Liverpool came into this game on the back of a 2-0 home victory in the first leg, and overcoming a two-goal deficit against Jurgen Klopp's mighty reds seemed too big a hurdle for Villarreal to cross. However, though Unai Emery's men lost this game 3-2, his players did give Liverpool a run for its money.
The first goal came very early in only the third minute when Boulaye Dia tucked home an Etienne Capoue pass. This goal struck like lightning, and quite surprisingly, lighting struck twice in the 41st minute. Capoue launched a cross into the box this time and his midfield compatriot Francis Coquelin made no mistake in heading it into the back of the net.
However, the second half was all about Liverpool. The Kopites restored their lead on aggregate via Fabinho's 62nd-minute shot, whilst the lead was doubled only five minutes later when Luis Diaz headed home a Trent Alexander-Arnold cross. The icing on the cake was done by Liverpool's Senegalese attacker Sadio Mane, who slotted in a Naby Keita through ball in the 74th minute.
Real Madrid 3-1 Manchester City (6-5 Agg.)
The second leg semi-final between Real Madrid and Manchester City was a quintessential embodiment of all the aspects this tournament stands for – thrill, excitement, overcoming challenges, and above all, football of the very highest quality.
Manchester City came into this fixture on the back of a 4-3 win in the first leg and they were expected to dominate proceedings in the second leg as well. They certainly did, for Pep Guardiola's men were all over Real Madrid for 89 minutes. However, the common saying turned true yet again, that ninety minutes at the Santiago Bernabeu is indeed a long time.
After a goalless first half, Riyad Mahrez broke the deadlock for City when his bullet of a shot defeated Los Blancos' custodian Thibaut Courtois to make it 5-3 on aggregate for the defending Premier League champions. The visitors thought they had sealed the deal, but what unfolded in front of their very eyes was beyond spectacular.
Substitute Rodrygo got Carlo Ancelotti's team back in the game in the 90th minute when he tucked home a lay-off from Karim Benzema. The Brazilian prodigy scored his and his team's second goal hardly a minute later, this time with his head as his precise header off a Dani Carvajal cross took the game to extra-time.With faith rekindled at a jam-packed Bernabeu and every single Real Madrid player going for the kill, it seemed the third goal was imminent and it eventually came in the 95th minute when none other than Karim Benzema scored a penalty after he was brought down inside the box by Ruben Dias.