Rashford, Sancho and Saka suffer racial abuse after penalty misses in Euro 2020 final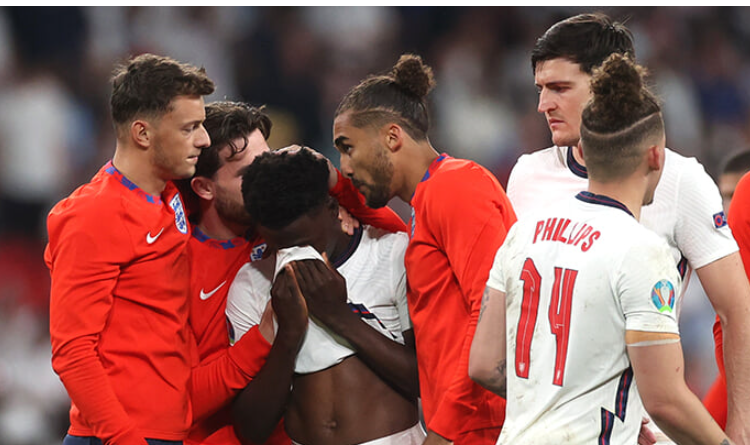 The young Englishman's teammates console him after the miss
The defeat in the final turned into real drama for 23-year-old Marcus Rashford, 21-year-old Jadon Sancho and 19-year-old Bukayo Saka. They all missed their post-match penalty shots, and youngster Bukayo, who never took penalties in his professional career before, was the one to take the last decisive kick – and Gianluigi Donnarumma confidently saved his goal to claim the trophy.
Read the whole story 💥: Italy crowned champions of Euro 2020 after beating England on penalties
After that, a ton of hate was unleashed on the lads – social media was filled with racist insults from England fans. 
Despite the fact that conscious fans tried to support the players with positive messages – the racist abuse caused a real scandal.
The bullying has been condemned by Prime Minister Boris Johnson and London police have already said they will investigate each case.
Arsenal`s Bukayo Saka was facing enormous pressure struggling in tears after the miss. The sobbing midfielder was comforted by the whole team right after the penalty shoot-out. Liverpool`s Kalvin Phillips was the first to run up and provide the shoulder to cry on.
The England national team, Man Utd and Arsenal have publicly backed the players.
A lot of players around the world didn't stay away either, expressing support for the young players.
The FA said in a statement it was "appalled" by the abuse of the three players, calling on the authorities to take the necessary measures as soon as possible:
"We will do all we can to support the players affected while urging the toughest punishments possible for anyone responsible. We will continue to do everything we can to stamp discrimination out of the game, but we implore government to act quickly and bring in the appropriate legislation so this abuse has real-life consequences."
A Facebook Company Spokesperson, speaking on behalf of Instagram said:
"No one should have to experience racist abuse anywhere, and we don't want it on Instagram. We quickly removed comments and accounts directing abuse at England's footballers last night and we'll continue to take action against those that break our rules. In addition to our work to remove this content, we encourage all players to turn on Hidden Words, a tool which means no one has to see abuse in their comments or DMs. No one thing will fix this challenge overnight, but we're committed to keeping our community safe from abuse."