PSG vs Borussia Dortmund. Prediction and Preview. Probable Lineups, Team News, Stats, and more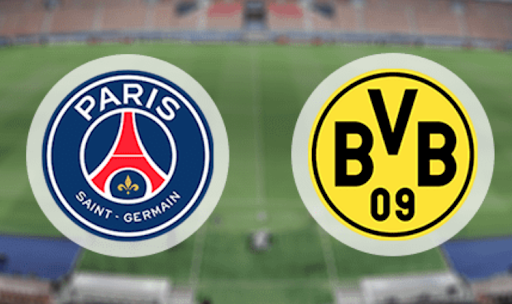 Borussia have yet to have a single defeat on their record this season. Will the Germans be able to resist Mbappe and Co?
Paris Saint-Germain will host Borussia Dortmund in the UEFA Champions League Group F match at the Parc des Princes Stadium. The fixture will take place on Wednesday, September 20, beginning at 00:30 IST.
Parimatch News will tell you everything you need to know ahead of the upcoming match.
PSG News & Current Form:
PSG have not had the best start to the season. In five matches in the French league, it beat only RC Lens (3:1) and Olympique Lyonnais (4:1). Also Parisians played a draw with FC Lorient (0:0) and Toulouse FC (1:1). They lost to OGC Nice (2:3) at home stadium in the game of the last round.
Even the efforts of France captain Kylian Mbappe were not enough to beat the opponent, the striker made a double. He has already scored seven goals in four meetings in Ligue 1 and holds the first place in the league scorers' race. And this is despite the fact that the team from Paris has scored a total of 10 goals this season.
If PSG used to depend mainly on three or four players, now the burden is on the shoulders of one player. If Mbappe doesn't play or gets injured, then Parisians will need a plan B.
There is no stability or confidence in the play of the rest of the Red and Blue's players. This is mostly due to the departure of leading players, in particular Leo Messi, Neymar Jr, Marco Verratti and Leandro Paredes. In addition, the new Spanish coach Luis Enrique has not yet settled in.
The players acquired by PSG in the summer – Ousmane Dembele, Milan Skriniar, Randal Kolo Muani, Goncalo Ramos, Lucas Hernandez and a number of promising youngsters have not yet fully compensated for the loss of players who left. It turns out that all hope is on Kylian Mbappe, who missed the training camp due to a conflict with the Parisians' management.
Just think, PSG have only two wins in the first five rounds of the French championship. Even in this tournament there are troubles, big troubles. What then to expect from the Champions League, if the draw has prepared a group of death for the Parisians: PSG, AC Milan, Newcastle United FC and Borussia Dortmund. In this group, every match will be precious.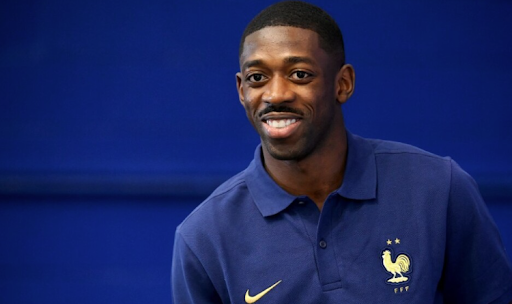 One of the woes of the Parisians at the start of the season were injuries. Before the game with Borussia, eight players are unavailable: Marco Asensio, Presnel Kimpembe, Lee Kang-in, Nordi Mukiele, Nuno Mendes, Sergio Rico, Fabian Ruiz and Alexandre Letellier. Half of these players are responsible for the defense, where the Parisians are not idyllic. The team has scored zero in only one game out of five.
Borussia Dortmund News & Current Form:
Last season the club was very close to winning the German championship. Everything was decided by the last round. BVB stumbled and missed FC Bayern Munich, who eventually won the gold medals.
Borussia Dortmund started the new season more confidently than PSG. In four Bundesliga meetings, they did not suffer a single defeat. Players drew with VfL Bochum (1:1) and FC Heidenheim (2:2). They beat first FC Cologne (1:0) and then SC Freiburg (4:2). The Black and Yellows are seventh in the championship, but are only two points behind leading Bayern and Bayer 04 Leverkusen.
The last game is the most interesting. The opponents were a strong club. However, even despite the away factor, the wards of Edin Terzic were better in terms of statistical indicators and quite deservedly scored three points. The final point in the match was set by the long-time leader of BVB, Marco Reus. He scored in 90+2 minutes.
Dortmund also had some problems due to the fact that in the summer the team left many players off the main squad, in particular Jude Bellingham. The loss of the Englishman turned out to be much more serious than the management thought. Marcel Sabitzer and Felix Nmecha do not even give out half of Jude's volume, so there are regular problems in matches with outsiders.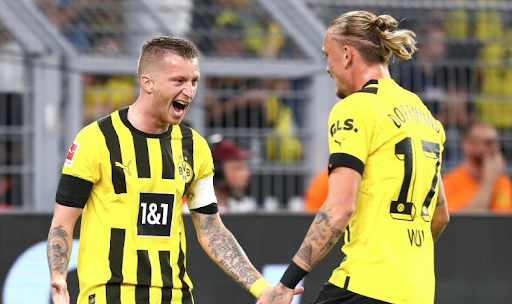 Like PSG, Borussia have a very effective striker – Donyell Malen. In the last 17 matches of the German championship he scored 12 goals and gave four assists. He also recently helped his team to a big win over TSV Schott Mainz (6:1) in the 1/32 final of the DFB-Pokal, having scored a goal.
As for the injured, Mateu Morey, Thomas Meunier and Julien Duranville will miss the UCL game.
The last time the clubs played each other was in 2020. These were play-off matches of the 1/8 finals of the Champions League. Then in the first game the German club defeated the opponent with a score of 2:1, but in the return meeting the Parisians took revenge (2:0) and went further.
PSG form guide: W-D-D-W-W-L
Borussia Dortmund form guide: W-W-W-D-D-W
PSG vs Borussia Dortmund Head-To-Head Record:
| | | |
| --- | --- | --- |
| PSG | Draw | Borussia Dortmund |
| 1 | 2 | 1 |
October 21, 2010: Borussia Dortmund 1 – 1 PSG (Europa League);
November 4, 2010: PSG 0 – 0 Borussia Dortmund (Europa League);
February 18, 2020: Borussia Dortmund 2 – 1 PSG (Champions League);
March 11, 2020: PSG 2 – 0 Borussia Dortmund (Champions League).
PSG vs Borussia Dortmund Predicted XI:
PSG's possible starting lineup (4-3-3): Donnarumma; Hakimi, Marquinhos, Skriniar, Hernandez; Zaire-Emery, Ugarte, Vitinha; Dembele, Kolo Muani, Mbappe.
Borussia Dortmund's possible starting lineup (4-2-3-1): Kobel; Wolf, Hummels, Schlotterbeck, Bensebaini; Sabitzer, Can, Brandt; Malen, Haller, Reus.
Statistical preview of the match PSG vs Borussia Dortmund:
PSG's First XI average age is 25.0 years, Borussia's First XI average age is 28.2 years.
The total value of the PSG squad is 1.04 bln euros, while BVB's value is 467 mln euros.
Jesus Gil Manzano from Spain has been appointed as the referee for the match. The official has completed only 5 matches so far this season, during which he has shown 16 yellow cards (an average of 3.2 yellow cards per game) and zero red cards. In addition, the referee has averaged 27 fouls per game.
PSG have 2 wins in their last five matches.
Borussia have a 20-match unbeaten streak.
Borussia have a 6-match unbeaten away winning streak (3 wins + 3 draws).
Borussia conceded an average of 1.20 goals per game in their last 5 games and scored an average of 2.80 goals per game.
PSG conceded an average of 1.20 goals per game and scored an average of 2.00 goals per game in their last 5 games.
What has been said before the match:
New gaffer of PSG Luis Enrique about his team's mindset ahead of UCL game:
"It's never a good sign to be obsessed with something, be that in football or in life. You need to have hope and ambition, but being obsessed never works. We have a lot of hope, we're really looking forward to playing, and we want to make the fans happy."
"We need to wait and see how the competition starts. Football is a wonderful sport because every result is possible. As a club, we're convinced [of our own ability] and highly motivated. We go into every competition looking to go as far as possible. We're ambitious, and the only aim that we need to have is to play to win."
"In terms of results, we haven't necessarily started well, but everywhere I've managed, this was the same. There's a lot of information for my players to take on board, and right now, they're very receptive. They're eager to do well, and I'm delighted with my players."
"To win the Champions League, you need a great team. Every player needs to be ready to play and to step onto the pitch. You need to be together as a team and humble. You need to want to win and to help the team."
Edin Terzic, coaching BVB, is serious about his team performing at it's best:
"We don't only want to make up the numbers – we want to compete with the best. It's about putting in a really good performance. That is what we will do tomorrow. We are confident enough to say that we are taking on this task against one of the favorites to win the Champions League. We have proved that we can cause problems to teams competing for the trophy."
"There were a few things that we looked at closely. We are Borussia Dortmund – we have our own way of playing, our own ideas. It is important to win the first group game. That is why we will try everything to leave the pitch as the winners."
"They are beatable. We want to play well from the first whistle. They have very fast players up front. We want to defend against them. If we can do that, we can survive and even win in Paris,"

said Nico Schlotterbeck. 
PSG vs Borussia Dortmund Prediction:
Whereas PSG used to depend predominantly on three or four core players, now the burden is being heaped on the shoulders of just one player. And the French super stat is exceptional for sure, but If Mbappe fails, if luck is not on his side or he gets injured, then Luis Enrique would need to have a plan B. Whether there is one is not yet known for sure – in the first round of Ligue 1 without Kylian, the capital team was unable to beat Lorient (0:0). In addition, Asensio, Ruiz, Kimpembe, Lee Kang-in, Mendes and Mukiele will not play because of injuries. Such losses will not pass unnoticed.
Borussia plays vigorously, as before, but unstable: can thrash anyone and then suffer with an outsider. At the same time, games involving the German vice-champion remain in the recommendations to watch – they are always packed with attacking thrills which converts into the goals quite often. In the last meeting with Freiburg, as many as six goals were scored (4:2).
It is reasonable to conclude that, taking advantage of the home support, PSG will surely manage to score one or two goals possessing still fewer resources than the Yellow-Blacks at Parc des Princes. However, we do not doubt the productive impact of the visitors: BVB have never left the pitch without a goal in five matches of the season (including the cup), and their average total is at 2.8 goals per game.
Parimatch News staff prediction:
We say: Both teams will score and the total of the match will be over 2.5 – Yes.
Don`t miss out 👉: India vs Sri Lanka: Preview and Prediction