Mumbai City signs former Odisha striker Diego Mauricio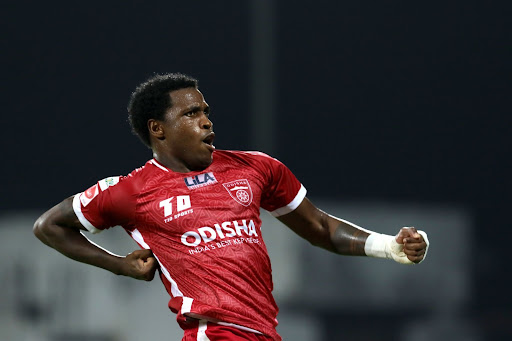 Diego Mauricio celebrates a goal for Odisha
Reigning champions Mumbai City have signed former Odisha striker Diego Mauricio keeping him at the club until the end of the 2021-22 Indian Super League season.
The club announced the signing of the 30-year old Brazilian forward and head coach Des Buckingham welcomed him praising his qualities and discussing his familiarity with Indian football.
He said,
"I am delighted to be able to welcome Diego to the club. He possesses great quality and he has shown it in his time in the ISL last season. His familiarity with the competition will certainly help us and we're confident that Diego can be an asset to the club. We look forward to having him join our group soon."
The former Odisha striker is glad about the move to the Mumbai-based club and is raring to feature in the ISL once again.
He said,
"I am happy to be back in India and I am delighted to join the champions Mumbai City. I had a good experience last season playing in the ISL but I feel like I have a lot more to achieve in India. The expectations are high when you join a club of Mumbai City's stature."
Mauricio is relishing the opportunity to challenge for the title and feature in the upcoming AFC Champions League campaign after finishing in the last position with Odisha despite scoring 12 goals last season.
He continued,
"I already know the ambition of the club is to win games and defend the ISL title and we will also be playing in the AFC Champions League which is a big motivation not only for me but for all the players. I am ready for the challenge and I can't wait to get onto the pitch."
Odisha snapped up the Flamengo youth academy product ahead of the 2020-21 ISL season and the fiery forward scored 12 goals and provided 2 assists to help his team but was left disappointed as the Juggernauts finished 11th with 12 points from 20 matches conceding the most number of goals in the league season.
Also read: NorthEast United signs ISL Golden Boot winner Marcelinho
The Islanders have signed Mauricio to replace Ygor Catatau who has returned to parent club Madureira after not getting enough chances to nail down a place in the starting XI due to the red-hot form of Spanish striker Igor Angulo.
Despite not getting enough chances in the starting XI, the Brazilian started the season on a strong note scoring 3 goals and providing a solitary assist with all goal contributions coming as a substitute.
Mauricio would now be undergoing a mandatory quarantine period and will join the Islanders squad for training in the hope to turn around the defending champions' fortunes as they have failed to win any of their last five matches.