Liverpool legend Steven Gerrard quits Rangers to save in-crisis Aston Villa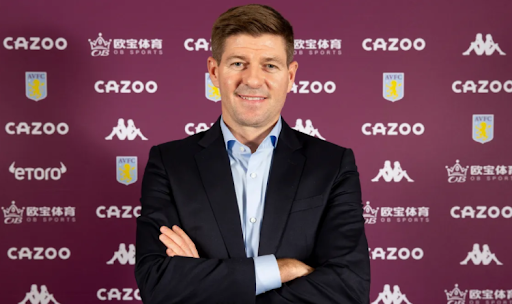 Gerrard poses for a club presentation
Former Liverpool and England midfielder Steven Gerrard has been appointed head coach of the English side Aston Villa. The specialist had previously been in charge of Scottish side Rangers.
Aston Villa is experiencing tough times having just 10 points in 11 matches. The team are in terrible form and have lost five games in a row: now the Birminghamians find themselves sitting in 16th place in the English Premier League standings. They lost 0-1 to Southampton in their last EPL match.
The management had their eye on a shortlist of six candidates at once: Steven Gerrard, Roberto Martinez, Ralf Hasenhüttl, Thomas Frank, Paulo Fonseca and Kasper Hjulmann. In the end, the promising Gerrard who tore up the Scottish Championship with Rangers FC and gifted the first league title in 10 years was chosen.
Don`t miss out 💥: Gerrard makes Rangers dream come true as Glasgow team won its 1st SPL title in 10 years
The Villian`s CEO Christian Purslow said:
"The Board of Aston Villa are delighted to appoint Steven as our new Head Coach. Since moving into coaching after his illustrious playing career, Steven began by managing and developing top young players in the Liverpool FC Academy which is experience we value highly at Aston Villa. He then took the brave decision to test himself in the intense and high pressured environment of the Scottish Old Firm. His subsequent achievement in winning the Premiership title with Glasgow Rangers really caught our eye as did his experience in Europe. It has been very clear in our discussions with him that Steven's coaching ambitions, philosophy and values entirely match those of Aston Villa. We are excited he has agreed to lead us in the next phase of our ambitious plans as we look to build on the progress made since Nassef Sawiris and Wes Edens took over the club in 2018."
The Englishman ended his career as a player in 2016. From 2017 to 2018, the novice coach worked with the Liverpool Under-19 team. In 2018, he took charge of Rangers and became Scottish champions with the team for the 2020/21 season, their first time in 10 years.
It is reported that Gerrard has signed a three-year contract with the Birminghamians. Financial details of the deal were not disclosed – it is only known that Steven became the highest-paid coach in the history of the Lions, also Rangers will receive £3m as a compensation fee.
It is noteworthy that in a month, on December 11, Aston Villa will have an away game with Liverpool, for which Stevie G played the lion's share of his professional career. The game will take place at Anfield and will kick off at 19:30 IST.
Here are the first words the young professional spoke to the club's official website:
"Aston Villa is a club with a rich history and tradition in English football and I am immensely proud to become its new Head Coach. In my conversations with Nassef, Wes and the rest of the Board, it was apparent how ambitious their plans are for the club and I am looking forward to helping them achieve their aims. I would like to express my sincere gratitude to everybody associated with Glasgow Rangers for giving me the opportunity to manage such an iconic football club. Helping them secure a record-breaking 55th league title will always hold a special place in my heart. I would like to wish the players, staff and supporters the very best for the future."
The midfielder played a total of 695 games for Liverpool in which he scored 180 goals. He also scored 21 goals in 114 appearances for England. He then appeared in 36 games for LA Galaxy and retired.