I-League champions Gokulam Kerala handed a shock defeat by Maziya S&RC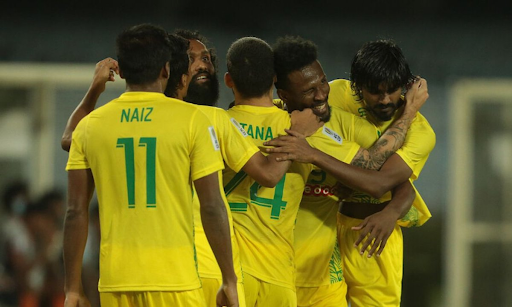 Maziya S&RC stunned the I-League champions Gokulam Kerala to win 1-0
Defending I-League champions Gokulam Kerala were handed the shock of their lives on Saturday, 21st May when Maldives' Maziya S&RC handed them a 1-0 defeat in the second round of the 2021/22 AFC Cup's group stage fixtures. Cornelius Stewart netted the all-important goal for the Green Boys.
Maziya S&RC might have started their campaign with a 1-0 defeat against Bangladeshi outfit Basundhara Kings, but their Serbian head coach Miodrag Jesic showed faith in the same group of players and made no changes to his starting XI.
On the other hand, there was no reason for Gokulam Kerala's head coach Vincenzo Alberto Annese to change his tried and tested starting XI, as his team was flawless in the last game against ATK Mohun Bagan. Hence, the Malabarians went with an unchanged side as well.
The game had an edgy start as both teams looked off-colour, with no cohesion in terms of attacking buildup. In the first ten minutes, Maziya's Maldivian midfielder Hussain Nihan and his Spanish partner-in-crime Tana had attempts on goal, but both lacked precision.
Gokulam Kerala's first real chance came in the 13th minute when Emil Benny launched a fantastic cross but it was cleared away by one of Jesic's defenders. The subsequent corner found the head of Luka Majcen, but the last game's hero could not beat the Maziya goalkeeper Kiran Chemjong with his feeble header.
This attack served as a wake-up call for the Green Boys, who then received a gilt-edged chance of their own in the 17th minute. A through ball from the deep found Stewart completely unmarked with only the Malabarians' custodian Rakshit Dagar to beat, but he blasted his shot over the crossbar. Barely a minute later, Stewart's teammate Nemanja Kartal joined him on the list of players who missed sitters.
The first half was all about Maziya's brilliance, but to be fair to the I-League side, Annese's men did really well to keep the scoreline at 0-0 and got their bodies on the line when they needed to. Just seconds before the lemon break, Alex Saji made one such block to deny a clear-cut goal.
That being said, Jesic's team needed only four minutes after the resumption to draw first blood. Tana, who had an excellent game, played a delectable pass for Stewart, who was not going to miss another gilt-edged opportunity on the night.
Gokulam did not look convincing in attack when they did come close to scoring for corners. Saji and his defensive partner Bouba Aminou both came close to scoring from such flag-kicks, but luck was not on their side in this game.
Meanwhile, Tana almost doubled his team's tally in the 77th minute when he went for the spectacular – attempting to score directly from a freekick from 40 yards out. His strike had both power and direction, but it hit the crossbar and stayed out. The woodwork came to Gokulam's rescue once again in the 85th minute when Kartal's header struck the post, but it did not mean much in the grand scheme of things as the Maldivians did enough to bag all three points.For their last league match of the season, Maziya S&RC will take on the group leaders ATK Mohun Bagan on Tuesday, 24th May, whereas Gokulam Kerala will be up against the Bangladesh Premier League side Basundhara Kings on the same day. Kolkata's Salt Lake Stadium will be the host for both matches.