I-League 2020-21: Mohammedan SC sign Arijit Bagui & Manoj Mohammed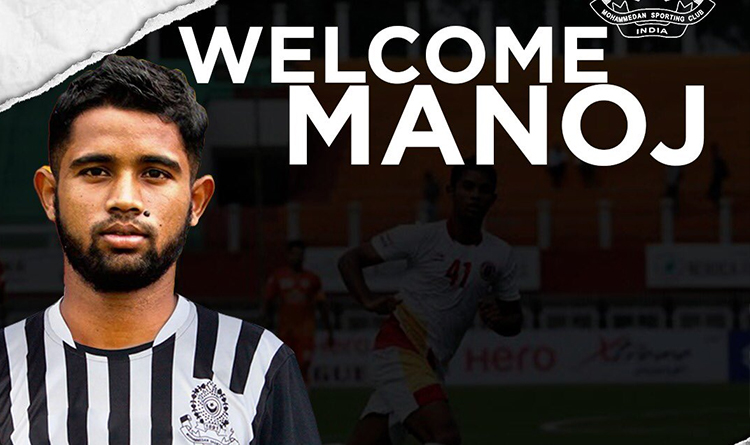 Mohammedan SC/Twitter
Mohammedan SC has signed Arijit Bagui and Manoj Mohammed ahead of the 2020-21 season of the I-League.
The Black Panthers have returned to the I-League after a gap of seven years and they have kickstarted their preparations with the statement signing of Ghanian defensive midfielder Mohammed Fatau.
I-League's latest entrants have now signed the defensive duo of Bagui and Manoj after appointing a new head coach in the experienced Jose Hevia.
The 27-year old Arijit Bagui plays at right-back and would prove to be a good addition to the century-old Kolkata giants squad. In his two-year stay at Mohun Bagan, Bagui made 33 appearances making the right-back position his own in his time there.
The 2018-19 Mohun Bagan player of the year has had a good couple of seasons while approaching the prime years of his career as he won the Calcutta Football League and then went on help dark horses Bhawanipore FC to finish runner-ups in the recently concluded I-League qualifiers.
The young Manoj Mohammed spent a couple of seasons at Kolkata giants East Bengal FC and made 18 appearances in his two-year stay at the club. The 21-year old defender is capable of playing both as a centre-back and a left-back and would provide strong squad depth across the defensive line.
Mohammedan SC hiring local West Bengal players
After qualifying for the I-League 2020-21 season, the Black Panthers are investing big in overseas players like Mohammed Fatau but are also focusing on hiring local talent who has done well for Kolkata clubs.
Both the West Bengal defenders have done well for the Kolkata based clubs, both of whom will be playing in the ISL this season. Arijit Bagui was a regular name in the playing XI for Mohun Bagan in the recent past while Manoj Mohammed played for East Bengal in the previous couple of seasons.