'Hugo Boumous show' downs Kerala Blasters in the ISL season opener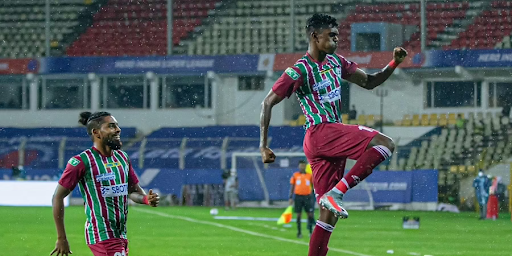 Liston Colaco celebrates his goal
Irrespective of the country, the first match of any league features a few common components- hesitancy, cautiousness, and conservative football. Indian Super League, is a pleasant exception as the 2021-22 ISL season opener gifted us with an enthralling game of football.
Goals galore, same old heroes, poor refereeing, and sleek football – we saw all of it when Kerala Blasters took on last season's runners-up, ATK Mohun Bagan. The Mariners walked away with a 4-2 triumph with their new signings proving their caliber by scoring 3 of the 4 goals.
Antonio Lopez Habas' team started on the front foot, as Finnish midfielder Joni Kauko had the chance of opening the scoring in the second minute. He did not have to sulk on the missed opportunity, as Hugo Boumous gave Mariners a 1-0 lead in the third minute.
That goal, however, would not have stood, had the linesman followed the letter of the law. Placed at an offside position, Roy Krishna tried to head Boumous' curling effort and though the Fijian failed to connect, he did interfere with the field of play.
As Habas' teams usually do, ATK Mohun Bagan went to a defensive shell after scoring, which proved costly. Silky footwork and a pin-point cross from Rahul KP found Sahal Abdul Samad in space, who made no mistake in slotting it past Amrinder Singh to restore parity in the match.
Their joy, however, was short-lived. Only a couple of minutes later, an elementary yet highly effective defense-splitting pass from Hugo Boumous found Roy Krishna one-on-one with the goalkeeper Albino Gomes. Krishna was brought down inside the box by Gomes and then stepped up to score from the penalty spot as well.
The Green and Maroons got themselves a two-goal cushion in the first half itself. In the 40th minute, Boumous outmuscled the inexperienced Bijoy Varghese and then nutmegged Gomes to get his name on the score sheet for the second time.
With a mountain to climb, Ivan Vukomanovic needed his team to get off to a strong start in the second half, but what he got was calamitous from his perspective, but heavenly from a neutral perspective.
Liston Colaco, for whom the Mariners broke their bank, showed his pedigree by scoring what is likely to be a goal of the season contender. A precise shot from outside the box left Gomes for dead and found its way to the top right corner giving his team a three-goal advantage.
From there onwards, the Tuskers had a mountain to climb, but a simple tactical switch worked wonders for them. Having fielded his team in a 4-4-2 formation, Vukomanovic switched to a 4-4-1-1 after the hour mark by withdrawing Luna to a second-striker role. The Uruguayan soon found free spaces and his sublime pass was converted by Jorge Pereyra Diaz to reduce the deficit.
The last few minutes of the game did not produce further goals, with Kerala failing to convert half-chances. Despite the defeat, there are a few positives Vukomanovic can take from this match, especially how his attackers performed.
Rahul KP's injury is a major dampener, but if Luna plays off Diaz from the next match, Blasters should not have problems in scoring goals. As for Habas, his usual trump cards delivered and so did the new signings, but the Spanish manager will want Tiri to have a quick recovery as his three-man defense looked far from being leakproof.