England vs France. Prediction and Preview. Probable Lineups, Team News, Stats, and more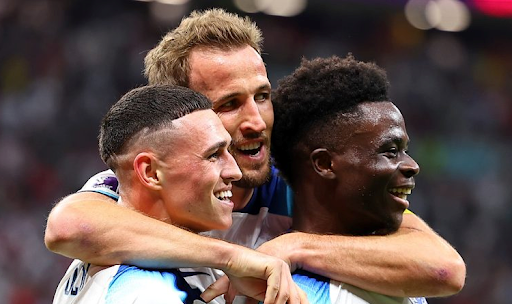 France will meet with England in the FIFA World Cup 2022 quarter-final match at the Al Bayt Stadium. The fixture will take place on Sunday, December 11, beginning at 00:30 IST.
The closing match of the 2022 World Cup quarter-finals in Qatar will bring us a battle between two European giants – the national teams of England and France. Identifying favourite is difficult, as both teams have in fact yet to face suitable opposition at the tournament. Iran, the USA, Wales and Senegal did not look like serious foes for the English, while Australia, Denmark, Tunisia and Poland are objectively inferior to the French. Slippage in games against the Americans and Tunisians did not affect the tournament prospects of the front-runners, although one of them will now have to leave Qatar. The winner will face the triumphant of the Portugal vs Morocco pairing.
Parimatch News will tell you everything you need to know ahead of the upcoming match.
Don`t miss out 👉: Argentina edges past the Netherlands as Croatia stuns Brazil to set up an enthralling semi-final
France News & Current Form:
France got off to a flying start to the 2022 FIFA World Cup by beating Australia 4-1, then winning against Denmark 2-1. In the 3rd round, which already decided nothing for Didier Deschamps, France lost to Tunisia 0-1. That defeat in the group stage showed that the reigning world champions can make mistakes, especially if the players are still injured. The French made it through to the 1/8 finals easily, beating Poland 3-1. The Poles scored their only goal before the final whistle when the outcome of the game was clear. Mbappe's double and his assist in the 44th minute, followed by Giroud's goal, should not be forgotten. The Blues have scored two wins and six points in three rounds, bringing them to first place in the tournament table.
The reigning world champions traveled to the tournament in dreadful spirits after their failure in the UEFA Nations League. Plus the French had huge squad problems. With the players who did not go to the World Cup due to injuries, the French could easily assemble a complete team.
But, as it turned out, the doubts were completely groundless. Didier Deschamps has found a worthy replacement for all the injured, including Karim Benzema, whose position is brilliantly played by Olivier Giroud. The 36-year-old has been the top scorer in the national team's history of scoring as of late. He now leads Le Blais' all-time record with 52 goals (3 goals in this Mundial).
The major asset of Deschamps' team is undoubtedly their powerful attack. Kylian Mbappe, with five goals and two assists, is now the tournament's top scorer. Olivier Giroud is now France's all-time leading scorer with three goals. Gareth Southgate's main task is to figure out how to contain all this company and neutralize the threat it represents.
The weakness of Deschamps' team, highlighted by the match against Senegal, is problems in the defensive zone. Adrien Rabiot was too keen on attacking and left Aurélien Tchouameini alone in the middle of the pitch. This circumstance led to dangerous chances on several occasions. However, Deschamps found a solution in the second half, with Antoine Griezmann going even deeper, effectively playing the role of 'depth playmaker'. But will France's best player have the performance capacity to manage to connect the lines in a match against a powerful English defense?
The French are still regarded as one of the main favorites for the tournament, following Brazil. That's a controversial claim, because we haven't seen them play against really strong opponents. None of the opponents that France have managed on their way to the quarter-finals can be compared with England.
England News & Current Form:
Just as they did at UEFA EURO 2020, England made it through the group stage in Qatar with ease. But there is a slight difference compared to the previous major tournament. This time, the English impressed fans with entertaining football. The only exception was the match against the USA, which ended in a 0-0 draw, while Gareth Southgate's side scored six goals against Iran and calmly got through to Wales (3-0).
England started the play-offs with a confident 3-0 win over Senegal. The intrigue disappeared even before half-time – the African team conceded two goals in the first half.
Under the leadership of Gareth Southgate, the England national team is remembered for very dull and even cowardly football. The main goal of the Three Lions was to break the opponent's game, and they did it perfectly. As we can see, in a major tournament the English have returned to this tactic, which is unpleasant for the spectators, but gives results.
Jude Bellingham has been England's best player at this tournament so far. The English have not had such a classy player in central midfield for a long time. That being said, it must be acknowledged that the rest of the stars in the APL are also doing a fantastic job. For example, Marcus Rashford and Bukayo Saka have already scored three goals each, and Harry Kane has three assists in addition to his goal.
Experienced Kyle Walker, Harry Maguire, who is in good form, as well as John Stones and Luke Shaw. The whole bunch could cut the Frenchman's oxygen completely.
The Declan Rice–Jordan Henderson twin center-half frees up space for England's leading talent, 19-year-old Jude Bellingham, to get creative. The young midfielder is the perfect hybrid of Steven Gerrard's energy and Paul Scholes-style clever passing. No opponent has ever managed to neutralize Bellingham at the tournament.
Jude Bellingham has been England's best player at this Mundial so far. The English have not had such a classy player in central midfield for a long time.
There is good news before the quarter-final. Raheem Sterling returns to the team. The forward was forced to fly to England on Sunday, December 4, because of the attack by robbers on his home, where his family were staying at the time.
Gareth Southgate has a young and very lively attacking line-up, led by the experienced Kane. The Three Lions have scored four goals in six games in that tournament and 12 in four games in Qatar.
Rashford and Saka scored three goals each, with six other players scoring once. If England can simply neutralize Mbappe and Griezmann, the French will need a lot of work – anyone can pose a threat.
There was concern for the English ahead of the tournament. They traveled to Qatar with a six-match losing streak and a total failure at the League of Nations. But now Southgate's team is showing good football and getting the results they need. It was not all bad news, with Southgate's side showing good football and producing the results they needed. They will be put to the ultimate test against France.
Ben White will not be able to play for family reasons.
France form guide: W-L-W-W-L-W
England form guide: L-D-W-D-W-W
England vs France: Head-To-Head Record:
June 13, 2004: France 2-1 England (UEFA European Championship);
March 26, 2008: France 1-0 England (International Friendly);
November 17, 2010: France 2-1 England (International Friendly);
June 11, 2012: France 1-1 England (UEFA European Championship);
November 17, 2015: France 0-2 England (International Friendly);
June 13, 2017: France 3-2 England (International Friendly).
England and France have previously played each other twice at the World Cup. In 1966, Liverpool forward Roger Hunt's double brought victory to the Three Lions in the third round of Group 1. The French national team eventually finished in last place in the quartet and left the tournament, while England made it through to the final, where they beat Germany (4-2) in extra time.
At the 1982 World Cup in Spain, Brian Robson opened the scoring in the opening game of Group 4 as early as 27 seconds. Gerard Soler leveled the scores midway through the first half but the English captain put his side back in front before Paul Mariner's fine strike dotted the match – 1-3 – France, with the great Michel Platini, started the tournament in defeat. In the end, neither team made it to the medals in Spain – England failed to reach the semi-finals after two draws in the second group stage. And France, after losing in a dramatic semi-final match against Germany, also lost in the game for third place to the Polish players.
Since then, the teams have only played each other in official tournaments at the European Championships (all three times in the group stage). In 1992, the game ended goalless, in 2004, Zinedine Zidane's double (from a free-kick and a penalty corner) in added time brought France 2-1 victory, and in 2012, after two clean strikes from Joleon Lescott and Samir Nasri in the first half, the game was tied at 1-1.
England and France played their last friendly match on 13 June 2017. The Tricolours responded to Harry Kane's double with three goals. Ousmane Dembele's strike in the 78th minute brought victory to France (3-2).
England vs France Predicted XI:
France's possible starting lineup (4-2-3-1): Lloris, Kounde, Varane, Upamecano, T. Hernandez, Tchouameni, Rabiot, Dembele, Griezmann, Mbappe, Giroud.
England's possible starting lineup (3-4-3): Pickford, Walker, Stones, Maguire, Shaw, Bellingham, Rice, Henderson, Saka, Kane, Foden.
Statistical preview of the match England vs France:
England's First XI average age 26.9 yrs.
France's First XI average age 27.9 yrs
Englaned is ranked 5th in FIFA ranking.
France is ranked 4th in FIFA ranking.
The teams have played each other 41 times in football history with a goal difference of 143-47.
England has lost 3 of their 10 matches at the World Cup.
England is unbeaten in 4 matches at the World Cup in Qatar.
England has conceded in 6 of their 10 matches.
Goal difference in 10 games is 22-9.
Kane has scored 5 goals in England's 10 World Cup games.
France conceded in 4 matches at the tournament in Qatar.
France conceded in 5 matches at the World Cup.
France wins 8 out of 10 matches at the World Cup.
France is unbeaten in 10 of their 11 matches at the World Cup.
Goal difference 21-9 in 10 matches.
Mbappe has scored 9 times in 10 World Cup matches.
What has been said before the match:
French President Emmanuel Macron commented the upcoming match:
"To give an accurate prediction, you need to know the possible line-ups, so you should wait until the day before the match. In terms of general prediction, I have no doubt that France will win".
Graeme James Souness, ex-coach of Liverpool, said:
"France will be worried about playing against England. England is a team nobody wants to play against. You can't just hide in your own penalty area and say, 'I'm just enjoying the football,' like you did against Spain, for example. But I'm willing to bet that none of the big teams want to play against England because they see how pragmatic this team is, it gives almost no chances".
Coach Southgate said:
"There is no point going into a game like this and just covering up and sitting on the ropes. We believe we can cause problems with the ball and we intend to do that".
"We've beaten some big teams. We know we have the experience of high pressure nights behind us and as a team we've been resilient through a lot of situations, but they all prepare you for nights like this".
"We got to the first final in 55 years. We've won a semi-final and been to a semi-final of the World Cup before. But, of course, it is a big game against a high quality opponent. Everything that has happened in the past is history, it all comes down to Saturday night".
"We've got to recognise that four years ago if we had played France we could have talked a good game but we genuinely didn't have the evidence of big performances, experiences of big nights that could really give us the faith that we could win".
"Now we've had a lot of those nights and we've a lot of those attributes. We know, of course at this stage they will be very evenly matched games, but we know we have the quality to win the game".
"What we talked about against Senegal was keeping the relentless pressure going, not sitting back when we were ahead, making sure that we kept the intensity of our game. We've got to do that now against the world champions".
French coach Didier Deschamps said:
"England have seen us play four games. At the end of the day, you need to identify areas where you think you can attack them".
"Pace is often one of the keys to the match. When quick, the opponent has less time to be organized. You need more than just pace to score goals. You can stop a lot of things but it's very difficult to stop someone who is very quick, especially in transitions.
"England team was very strong in that area though and scored lots of goals with quick counter-attacks. They also have many other qualities in terms of technical ability, capacity to score goals and being dangerous on set pieces. It's not by chance they are facing us in the quarter-finals".
"I imagine England will take measures like our four previous opponents did but Kylian has the ability to make the difference. Even in the last game, when he wasn't at his best like in the first two, he was still decisive, but if we can share the danger that stops too many precautions being taken against Kylian. But Kylian will always be Kylian, with the ability to be decisive at any moment".
France goalkeeper and captain Hugo Lloris said:
"If you look at the English squad they have more players here who were in Russia than France do. They were semi-finalists at the World Cup, runners-up at the Euro. There is a real progression and I believe this team is getting more mature. They are here to win".
"Harry and the England players will analyze penalties but then it is all about instinct, and before you get to the penalty shoot-out there is the time to make the difference on the pitch".
"I think I only have positive things to say about Harry. For England he is a real leader, a role model for his teammates and above all a top player".
England vs France Prediction:
Of all the quarter-final encounters, this game looks to offer the least goal-scoring potential.
Although the English look good offensively and have managed a clean sheet in their last three World Cup games, it will be difficult for them to go ahead. Both England and France know how to play a very gritty, viscous style of football, but it's much preferable for Southgate's side – a style that will enhance their chances of progressing to the semi-finals. The beauty of football will have to be sacrificed for the sake of results, and with so many stars, they will have to play pragmatically, first and foremost defensively.
The Three Lions defenders and midfielders must play very tightly and with a safety net against Mbappe, but it is important not to overdo the attention to the opposing star – Dembele on the opposite flank will be waiting for his chance, and so will Giroud in the penalty area.
To shut down everyone and everything for England is a serious task, which they have failed to cope with in matches against the big teams. In the same Nations League, they didn't concede in just one match. And even with the brilliant performance of Harry Maguire in this tournament, it is unlikely that Southgate's side can keep their goal clean.
Didier Deschamps is still hopeful of retaining the title, with the mentor noting that his players want to extend their stay in Qatar. A stellar French attack is Deschamps' main trump card, if the Three Lions will manage to neutrilize at least Mbappe — the reigning champions will not achieve the desired result. The French lack discipline, cohesion and character. The English have all of that, and their squad is every bit as good as their rival.
Chances are we'll see some stubborn defensive play from both teams, which happens when the stakes are too high.Maybe even a draw in regulation time could be considered.
Parimatch News staff prediction:
We say: the match total less than 3.5 and England will not lose in regular time – Yes.
Don`t miss out 👉: Kerala Blasters vs Bengaluru: Preview and Prediction