East Bengal rope in Adil Khan and Amarjit Singh Kiyam on loan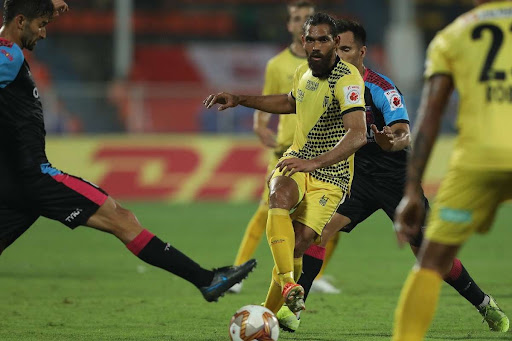 Adil Khan in the Hyderabad jersey
East Bengal has kicked off their preparations for the 2021-22 Indian Super League season by announcing their first two players Amarjit Singh Kiyam and Adil Khan secured on season-long loan deals.
After their inaugural season in the ISL, East Bengal's participation was under doubt a few weeks ago which led to some of their key players from the 2020-21 ISL season signing for other clubs. With Bright Enobakhare, Harmanpreet Singh, Sarthak Golui, and Matti Steinmann putting pen to paper at other clubs, the Red and Gold Brigade would be relying on a lot of new faces for a successful time in the upcoming season.
To begin their recruitment, Robbie Fowler and co. has signed the 2017 FIFA U-17 World Cup skipper Amarjit Singh Kiyam on loan from Goa until the end of the 2021-22 ISL season.
After signing for the Kolkata-based club, Kiyam said,
"It is always a great feeling to sign for a big club like SC East Bengal. It's like a dream come true for a young player like me and I want to achieve so much for the club. I am eager to improve and want to contribute to helping this club achieve more success."
After playing a pivotal part in India's historic U-17 World Cup campaign, Amarjit Singh Kiyam played for the Indian Arrows in the I-League for a couple of seasons. The central midfielder scored 4 goals in 36 appearances mostly playing as the central defensive midfielder allowing others to attack while he controls the tempo of the match.
Jamshedpur signed him ahead of the 2019-20 ISL season and Kiyam made 15 appearances for the Red Steels before switching to Goa in the midst of the 2020-21 ISL season. The young midfielder only played twice for the Gaurs in the ISL but made 4 appearances in their historic AFC Champions League campaign in April 2021.
Also read: Jamshedpur signs former Goa striker Ishan Pandita
East Bengal has also roped in experienced Indian international Adil Khan from Hyderabad on a loan deal that lasts till the end of the 2021-22 ISL season.
Born in Goa, Adil Khan started his career with the SESA youth academy and signed for Sporting de Goa in 2008. In his five-year stay with the Goan club, Khan made 74 appearances for Sporting scoring 12 goals.
After a brief spell with Mohun Bagan, Khan made his ISL debut for Delhi Dynamos before representing Lonestar Kashmir, Dempo, and Churchill Brothers. Ahead of the 2017-18 ISL season, Pune City snapped up Adil and he ended up scoring 6 goals in 35 appearances for the now-dissolved club.
Since then, the 33-year old defensive-minded player has made 19 appearances for his parent club Hyderabad and made 10 appearances for Goa during a brief loan period in the latter half of the 2020-21 ISL season.
After signing for Fowler's team, Khan said,
"I am delighted to be part of SC East Bengal. I know how passionate the fans are and that is a big motivating factor for me. I am really looking forward to working with Robbie Fowler also, and I will try and give my best for the Red and Gold brigade. I am also thankful to the club management for giving me this opportunity. I am raring to go."