Denmark national team doctor: "Eriksen was almost dead, I don't know how we managed to get him back"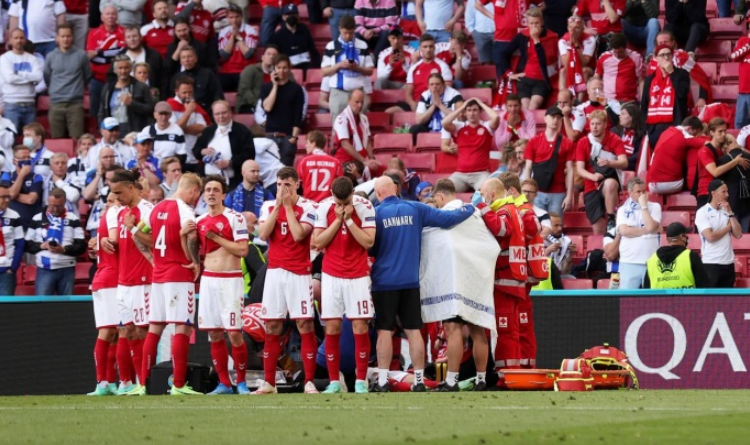 Teammates in tears shield medics and Christian Eriksen from TV cameras and spectators during emergency procedures
The first match of the Euro 2020 group stage between Denmark and Finland was stopped after team star Eriksen collapsed suffering cardiac arrest. The footballer was saved by the medical team and immediately hospitalized. He is now in stable condition and even had a chat with teammates.
On the 12th of June, something terrible happened at the Parken stadium in Copenhagen: Danish midfielder Christian Eriksen collapsed at the end of the first half during the Euro 2020 first leg Group B match between Denmark and Finland.
The match was stopped. Team medics and an emergency team resuscitated the player:
he was brought back to life with a heart massage and the use of a defibrillator.
After 10 minutes 29-years-old was taken to hospital.
When the wife of Inter midfielder Sabrina Kvist Jensen stepped onto the pitch, Schmeichel and Kjaer ran up to support and reassure her.
The fans did not leave the stadium chanting the injured player's name.
Being in hospital Eriksen reportedly spoke to his partners via video call – saying he is feeling better and encouraging them to finish the match. Then both the Danes and the Finns agreed. The Finns won unexpectedly 1-0.
The Danish national team doctor, Morten Boesen, spoke about the incident and the midfielder's condition:
"Well, what should I say? He was gone. And we did cardiac resuscitation and it was cardiac arrest. How close were we? I don't know. We got him back after one 'de-fib,' so that is quite fast. The details…I am not a cardiologist, so the details about what happened and further I will leave to the experts."
The Danish Football Association reported the good news later:
"We spoke to Christian Eriksen this morning and he has sent his greetings to the teammates. His condition remains stable, he is awake and talkative, but he is still in hospital for further examinations."
Head coach Kasper Hjulmand said Eriksen told him he did not remember much from Saturday's collapse. He quoted the midfielder as saying
"I think you are feeling worse than I am. I feel as if I'm about to go training now, boys."
Hjulmand said that Christian is in good spirits and it's a huge relief for the players after all this uncertainty.
The 29-year-old midfielder helped his current club Inter Milan win Scudetto 2020/2021. He moved to the Serie A side in 2020 after seven years with Tottenham in the EPL.
A similar thing once happened to footballer Anthony van Loo: he twice had a cardiac arrest during a match. He then retired from football at the age of thirty.