City thrash West Brom to top the league. Arsenal provide comeback win at Southampton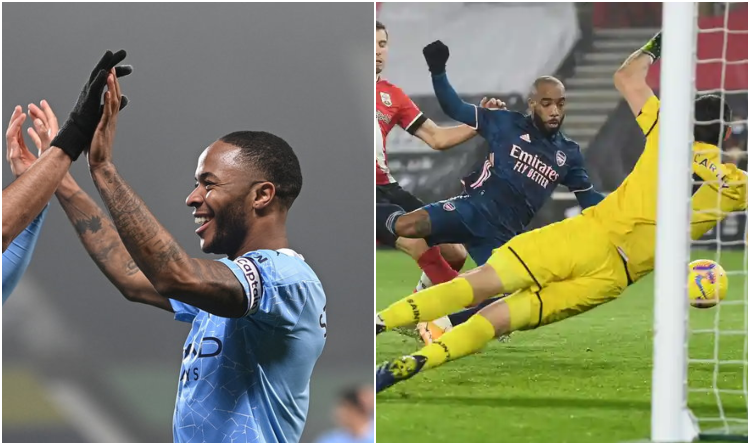 Manchester City's Raheem Sterling celebrates their fifth goal against West Bromwich, Alexandre Lacazette scores Arsenal's third goal at Southampton
Guardiola's side were favourites before the match against 19th-placed West Bromwich Albion, and they started to dominate right after the starting whistle. In the 6th minute, left-back Joao Cancelo provided an assist to the midfielder Ilkay Gundogan for WC 2018 winner to open the scoring at the Hawthorns. 
The Baggies tried to equalise, but Cityzens didn't stop and took advantage of that. As a result, Cancelo himself bundled the ball past the goalkeeper Samuel Johnstone 14 minutes after Gungodan's opener. It was 3-0 after half an hour when Gundogan scored his seventh goal in his last eight Premier League games. The 30-year-old hasn't scored more during a league season either for Borussia Dortmund or since he joined City in 2016.
Riyad Mahrez added one more goal in stoppage time after collecting a pass from Raheem Sterling. England international bagged the fifth early in the second half to set the final scoring and continue West Brom's nightmare consisting of five consecutive losses in Premier League home matches.
City top the league for the first time this season, becoming a ninth team to seal the first spot during the 2020-21 season.
The midfielder Phil Foden made his 100th Man City appearance across all competitions.
Guardiola's side are one point ahead of Manchester United (41-40). On January 30, City will take on Sheffield United who currently occupy the 20th place in the table.
Things have started much worse for Arsenal who went 1-0 down just after three minutes against Southampton. That given, striker Alexandre Lacazette could have given his side a lead in the 1st minute but missed his chance. Mikel Arteta's men got a flashback from 1-0 loss to Saints in FA Cup that happened three days earlier yet managed to equalise in the 9th minute thanks to Nicolas Pepe's goal.
Arsenal fans would have complained about Pierre-Emerick Aubameyang's absence watching how the defender Cerdic Soares missed a clear chance later in the first half. England international Bukayo Saka calmed their nerves by scoring his fifth Premier League goal this season six minutes before the half-time. After the break, the 19-year-old provided an assist to Lacazette to seal the points.
In his post-match interview, Arteta made it clear how much Aubameyang means for the team:
"I loved how they support each other and how they protect each other.
Auba is having a difficult time and we are all behind him. This win was for him."
Aubameyang has missed the last two matches due to 'personal family reasons'.
The Gunners are now eighth in the Premier League table.
On January 30, Arteta's side will face second-placed Manchester United.