Arsenal vs Brighton & Hove Albion. Prediction and Preview. Probable Lineups, Team News, Stats and more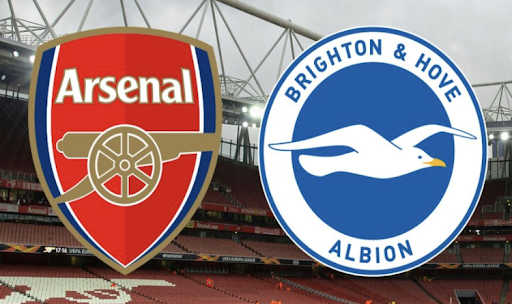 Arsenal FC will host Brighton & Hove Albion FC in the EFL Cup 3rd-round match at the Emirates Stadium. The fixture will take place on November 10, beginning at 01:15 IST.
There are several fixtures in the third round of the English League Cup that are receiving heightened attention from football enthusiasts. One of them will take place in London, where the Premier League leaders will take on the renegades of the elite division.
Brighton, who have their sights set on a spot in the EPL's top-four, regard the tournament as a real possibility of clinching a trophy. Besides, not having been involved in the UEFA Champions League and UEFA Europa League gives them an opportunity to spend their best efforts in such competitions.
The Gunners, in turn, have completely different objectives and ambitions for the current campaign – to win the long-awaited English Premier League title, as well as to take the UEL trophy on occasion. Right now, this tournament seems like an excessive drain of energy for a team with a very short bench. Arteta obviously does not plan to field his best eleven as the core players need a rest after an exhausting match against Chelsea in which there were plenty of physical challenges in every area of the pitch.
The Seagulls will be keen to take advantage of their opponents' rotation and try to progress to the next round. Will Brighton's recently arrived Roberto De Zerbi be able to guide his side all the way to the final?
Arsenal News & Current Form:
The Londoners are well on track in the autumn and are impressing on all fronts. Mikel Arteta's team never stops demonstrating that they can indeed challenge Manchester City for the league title as well as even win it. Last weekend, Arsenal achieved another rather emblematic victory in the derby, showing that title aspirations are real. The Red and Whites managed to inflict Chelsea's first defeat at Stamford Bridge (0-1), and don't let the scoreline be misleading – the Gunners outplayed their neighbours by absolutely all metrics, with the expected goals indicator here being particularly illustrative (0.27 vs 2.03).
Such an emotional triumph not only helped Mikel Arteta's charges to continue their stay at the top of the table, but also gave the Londoners a potent moral boost, which will help the team in their attempts to finish this part of the season on a major note. The Gunners are virtually invincible at home (twelve wins in a row) and it is incredibly difficult to beat them at the Emirates even for the grand of EPL, not to mention their upcoming opponents.
Seemingly, the League Cup comes last on Mikel Arteta's list of priorities and Arsenal would benefit from getting rid of this extra burden as early as possible. However, some motivation for the Spanish coach and his charges can be found in the historical context. The Gunners have only twice captured the trophy, most recently nearly 30 years ago. Therefore, if the half-reserve squad manage to get to the knockout stages of the tournament, Arteta will certainly jump at the chance to snatch the trophy involving the most combative eleven.
For the moment, though, rotation is much needed and there could be as many as seven or ten changes to the starting line-up. It is probable that only Gabriel Magalhães, who notched the winning goal against Chelsea FC, will feature in the starting eleven. The other players may be rested before a tough trip to Wolverhampton.
Don`t miss out 👉: Hyderabad vs Jamshedpur: Preview and Prediction
Brighton & Hove Albion News & Current Form:
As for Brighton, they've been doing pretty well lately too, with two straight league wins proving the point. The Blues are gradually finding themselves with a new coach, one who, by the way, was precisely selected by the management. The Italian De Zerbi plays a football stylistically identical to the one instilled by Graham Potter all these years.
The Albion look potent in attack lately, having scored 7 goals in two games, something that has been lacking in many games under Potter. The Seagulls have only scored eleven goals in seven games under the Englishman. However, there are some obvious weaknesses as well, Brighton are too vulnerable in terms of defensive play after the departure of the leaders, and this could play a cruel trick on them in London if you keep in mind the quality of their opponents' offensive players. Nor are they particularly threatening on the road, often conceding a lot.
For teams of Brighton's rank, the English League Cup represents one of the few opportunities to capture a trophy. Indeed, the Seagulls have a high chance of making it to the European competitions for the first time this season. Two very spectacular victories over Chelsea (4-1) and Wolverhampton (3-2) have seen Roberto De Zerbi's men soar to sixth place and even approach the Champions League zone (four points behind fourth-placed Tottenham Hotspur).
All the more so, unlike Arsenal, Brighton are not burdened by fighting on the European arena. Therefore, they can put their best foot forward in domestic cup competitions without suffering from excessive tiredness.
The Blues have already made it past one round. At the end of August, at the time still under the management of Graham Potter, the team comfortably defeated Forest Green Rovers from English Football League One 3-0 away. This time, Brighton will have a much tougher task.
Apparently, Brighton's starting line-up will also undergo a number of changes. However, it is expected to be somewhat closer to the core combative line-up than that of Arsenal. In particular, ex-Reds' forward Danny Welbeck could rejoin the ranks, with reserve goalkeeper Jason Steele set to step up, which is a common practice in cup games.
Arsenal form guide (all competitions): W-D-L-W-W-W
Brighton & Hove Albion form guide (all competitions): L-L-D-L-W-W
Arsenal vs Brighton & Hove Albion Head-To-Head Record:
The teams have not yet met each other this season. Arsenal may well have a grudge against the Seagulls after last season. Back then, the Londoners failed to beat Brighton both times. On the road, they settled for a nil draw before losing 1-2 at home.
Arsenal vs Brighton & Hove Albion Predicted XI:
Arsenal possible starting lineup (4-3-3): Turner; Cedric, Holding, Gabriel, Tierney; Elneny, Lokonga; Marquinhos, Vieira, Nelson; Nketiah.
Brighton & Hove Albion possible starting lineup (3-4-2-1): Steele; Veltman, Dunk, Colwill; Lamptey, Caicedo, Gilmour, Mitoma; March, Welbeck, Trossard.
Statistical preview of the match Arsenal vs Brighton & Hove Albion:
Their 4 of the last 10 face-offs have seen a total of more than 2.5.
6 of the last 10 head-to-head games have seen an exchange of goals.
Arsenal have won their last 12 home matches in all competitions.
Arsenal have scored in 19 of the last 20 games.
Arsenal have scored less than 1.5 goals in 7 of the last 8 games.
Brighton & Hove Albion have conceded in 8 of the last 9 games.
Brighton & Hove Albion have scored in 9 of the last 10 away games.
Brighton & Hove Albion have not conceded in 6 of the last 7 EFL Cup games.
What has been said before the match:
Mikel Arteta, the Arsenal gaffer:
"It is a different competition but the purpose is the same, to play as good as we can, win the game and go into the next round. You know there are no second chances and we'll take it very seriously. We're going to pick a very competitive team. I think everyone deserves chances, and we'll make some changes with judgment in relation to the load of the players, but we'll play to win."
"The ones that haven't played want to have their chance, and feel that they are contributing to the team. The positive thing is that everybody has played games and everyone has been important. We have two games to go, and the focus has to be there because we know that afterwards we have a big break."
"Boys have dealt with the fixture list really well. I think we had a really good pre-season and we put the boys in a really good condition to face this fixture congestion, and they have responded extremely well, especially the way we play which is really intense."
"I think we are the team in Europe who has rotated the most, and obviously that has its benefits as well. When you are winning, the energy is better and the mood is better, but the preparation is a bit easier, so overall I think they have coped with it really well."
"When players had their chance, they performed really well. For periods in games in the Premier League and when they have started games in the Europa League and the Premier League, I think they have been really consistent. It's a joy of a group to work with because they're really at it every day."
Roberto De Zerbi, the Brighton & Hove Albion gaffer:
"I know Mikel, I think Arsenal is a very good team and he is a very good coach. I appreciate him a lot (even) when the results weren't good and I like his style of play for sure."
"I think they can arrive at the last game to fight for the title. Manchester City are a very good team with very good players and the difference is they know the way (to win the title). Arteta is one of the best coaches in Europe but he knows that the best is Pep Guardiola."
"Another thing with Zinchenko and Jesus, maybe they find the best mentality because these players know how to win. They won a lot in the Premier League and I think they help the other team-mates to find the right mentality."
"For us we have to improve in this part of football because this part of football is the most important. I'm so happy to work here and with these players. I think I follow the great work from the last coach (Graham Potter) and step by step I wanted to put my ideas across. I think game by game we are getting nearer but without good players, the coaches can do nothing."
"It will be a good test, we will treat it seriously. It's a very important game. I can make some changes but it's just as important as a Premier League game. We will try to win. It's important to win always, but it's most important to play seriously because if we want to prepare the best way for the next game against Aston Villa, we have play well tomorrow."
Arsenal vs Brighton & Hove Albion Prediction:
Arsenal recently defeated another serious Premier League opponent to extend their clean-sheet winning streak to three games. Former Gulls coach Graham Potter failed to handle the Gunners while at the helm of Chelsea. After the match, the Englishman admitted that the Red and Whites were stronger in every aspect. But can his former team do what he was unable to do himself?
Brighton's chances don't look much worse than Chelsea were rated last weekend. Context and circumstance should be taken into account here: Arsenal will not take the League Cup as seriously as they look at EPL matches. The Londoners have a trip to Wolverhampton ahead of them. It is much more important to win there than in the EFL Cup, which has now been placed on the back burner. We can expect a performance and starting line-up similar to what we saw in the Europa League. Arsenal will want to win the match using as few resources as possible.
In fact, Brighton itself is a rather dangerous and unpleasant opponent, even for the grands. However, to field a sub-optimal squad against them, or to go out with a lack of motivation can be quite costly. The Seagulls have finally managed to gain some momentum and can unpleasantly surprise even the league leader. Arteta is well aware of this and will try to find a compromise to deliver the result. Moreover, the Spaniard himself has stressed that his boys are taking the tournament with all seriousness. The White and Blues should not expect an easy walk.
Don`t miss out 👉: ATK Mohun Bagan vs NorthEast United: Preview and Prediction
Parimatch News staff prediction:
We say: Arsenal will not lose in the regular time and the match total will be under 3.5 – Yes.