Overwatch 2: Game Review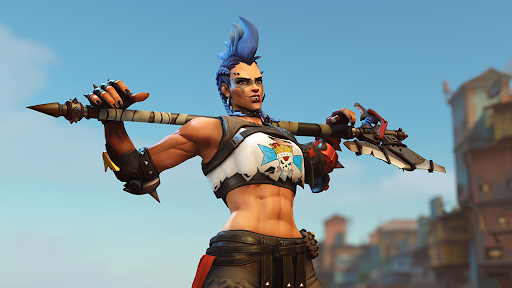 When Blizzard Entertainment revealed Overwatch 2 to the world nearly three years ago, then-game director Jeff Kaplan, the one who spearheaded the original Overwatch from a failed MMO game to a dominant hero shooter game, had mentioned that the team hoped to "redefine what a sequel means." Kaplan, beloved by the Overwatch community, was believably optimistic. So were the avid gamers. 
Overwatch 2 has hit the market and has created a buzz about how the game is worth the wait. The early access, free-to-play build of Overwatch 2 launched on October 4, which isn't a perfect gaming vehicle by any means, but significant updates to its core gameplay as well as big quality-of-life improvements elevate it far beyond its predecessor.
The game is set to eventually contain a PvE game, but that's not due to land until some time in 2023. In the meantime, gamers will be able to play the PvP version. PvE will be a major part of what makes or breaks Overwatch 2. Read on to learn more about the Overwatch 2 PvP review.
New Characters
There weren't many new heroes introduced since Omnic DPS Echo hit Overwatch 1 back in 2020. However, Overwatch 2 has three new Overwatch 2 characters who have snatched the spotlight from some of the game's other features.
Kiriko, a feisty Japanese support hero who is involved with the Shimada duo Genji and Hanzo, is supposedly the first tier in the battle pass, so is easily unlocked from release. Others will have to play dozens of matches to eventually unlock her, watching from the sidelines as a subset of the audience gets to play the support character.
As a DPS main, her healing works a lot like Moira's, and she also has the ability to teleport through walls. Right-click lets you throw deadly ninja stars that can behead enemies with two shots, which is solid damage for a healer.
Beautifully animated and incredibly powerful, Kiriko can throw a stunning aquamarine fox that sprints through a series of traditional torii gates, speeding up players and enhancing reload speed. She adds some much-needed variety to the rather slim support pool—rejoices, on healers.
Another newly introduced character is Sojourn, the series' first playable black female character, who brings a railgun and high mobility to the damage group. Junker Queen, the third new character, is a towering tank who, like all Australian Overwatch characters, summons Mad Max comparisons, and also brings team buffs and aggression to the roster.
Updated Original Roster
Much of the original roster has been altered in some way. Heroes such as Brigitte, Cassidy, Mei, and others who could stun opponents can no longer have their crowd-control abilities. All support characters can now passively self-heal, making them far more survivable.
Other heroes have been massively reworked for Overwatch 2's launch; Orisa no longer has a shield or a gravitational vortex ball. Doomfist is now a tank-class hero with a powerful block and reworked movement. Many of those changes and new hero additions serve to flatten the roster with newly overlapping abilities and make strategic hero counter-picking more difficult. This was an important facet of the original launch version of Overwatch, which now feels less important.
There have been substantial reworks to heroes like Bastion, Sombra, and Orisa, breathing new life into these characters. Both bots are much more aggressive now. Sombra is now picked as a damage dealer, a menace to backline heroes, who may find themselves hacked and quickly disposed of.
Battle Pass
The big addition to the game is the aforementioned battle pass – a series of unlockable rewards that grant you everything from new heroes like Kiriko to a fancy new mythic skin for her fellow stealth master, Genji.
The battle pass is decently priced in my opinion, but it doesn't provide anything groundbreaking, but battle passes have been a staple of service game monetization for some years now, with Fortnite having popularised the idea in 2017-18.
New UI
When it comes to UI updates, you can press 'Tab' to see the scoreboard with kills, deaths, and assists. This is quite unlike the Overwatch 1 games that simply tell you how many kills you got without providing a full breakdown.
There are a lot more pings now, too, so you can quickly signal allies just like you could in Apex Legends when it launched in 2019. It's good to have these features, but again, there's nothing pioneering here – they simply bring the game up to speed with its competitors.
Overwatch 2's PvP generally feels like that; it's small adjustments to the base game that really could have just been a chunky content patch. They're good changes, for sure, but nothing significant enough to really grab your attention.
New Game Mode
Push is a new game mode added in Overwatch 2, which adds a trio of new maps and an interesting twist on payload-style gameplay. Push is part of the gameplay rotation—alongside Control, Escort, and Hybrid maps.
Assault maps are now relegated to custom games only, where players will very rarely get a chance to battle on maps like Hanamura, Volskaya Industries, and Temple of Anubis in Overwatch 2. While Assault (aka 2CP) maps were often imbalanced, leading to never-ending games, draws, or total blowouts, they were deeply connected to Overwatch's lore and its personality.
A new map has also been added to the Overwatch 2 game called Esperança, a stunning Portuguese hamlet nestled amid forested mountains. It promises a vast array of nooks and crannies, as well as balconies and elevated platforms that are perfect for snipers.
Quick Play
What genuinely grabs your attention in Overwatch 2 is the Quick Play. QP doesn't have designated roles, so players can play with whatever they want to—you could have a team of five tanks, five supports, or even five DPS. It's literally the only queue that's unlocked from the get-go.
You can't play in a role queue until you play five games in the open queue. Blizzard's role queue challenges you to think about what compositions work, which healer works best with Genji, or which tank works on Eichenwalde. Quick Play is a free-for-all and generally seems like an odd way to introduce you to the fundamentals of the game.
What's In Store Next?
Blizzard has planned for new content to be released in the next few seasons. Two new heroes will be arriving in the coming months, along with a new tank and new support which will bring fresh ideas and strategies to the game.
The studio has also committed to new seasonal events, including a sequel of sorts to the Halloween-themed Junkenstein's Revenge co-op mode, and other substantial new gameplay modes that are unlike anything Overwatch currently has. The Overwatch content famine is about to become a feast for Overwatch 2.