India bows out of the 14th World Esports Championship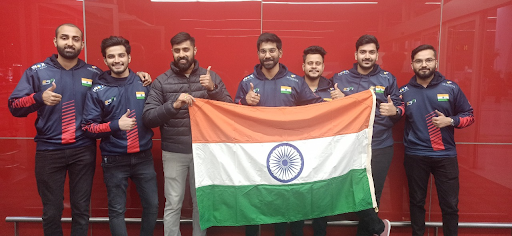 The 14th Edition of the International Esports Federation's (IESF) World Esports Championship has set off in Bali, Indonesia. eSports professionals representing their respective countries from around the world are facing off against each other from December 1 till December 12. Titles featured in the tournament are CS: GO, DOTA 2, Tekken 7, eFootball, PUBG Mobile, and Mobile Legends.
The Indian contingent, with the support of the Esports Federation of India (ESFI), participated at an international stage in three tournaments – CS: GO, Tekken 7, and eFootball. Here's what went down with India's participation in the 14th World Esports Championship.
CS: GO
The Indian contingent for CS: GO, comprised of skipper, Ritesh Sarda (Defaulter), Shuvajyoti Chakraborty (Mcg1LLzZz), Anshul Adarkar (KiiLSwitCh), Hrishikesh Shenoy (Crazy_Gamer) and Harsh Jain (lynx), performed valiantly in Bali.
This CS: GO team represented India twice in a row in the World Esports Championship. They finished eighth place in the 13th edition of the IESF, which was held in Eilat, Israel.
To reach the 14th World Esports Championship, Team had to go through the South Asian qualifiers which were held on September 29, where the Indian CS: GO team made its way through by handing consecutive defeats to both Pakistan and Bangladesh.
It was a walk in the park for the Indian CS: GO lineup – beating Pakistan '16-6′ and '16-4′ across two maps in the semifinals and continuing ahead with the momentum to sweep Bangladesh in the finals with scores of '16-7′ and '16-5′.
At the 14th World Esports Championship, in Bali. Team India faced their first opponent, Tajikistan and secured their first CS: GO victory by a 16-9 scoreline. However, their form began to drop and they lost their next game against Team IESF.
In their final Play-in stage fixture against Chile, they suffered yet another defeat by 16-7. In the end, their standing on the points table was not enough for them to qualify further, and Team India had to bow out from the tournament on December 3.
Tekken 7
Hitesh Khorwal (Rcool) represented India in Tekken 7 at the 14th World Esports Championship. Hitesh played his first match against the Bahamas on December 3 where he suffered a close 1-2 loss. Next, he had to face Pakistan where he lost again by a 2-0 scoreline.
The next day, he regained his composure and set to win two back-to-back matches against Venezuela and the State of Palestine, both by a 2-0 scoreline. His performance helped him climb the world rankings into the Top 16.
eFootball
Hemanth Kommu (Peshemak 7) is known for his PES skills and it was no surprise when he was called to represent India at 14th World Esports Championship. Hemanth was placed in Group P where he was to face Guinea, Kazakhstan, and Armenia.
He won the first game against Guinea, but couldn't continue the winning streak. Hemanth had to face Kazakhstan in a best-of-three tie-breaker match, to qualify for the next stage. However, he eventually suffered defeat and was knocked out of the tournament.
The Indian contingent showed exemplary performance, however, they had to eventually bow out of the tournament.