High On Life: Story Line, Gameplay, Graphics, Platforms and more…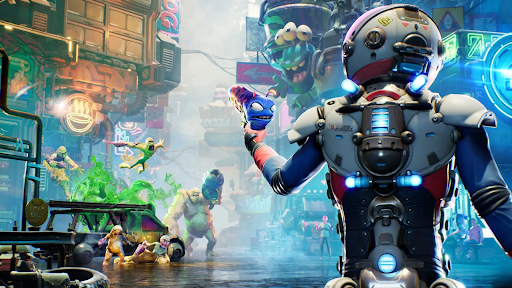 Squanch Games' High on Life is unique, to say the very least. This FPS Rick & Morty creators-led game has grabbed a lot of attention and left us wanting to know more. After all, how often do we get to see boggle-eyed talking weapons taking centre stage and with an absurd and unorthodox sci-fi experience? Whatever it may be, it may be the title contender for one of the weirdest games ever.
Essentially, High on Life is a first-person shooter (FPS) action-adventure game created by Squanch Games, a studio that is perhaps best known for games like Accounting and Trover Saves the Universe.
It is founded by Justin Roiland, co-creator of Adult Swim's Rick & Morty, and in collaboration with Squanch Games, it will be bringing the absurdly unique shooter to consoles and PC on December 13, 2022. The game puts its comedic premise and characters at the forefront and centre and absolutely refuses to take itself seriously.
You even have a default talking gun, a pistol named Kenny that sounds exactly like Morty. This game is surely going to be the definition of High On Life. Now, onto the larger review of the game.
To briefly explain what this game is all about, High on Life is a game that just knows how to have a good time, and there really aren't enough of those. It's got bizarre, unconventional, foul-mouthed aliens, fantastical settings, and a sense of humour that's 100% Justin Roiland – from the very own interdimensional animated TV series, Rick & Morty.
Story Line
The extraterrestrials have invaded earth and have turned our humble planet into an intergalactic crime ring. These aliens kidnap humans to be smoked as hallucinogenic drugs, and from there on, you begin a ridiculous space odyssey to get revenge against the extraterrestrial drug cartel responsible.
As the protagonist, it is your job to become a bounty hunter and protect the world from eternal damnation, but as a fish-out-of-water human. As your companions, you're going to have talking guns, literally, and lots of them.
"Fresh out of high school with no job and no ambition, you've got nothing going for you until an alien cartel that wants to get high off humanity invades Earth. Now, you and a team of charismatic talking guns must answer the hero's call and become the deadliest intergalactic bounty hunter the cosmos has ever seen," reads the game's description.
Roiland and the Squanch team have written a ton of relentless comical material for this game. The comedy comes at you from all directions: from your guns, from your enemies. You can even find entire feature-length B-movies hidden in there, licensed, and riffed on. However, does High on Life have the gameplay to back up its sky-high pile of jokes? Well, it's looking very promising so far.
Gameplay
According to Erich Mayr, design director at Squanch Games, thinks that High On Life formulates the idea of Blade Runner meets The Muppets. As an FPS game, it will integrate various story-driven elements that are very much alike to that of Rick & Morty's controversial blueprints, involving unusual atrocities, bad language, and an absurd amount of weirdness.
However, the game may not feature an open-world structure. It will be more of an episodic format with explorable layers for you to traverse through. The core gameplay of High On Life will be high-octane combat along with in-your-face humour, which bodes well for anyone looking to delve into a high-powered experience with two smoking barrels to boot.
Talking Guns
The game will be organically replayable, however, it will be a single-player story-based game. You will have four primary weapons, each of whom will have a distinct personality and deep focus on bespoke dialogue. The whole idea is to enjoy NPC conversations all over again, as they'll go quite differently depending on which gun your mute protagonist has equipped at the time.
Graphics
High on Life's unreal engine-powered alien worlds are vibrant and delightful to look at. It goes miles away from your regular browns and greys we're used to seeing in many first-person shooters.
The Zephyr Paradise biome in particular – where a village of adorable bear-like aliens called Moplets reside – was filled with a gorgeous array of pinks, blues, and greens. Perhaps the subtle humour following through in High on Life is its contrasting mix of pretty scenery with unabashedly crude language.
Visually, this game is somewhat reminiscent of Oddworld, an influence that Roiland readily admitted to.
Trailer
Squanch Games dropped the first hint to High on Life on June 12, 2022, during the Xbox & Bethesda Showcase event. Since then, the game has received a number of external previews, as well as an official gameplay trailer, which was revealed in full during the Gamescom 2022 event in August.
The gameplay trailer, true to its oddball roots, revealed a whole lot of combat, goo-soaked zones, and a myriad of loudmouth guns with irresistibly colourful personalities. We're strangely in love with every single aspect of its absurdity and out-of-box visual simulation.
Release Date & Platforms
High on Life was first announced at the Xbox & Bethesda Showcase on June 12, 2022, with a scheduled release date of October 2022. However, the initial launch date was eventually pushed back to December 2022 as Squanch Games wanted more time to make subtle improvements to the game.
The game is set to be released on Xbox One, Xbox Series X|S, and PC via Steam and the Epic Games Store. Squanch Games has confirmed that the game will launch on Xbox Game Pass and Game Pass Ultimate as a day-one exclusive.
As with any game that launches exclusively for any particular console, there's a good chance High on Life will come to PlayStation 4 and PlayStation 5 in the distant future.
The Verdict
High on Life is a totally chaotic, absurd shooter game that manages to shine with its outrageous humour, silly settings and story with the goofy-looking, foul-mouthed guns making the whole player journey absolutely fun. Combat can be a bit sloppy, and the whole sci-fi adventure sometimes comes with an unpolished feel to it.
However, once you get some new tools of destruction and movement options, the game rises to the occasion. Not all of its jokes find their punchline, but with memorable boss fights, unique alt-fire abilities and exploration, this wacky journey is definitely worth your time.