ESFI announces the NESC 2023 schedule to pick the World Esports Championship team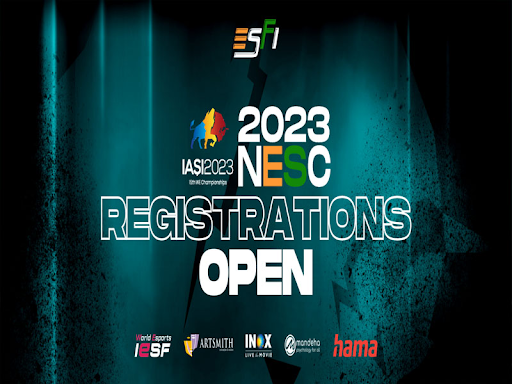 The Esports Federation of India (ESFI) has announced the dates of the National Esports Championships (NESC) 2023 to pick the Indian contingent for the upcoming 15th World Esports Championships (WEC) in Iasi, Romania.
The preliminary rounds of the national qualifiers have been scheduled to take place online from March 14 to March 19, with the grand finale set to begin on March 24.
In a revolutionary move, ESFI has scheduled the inaugural CS: GO qualifiers for the country's top female esports athletes. Overall, India's top esports athletes will compete in four different Esports titles, including CS: GO, DOTA 2, Tekken, and eFootball.
Vinod Tiwari, President of the Esports Federation of India, said in a statement,
"This is set to be the biggest ever year for Indian Esports, where the country will be competing for glory at the Asian Games, Olympic Esports Week, Asian Indoor and Martial Arts Games, and the 15th World Esports Championships."
He continued,
"ESFI is excited to not only witness the high pulsating action of the qualifiers but to also conduct these qualifiers for the country's talented female athletes for the very first time and see them represent the country at the biggest Esports tournament on the globe."
He added,
"The official recognition of Esports as a multi-sport event has brought about a paradigm shift that has kickstarted the golden era of video gaming in the country. We wish all the athletes competing in the qualifiers the very best and are confident that they will make the country proud at the WEC 2023."
After the conclusion of NESC 2023, the Indian athletes will set out to take part in the regional qualifiers, where they will face competitors from other countries in the Asia and Oceania region. The dates for the regional qualifiers are not yet out but will be announced soon.
The 15th World Esports Championship (WEC) 2023 is organised by the International Esports Federation. The estimated prize pool for this event is said to be around 500,000 USD, and it will be the largest edition of the tournament to date.
At least 130 countries are set to participate in WEC 2023. The global finals of this prestigious tournament will take place from August 24–September 4, 2023.
One of the country's top sports and esports communication agencies, Artsmith-Concepts & Visions, will continue its support of the Esports Federation of India as its official communication partner.The registrations for NESC 2023 will begin on Wednesday, March 1, with the last date being March 10. All details about the registrations will be available on ESFI's Discord server. The NESC'23 will be played in a double-elimination format. The exciting action from the Championships will be streamed live on ESFI's official YouTube and Facebook pages.